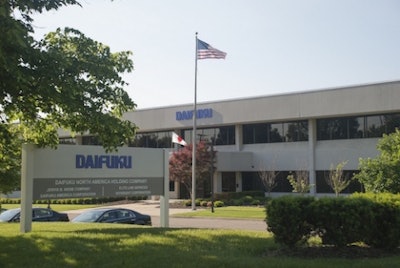 Daifuku North America Holding Company, provider of material handling solutions, will be moving their headquarters from Farmington Hills, Mich. to Novi, Mich. in 2017.
The new location will be north of 13 Mile Road at 30100 Cabot Drive, Novi Mich. 48377. The move to the new building, four miles from the current location will take place in the third quarter of 2017. The new headquarters will have an in-house demonstration center showcasing new innovations and a factory acceptance testing center.
"The Metro Detroit area offers competitive engineering talent that we've had the pleasure of working with for many decades" said Aki Nishimura, president and CEO, Daifuku North America. "We believe that Southeast Michigan is the right location for our growing business, but we need an updated building with state-of-the-art facilities to fit our growing global company."
The new 76,889 square-foot facility will house more than 300 employees, including engineers, project managers, sales, customer service, and administrative staff. The company will also create 85 new jobs in Michigan by 2019. The majority of the jobs will be created at the Novi location with the balance at the manufacturing facilities in Boyne City and Harbor Springs, Mich. The hiring process has already begun. Daifuku Co. Ltd., has more than 6,500 employees globally with manufacturing plants throughout North America.
A list of career opportunities can be found here: www.Daifuku.com/us/company/careers/
Companies in this article