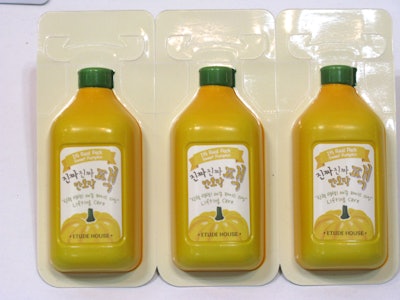 Things that stood out:
• World's first resealable blister pack
Among the Korea Star winners on display at Tokyo Pack was a concept developed by Blisspack Co., Ltd. that is said to be the world's first reclosable blister pack. Shown here is a package for a personal-care product made by Etudes House, a South Korean personal care product manufacturer. The package is made from a forming web of polyester/PE and a lidding material of polyester/foil/polyester/sealant. A proprietary easy-cut technology uses special knives to create a small tear strip in the lidding material near the top of the container. Once this strip has been torn, the package contents can be dispensed. Then, thanks to the intricate yet user-friendly design of the container, the top of the package can be folded so tightly that no product can escape. While a personal care product happens to be shown here, Blisspack says products from the pharmaceuticals space would be equally valuable.
• Clearly beautiful
Sometimes a packaging presentation is so right it just leaps out at you. Such was the case Thursday when I visited the Kyodo Printing booth and saw a clear standup pouch of soup with a beautifully printed paperboard header carrying clear, compelling graphics. Everything about this presentation said "fresh and wholesome." Made by a food company called Rock Field in the Japanese city of Kobe, the Vege Soup line is a fresh product with a 10-day refrigerated shelf life. It sells for about $5.00 because it is unabashedly aimed at those who are after healthful sources of food and are willing to pay for it. The PE/nylon/PE structure is an adhesive lamination from Kyodo.
• Carefully controlled permeability
Another clear food pack of considerable interest was displayed by South Korean film producer Dae Ryung Precision Packaging Co., Ltd. Called O 2 Fresh Film, this material reduces the physiological activities of fresh produce to a minimal level by means of carefully controlled permeation. The idea is to match the respiration rate of the produce with the permeability of the film, and this is done by means of a patented process called laser sublation of polypropylene film using nanosecond, picosecond, and femtosecond laser. It's a matter of puncturing minute holes in precise micropatterns so that the desired permeability can be achieved. It's considered a large step up from more conventional methods of mechanical perforation using minute hot needles. It's also said to be better than using CO 2 laser to create microscopic holes. A number of produce marketers have been using this technology for the past year or so in Korea, and now Dae Ryung Precision Packaging is teaming up with Dai Nippon of Japan to bring the technology to the Japanese marketplace. The package shown here is a 300-g portion of bean sprouts that have a one-week refrigerated shelf life.