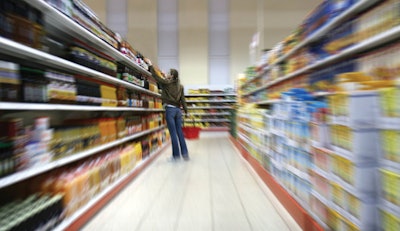 The business of retail is changing. Where once the focus was on selling someone else's products, today the focus is on selling your own. Retailers more than ever are now brand owners. And, it's not just the outlet that you're branding; it's all the material on the shelves. If it were only as easy as sticking a private label on a product.

But, provided you have a good, quality product, it really is all about the packaging, and the key to delivering successful packaging is all in the design-to-print process: creative design, naming, copy on the package, and managing (storing, accessing, routing and distributing) brand assets that come from a variety of sources. What if managing this process could be achieved through one central portal? A gateway where all members of the team responsible for various portions of the packaging process could access a "true-version" in real time? With today's advancements in packaging launch software, private-label retailers can benefit by taking a fragmented process and streamlining it to be a scalable, practical, and adaptable solution that saves both time and money.

According to The Nielsen Company, during a 52-week period ending December 24, 2011, overall sales of store brands increased by 5.1% in supermarkets. The study also found that supermarket store brand sales set a record-high bringing $59.9 billion, $2.9 billion more than the previous year. National brands gained only 2 % over the same 52-week period. Retailers of all kinds including supermarkets, drug stores and discount stores saw a 3.9% uptick in store brand sales, national brands only saw a 0.6% increase by the end of the 2011. Sales of all products increased by $5.9 billion; $3.4 billion of that (58%) was due to store brands over the same period. Store brands sales set a $92.7 billion record (Private Label Manufacturers of America) in 2011.

With private label sales continuing to skyrocket year after year, the rate at which private labels will need to produce in order to keep up with demand will surely skyrocket, too. Private labels are no longer the afterthought of the American consumer. Having proven they have what it takes to be in the game, store brands need to start thinking and acting like national brands in order to remain part of the play. Do store brands have the systems in place to be able to cope with this increase in product scale?

Practicality

Today's crop of private label retailers find themselves at a crossroads where they can choose to maintain the tasks of a merchant/distributor or evolve into a "brand owner" role. The metamorphosis from retailer to brand brings with it a host of responsibilities, including taking the characteristics of both your store and your private label offerings and merging them into one cohesive identity that a customer can interact with and recognize moving forward. With consistent branding, labeling, and packaging, your private label offerings and retail stores can come together in a successful marriage.

While managing your transformation into "brand owner" is certainly important, it is absolutely vital to keep abreast of the ever-changing rules and regulations handed down from the Food & Drug Administration that directly influence the look and feel of your packaging. The more warnings and ingredients that need to be prominently displayed on product packaging, the more critical it is to use the available space on the packaging to convey your message.

Consumers are more in tune than ever with the various design offerings available to them in the market and are very discriminating. Some are interested in portability, convenience, or portion-controlled packaging, while others are simply interested in how it will fit on their pantry shelves. In fact, you should know that various researchers have documented that more than 70% of purchase decisions are now made at the shelf, and that transaction is dominated by the package and by design. No other characteristic of your brand carries more influence with consumers than your packaging. From ads to displays to coupons, none of these aspects of brand identity dominates your customer's experience in the same way that packaging does with its immediate and powerful ability to create brand loyalty.

In order to compete in a market saturated with retailers making the leap to brand owner status, you must apply the same intensity to your packaging processes as you do to every other facet of your business. A first step to operating like a brand owner is to take ownership of the packaging design process. Traditionally, private labels have outsourced this process to various vendors, each specializing in a specific task, creating a slow, labor-intensive, fragmented process that inhibits implementation of key initiatives.

With the right packaging design processes in place, products can make it to market on time and stay competitive. Improving the packaging design process may hold one of the keys to overcoming some of the challenges facing many private label owners. Up to this point, outsourcing the process did make sense, as it was necessary for companies to maintain focus on their current initiatives while finding calm in allowing the packaging and design to be managed by "the experts." While this makes sense in theory, it also allows for a certain degree of incontinuity. How can the new breed of private label brand owner control the identity of their brand, if outsiders control the crucial aspect of that identity that is seen, touched and recognized by the public on a daily basis?

Money-saving

So much of your label's success depends on your packaging. While your actual packaging certainly has an impact on the bottom line, the stakes are even higher beyond simply the brand influence. There's an even heftier price to pay for packaging that is delayed due to lengthy approval processes compounded by all of the time wasted on coordinating the efforts of outsourced vendors. For example, if a hot new private-label product is flying off the shelves of major retail stores, for every day that other private label retailers can't get a similar product on the shelves, revenue is lost to their competitors.

To make matters worse, the very technology utilized to sync all of the changes that occur during the design approval cycle with various vendors lends itself to unreliable data. Personal computers, compact discs, and servers that live on someone else's network can serve as more of an approval process threat than a guarantee of timeliness in today's real-time data world. With every additional person involved in updating and saving changes, the risk of human error increases, raising a store brand's chances of making a critical error that could set your production back significantly.

Time-saving

Let's dissect a real-world scenario in which the outsourced solution fails. A direct competitor has a product launch and it has now become essential that you make changes to a packaging design that is currently in its final stages and bring the product to market weeks earlier than originally planned. You also need to meet with your manager today equipped with the current status of the project and recommendations on how to achieve this lofty goal. If crucial data you need is not readily available because you've outsourced the execution of the launch, how are you supposed to make the necessary recommendations and decisions? Emails and phone calls are a natural starting point in this predicament, but you are left vulnerable to those whose priorities may or may not be on par with what yours are right now.

Now imagine what this same situation could look like if the brand manager owned a common data repository that allowed all members of your team (from design to print) access. What if engineering specs, graphics, substrate materials, etc. were all organized in one, easily accessible place.

The benefit of storing the data in this way is that the packaging information remains secure and instantly accessible. Packaging launch software has multiple levels of approval-based access that protect data and intellectual property generated by the creative team. The advantages of a real-time environment become apparent when you consider the alternative: a manual system reliant upon multiple phone calls, e-mails, and overnight package flow to all users.

Systemizing this process will take the guesswork out of everyday packaging challenges, like adding a call-out, up to the more involved issues like redesigning an entire package on a tight deadline. The ability to access, comment on, and approve one "true version" of a packaging design without several separate iterations of artwork creates a reduction in time and errors getting your product to market faster. It helps your organization save time and money, all while achieving your packaging goals. When the packaging design and management process is streamlined in this way, your time can be better served working on product innovation and gaining market share.

Adaptability

The beauty of owning the package design process is that the process can grow and evolve right along with your business. You need not simply accept a vendor's business practices; you can create and incorporate your own. This is a critical advantage, as we are living in the dawn of the private-label market and have yet to experience its full maturation. A streamlined packaging design process offers the retailer-turned-brand owner an ample opportunity to cultivate a cohesive brand message through package design, taking your packaged goods from being recognized as an extension of your brand to an equal part of a unified message.

Ian Schofield (ischofield@sunbrandingsolutions.com.) is sales and marketing director for Sun Branding Solutions, which provides turnkey packaging launch solutions for brand owners and private label retailers from creative design through to legal sign-off, global color management, and print.