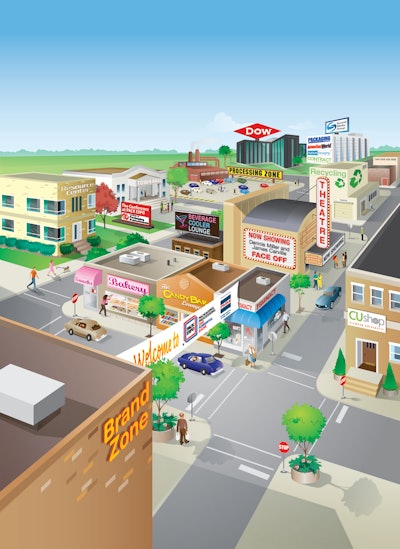 With a record 1,800-plus exhibitors showing off the latest in packaging and processing innovation across more than 1.1 million net sq ft of exhibit space, Pack Expo International 2012 is completely sold out of exhibit space.

"The sold out status of Pack Expo speaks volumes to its value as a showcase for the packaging and processing industries," says Charles D. Yuska, president & CEO, PMMI. "With space completely gone three months out, the show has surpassed even our expectations."

With all of the packaging and processing technology on display, the customer-centric focus of the show will ensure attendees can make the most of their time on the show floor.

"With new and returning industry pavilions and lounges, partnerships with innovators like Material ConneXion and Mintel, and industry expertise across the show floor and in the conference halls, Pack Expo International 2012 will be an event that highlights all the best these industries have to offer," adds Yuska.

In addition to lounges dedicated to the beverage, baking and snack, confectionery, and pharmaceutical industries, the show will feature expertise from the National Confectioners Association (NCA), the Association of Independent Corrugated Converters (AICC), the International Society of Beverage Technologists (ISBT), and several chapters of the International Society for Pharmaceutical Engineering (ISPE). Be sure to visit the Pharmaceutical Pavilion—Summit Media Group, Inc.'s Healthcare Packaging has proudly served as a leading media partner in promoting it this year.

Pack Expo 2012 will also see the return of the Pack Expo Lecture Series, with comedian and pundit Dennis Miller and commentator James Carville taking the stage on Sunday, Oct. 28.

"The discussion between Carville and Miller promises to be not only engaging and entertaining, but particularly relevant in this election year," says Yuska. "We're looking forward to a great event."
Tickets for the Pack Expo Lecture Series with Dennis Miller and James Carville are available online at www.packexpo.com and cost $125 per person ($100 per person for groups of 10).

A highlight of Pack Expo will be the induction of the 2012 Packaging Hall of Fame class. The inductees who will be recognized at a reception in their honor on October 30, 2012, 5:15, at the Hyatt Regency McCormick Place, include:

• 
Curtis Babb, MillerCoors (retired)
• 
Thomas Brady, Plastic Technologies, Inc. (PTI)
• 
Thomas Dunn, Flexpacknology LLC
• 
Fred Hayes, Hayes & Associates Inc.
• 
Hershey and Bernie Lerner, Automated Packaging Systems
• 
Nick Wilson, Morrison Container Handling Solutions

"The range of experience and dedication to giving back to the packaging community in this year's class is extraordinary," says Maria Ferrante, vice president, education & workforce development, PMMI. "The entire Pack Expo community is invited to the Packaging Hall of Fame reception. In addition to honoring these distinguished leaders, it provides scholarships for students in packaging programs around the country. It's a very powerful way to support our industry."

Proceeds from the reception benefit PMMI's Packaging Education and Training Foundation, which offers scholarships for students in two- or four-year packaging programs. Tickets are available for $75 per person, and table sponsorships range from $1,500 to $3,000. To purchase tickets, visit pmmi.org, and to arrange sponsorships, contact Maria Ferrante, vice president, Education & Workforce Development, PMMI: mferrante@pmmi.org or 703/243-8555.

The Conference at Pack Expo can also be a resource for confectionery manufacturers seeking examples and insights to guide them in refining their processing and packaging operations. In a presentation entitled "Packaging Sustainability and the Food Value Chain", Anne Roulin, Head of Packaging, Nestlé, will discuss how the Packaging Impact Quick Evaluation Tool (PIQET) was introduced at Nestlé and explore how the initiative has affected the company—and ideas about sustainable packaging initiatives—worldwide. Roulin's session will take place Tuesday, October 30th at 1:30 p.m. For information on how to register for this session, visit www.packexpo.com.

Though not specifically geared towards confectionery manufacturers, several other show features will provide useful guide posts to companies within the industry. The Brand Zone will help brands discover innovative containers and materials grabbing consumer attention at the point of purchase. Within The Brand Zone, attendees can explore award-winning package designs at The Showcase of Packaging Innovations®, sponsored by The Dow Chemical Company, learn about exciting new materials from Material ConneXion®, and understand the latest consumer drivers from the intelligence experts at Mintel.

The Processing Zone will spotlight the latest processing technologies for mixing, heating and handling confectionery ingredients and products.

The popular Reusable Packaging Pavilion is returning to Pack Expo in Chicago with its largest number of exhibitors to date. Twenty-seven companies will exhibit in the sold out Reusable Packaging Pavilion located in the Lakeside Center of McCormick Place. The exhibitors include manufacturers, material suppliers, providers of washing and other specialty equipment, and poolers and service providers of reusable packaging systems and solutions. The Association also is offering a comprehensive educational series at Pack Expo, presenting six sessions on topics ranging from implementing HACCP and GFSI to driving measurable environmental results with reusable packaging.

"The Pavilion and our conference sessions keep growing every year in response to the positive feedback we receive from attendees," said Jerry Welcome, President, RPA. "Having all these resources in one place help attendees get complete information about reusables, whether they are just starting with implementation or they want to evolve their supply chains further to gain more efficiencies and cost savings. And in turn, it's a great opportunity for our members and the RPA to showcase the value we bring to the packaging market."

Also at Pack Expo, the Association is presenting its first annual Excellence in Reusable Packaging Award. The award is designed to recognize companies that have developed, supported or implemented measurable and innovative reusable solutions in a business-to-business supply chain. The award is open to non-members as well as members of the RPA.

So there you have it, a Pack Expo International like none other. Be sure stop by our Packaging World Booth N-4529 and say hi.