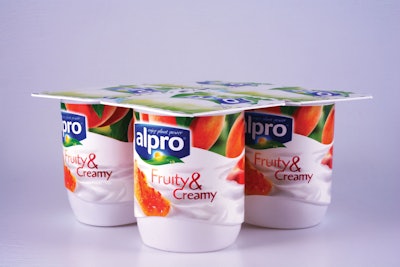 In January 2012, Alpro Belgium, an organic food production company headquartered in Ghent, Belgium, launched its new soya-based yogurt, Alpro® Fruity & Creamy. In advance of the new product introduction, Alpro considered a variety of container options. The company wanted a new container to make this new yogurt recipe distinctive from its existing yogurt and to raise Alpro's market profile. Alpro chose a yogurt cup design that features a "wavy" curve-shaped relief on the sidewalls.

To help achieve their marketing objectives, Alpro chose to work with Arcil, a designer and manufacturer of high-performance form/fill/seal packaging, because the yogurt producer already had an Arcil F/F/S machine working well for them to produce their current yogurt cups.

Arcil technicians went to work to engineer a customized thermoform/fill/seal system that could produce both the new yogurt cups (110 gram volume) and the existing, more traditional cups (125 gram volume). Making the machine modifications to accommodate the added cup format took only six days.

The modified line is producing both the new and previously existing yogurt cups at rates of 30 strokes per minute—21,600 cups per hour.

The new yogurt cups are in-mold labeled with paper labels. The labels are introduced during the cup forming step, and the inner side of the paper label is covered with hot-melt glue which reacts to and joins with the warm plastic sheet just as the cup is formed.
Companies in this article