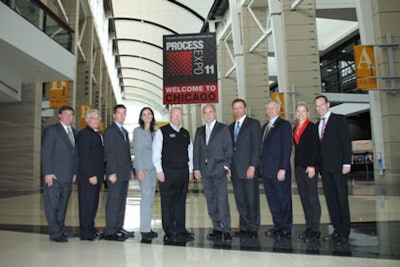 The Food Processing Suppliers Assn. (FPSA) reported that it became the first U.S.-based trade association to join with the Food and Agriculture Organization of the United Nations (FAO) and Messe Düsseldorf (producers of the interpack trade show) to fight global food loss through the internationally recognized "Save Food" initiative. Save Food brings together stakeholders in industry, politics, and research, facilitating dialogue to address the issue of the 1.3 billion tons per year of food that is lost on the way "from farm to fork."
"In the United States alone, food is wasted at an estimated 1,400 calories per day per person, which translates into over 150 trillion calories per year," said Scott Scriven, president of Weber Inc., and the Chairman of FPSA. "If Europe and the United States could contain wasted food, the savings would be more than ample to feed the entire world," he added.
"Thirty-seven percent of the world's food is wasted. FPSA will be evaluating ways that the association and its membership can help bring that number down through education and collaboration with Messe Düsseldorf and the FAO," said David Seckman, FPSA's president and CEO.
FPSA will be seeking active participation from its membership and councils representing the bakery, beverage, dairy, meat, and prepared foods market segments in the Save Food initiative.
Record-setting Process Expo attendance
FPSA announced that the 12,732 registered attendees of Process Expo 2011, held Nov. 1-4 at McCormick Place South in Chicago, set a record.
In the photo shown here, from right to left, are Thomas Dohse, Messe Düsseldorf; Miriam Ruess, Messe Düsseldorf; Jan Erik Kuhlmann, Multivac; Barry Shoulders, Oystar Packaging; Bernd Jablonowski, Messe Düsseldorf; Scott Scriven, Weber, Inc.; Eva Rowe, Messe Düsseldorf, Thomas Mitchell, Messe Düsseldorf North America; David Seckman, FPSA; Adam Finney, FPSA.
"Not only did we double the size of the show floor over last year's, we delivered more than twice as many attendees to the show at the same time," said Scriven. "When you take the economy into account and what is going on at other industry trade shows, these results are absolutely remarkable and demonstrate the industry's enthusiastic support of a horizontal tradeshow dedicated entirely to the food and beverage industry."
The next Process Expo is scheduled for Oct. 14-17, 2013 in McCormick Place's North Hall in Chicago. More information is available here.