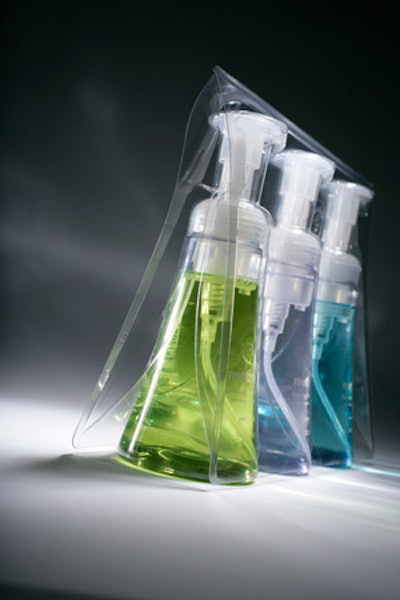 That the clamshell is the object of praise and scorn reflects opportunities fulfilled and missed. In a relatively short time span, it has become commonplace in a variety of industries, among them electronics, toys, hardware, and health & beauty. Whether on a shelf, on a counter, or hung from a rod, its tough, clear plastic affords viewing of its contents, while protecting same from easy pilferage--features prized by consumer packaged goods companies and by retailers. A third stakeholder, the consumer, has been less enamored of the package, due almost entirely to problems with opening it.
Design firms and package suppliers have devised alternatives to the clamshell. Such is to be expected and is the nature of competition. Beyond that, some packagers, in addition to a major Internet retailer, have projects to reduce or eliminate their usage of clamshells. Those efforts, in addition to those expended by the clamshell supplier industry to improve its product, would benefit from a retrospective, because a function of packaging—in addition to protection and communication—is convenience. The fact that one of the clamshell's primary elements—opening—was given short shrift deserves analysis.
Two outta three ain't bad?
It can be, when the odd one out is the consumer. Perhaps the thinking was that the consumer was not being left out, that the consumer was presented a well-protected product and could view that product before purchasing it. This is akin to a belief that what's good for the packager (and retailer) is good for the consumer. That stance ignores the differences in priorities that can exist among the parties.
Or, perhaps in the origins of the clamshell is a particular application of the systems approach: convenience of opening traded off for the aforementioned benefits. Trade-offs are justifiable to the extent that they are optimized. Such was not the case with the clamshell, because said benefits could have been provided with less trade-off.
Try and see it their way
There had to have been many among the early adopters of the clamshell who expected that consumers would use a pair of scissors or other such instrument. Problem solved. After all, can openers and cork-removers are used without complaint. Where the analogy fails is that consumers know that those containers require a specifically designed instrument for opening.
Consumers couldn't tell by looking at a clamshell that it wasn't designed for opening manually. When this became evident once they brought the package home, some consumers were known to have used their teeth in failed efforts to open the clamshell. By the time they conceded defeat and sought an instrument, some consumers were already frustrated.
From the perspective of the packager,
wrap rage
—as it's been coined—might seem a bit hyperbolic. However, one of the clamshell's strong points might account for some portion of consumer anger. That's because the same see-through clarity that can influence the consumer in the store can taunt at home, displaying the product tantalizingly, yet denying easy access.
But what of subsequent clamshell-opening experiences? There still can be resentment, residual from the first encounter and beyond. Every effort should be made to know the consumer's perspective. It should not be forgotten that child-resistant closures—their unquestionable benefits notwithstanding—generated complaints that they also were adult-resistant closures.
Similarly, there is no denying that the clamshell performs excellently as a deterrent to pilferage; however, the consumer doesn't necessarily associate reduced pilferage with (potentially) lower prices. Even if consumers make the connection, many are still not willing to be inconvenienced, their attitude being that a means should be devised that frustrates shoplifters, but not shoppers.
What should have been done, what still can be done?
The clamshell deserves its niche among packaging options for its strengths. It's at least a good package, albeit not a perfect one.
Because there is no perfect package, the designers, suppliers, and users of clamshells should have marketed those aspects better. That could have been done by communicating a feature as a benefit, conceivably with a statement on the package such as,
"Theft-guard sealed. Please open safely at home using scissors."
Because clamshells also rely on size to combat shoplifting, many of them have the space to print that statement on the insert card. Dotted lines denoting cut-lines would have been helpful where feasible. Such an approach would have educated the consumer; would have afforded he or she the opportunity to pass on the offering if they thought it was burdensome; and might have averted the attention of the various dubious annual awards that chide the clamshell. It's an approach that still can be implemented.
Clamshells, as do all packaging, face sustainability challenges. Polyvinyl chloride, traditionally the plastic used for clamshells, is claimed by some to be hazardous at both ends of its life cycle. Some clamshell suppliers already have switched to PET, and some are even evaluating the practicality of bioplastics. Other initiatives center on reducing the thickness of whichever plastic is used. Regardless, clamshell suppliers will seek to retain the signature benefits of their package while trying to fend off incursions from alternatives that claim to be more sustainable.
As the dominant package in some product categories, clamshells impose restraints on competitive alternatives. How? Packagers that have invested in packaging lines designed for clamshells would give highest consideration to alternatives that can be run on the same equipment with little or no modifications.
In all, the clamshell makes for an instructive case study, regardless of whether a packager is a present or potential user. Lessons include: acknowledge a package's shortcomings; don't assume consumer acceptance without consequence; strive to know the consumer's perspective; and be forthright in consumer relations.
Incidentally, the clamshell has given rise to a cottage industry of tools designed specifically for opening that package. Guess how at least one brand is packaged—that's right, in a clamshell. How's that for openers?
Before becoming a packaging consultant,
Sterling Anthony
worked for Fortune 500 food, healthcare, and automotive companies, and has taught packaging at the university level. He welcomes your comments by phone, 313/531-1875, or by e-mail, Sterlinganthony1@sbcglobal.net. His Web site is
www.pkgconsultant.com
.