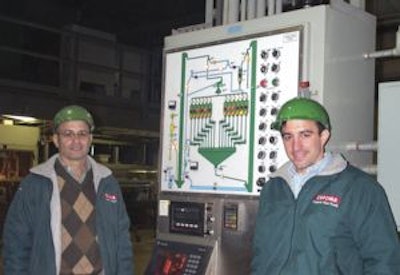 A key viewpoint concerned equipment purchases, made necessary to accommodate Espoma's three-year transition from paper to plastic bags. Serge Brunner, the company's vice president, said that though a return on investment is important, it's not the Espoma's top priority in the machinery-buying equation.
Private advantages
"An advantage in being a private family business is that we don't operate quarter to quarter. The need [for new machinery] was obvious. We attempted to modify and keep [older] equipment. We worked with our suppliers to see if we could do it, but it couldn't be done. So it's either buy the new equipment to move the company in the direction you know you need to move, or don't buy."
Summarizing the company's philosophy on the matter, Serge Brunner says, "there are basically two ways to run a company. One is to buy the best equipment you can, run the heck out of it, and when it falls down around your ears, and you've gotten every last penny you can squeeze out of it, you throw it away and replace it. The problem with that is two fold in my opinion. One, at the end you have old, decrepit useless equipment. Two, the atmosphere you set for your employees is that you don't give a [darn] because you use, abuse, throw out, and start again. It's hard to run a first-class operation when your people see that you don't care about anything.
Our way
"The alternative way to run a business," he believes, "which is the way we've chosen, is that you buy the best equipment you can, you constantly upgrade your equipment and your plant so they remain as close as possible to 'state-of-the-art' as they can. That way you never have to replace a whole plant or line at one time. And because you set that standard, your people respect the equipment, they respect the product you're trying to manufacture, and I think you run a better organization. That's our approach."