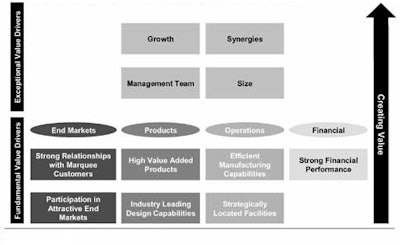 A February report from investment bank Piper Jaffray (www.piperjaffray.com) provides some answers.
"We have found that packaging companies that exhibit certain differentiating characteristics attract more interest and higher valuations from potential buyers," say the authors of the report in their overview. "We refer to these characteristics as value drivers. These value drivers influence the ability of acquirers to continue their growth and enhance their profitability."
The report identifies seven Fundamental Value Drivers and four Exceptional Value Drivers. "Fundamental Value Drivers are essentially the strength of the business," says the report. "The presence of these characteristcs has the potential to drive strong interest and strong valuations. However, without some combination of the Exceptional Value Drivers, they alone generally will not result in exceptional valuations."
The graphic shown is a presentation of the 11 value drivers. For a copy of the report, contact douglas.j.lawson@pjc.com or 312/920-2139.