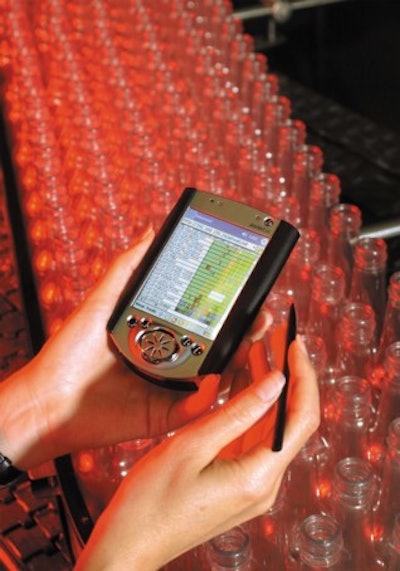 In order to satisfy these new requirements Sidel's Efficiency Improvement Tool (EIT) has evolved to present new information with both plant and corporate reporting. Two new applications (EIT Map and EIT Compare) have been developed that provide in a single view all the key performance indexes (KPI) of a production line. This information is presented in a logical manner that assists line managers and key operating personnel in making meaningful decisions.
KPIs available:
Machine:
• Stops: minimum maximum average occurrences % time % Occurrence weighted incidence
• MTTR MTBF Operative available and running time
• Instantaneous maximum minimum and average speed
• Effective speed stops each 8 hours
• Production rejects quality
• O.E.E and O.A.E.
Accumulation Line:
• Efficiency
• Critical machine indexes
• Accumulated running time
• Waste and losses
These parameters are collected and compiled in very user-friendly reports using state-of-the-art software and database techniques which allow users to run reports and get the information in seconds. The best part of the EIT system is that it is PC based designed to work in plant or remote (head office) locations. The advantage to operations personnel is that line managers can get the information they need "live" and make any required adjustments to their line while a production manager can remotely monitor several plants and strategically plan output and deliverables.
These two software modules complement a suite of programs developed by packaging experts specially designed for packaging professionals. The EIT software suite is also commonly used to monitor V-Graph output levels assisting with complex line balancing equations. Waste/loss modules help identify key parameters required to increase out put and line efficiency.
The newly added wireless module assists in start-up and maintenance proceedures by placing many reports on a wirless enabled Pocket PC. Real-time information in the palm of your hand on the production line the future is approaching and with EIT the information is becoming more manageable.