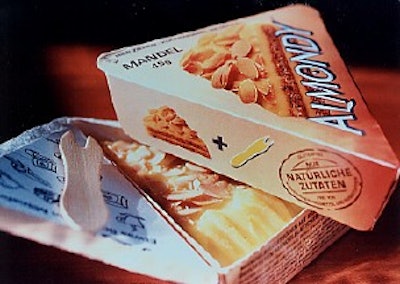 "Packaging with this PE-coated board gave us the possibility to guarantee the quality of the product to our customer," says Kent Ahlqvist, Mandelbagerist managing director of new products. "We wanted to use packaging material that withstands rough handling in distribution."
The PE-coated board requires no inner plastic wrapping for the packaging of the desserts. Made of Stora Enso's Performa White board, the single pack functions as a tray and includes a wooden fork that is attached under the lid by converter Eson Pac (Veddige, Sweden). Eson Pac offset-prints the board in five colors.
Launched in the European retail market in '99, the Almondy line, available in three varieties, is being sold on trains, airlines, and at hotels, gas stations, convenient stores and restaurant bars for SEK13.
Companies in this article
Videos from Triangle Package Machinery Company