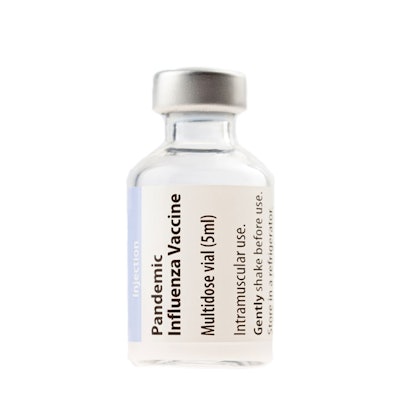 Time to get your flu shot? "In the end, 155 million doses of flu shots and sprays should be available for the upcoming flu season, if all goes well with the manufacturing process." That's according to a "paging Dr. Gupta" blog on CNN.com. The story credited Sanofi Pasteur, GSK, Novartis, and Medimmune with shipping millions of vaccine doses this summer.
Meanwhile, a CNN video, "Say goodbye to flu shots," reports, "a new patch may be available to dissolve the flu vaccine into the skin, replacing the need for syringes."
Smartplanet recently reported a story about a vaccine delivery patch that shows improved immunity to influenza. "The 100 needles that make up this new vaccine-delivery patch system could fundamentally change how vaccines are administered."
Apparently in response to previous shortages in H1N1 vaccines, an in-Pharma Technologist.com report says that the President's Council of Advisors on Science and Technology (PCAST) recommends a long-term pandemic response overhaul whose implementation "will require significant collaboration between public and private sectors."
The PCAST Web site offers a downloadable vaccine press release says, "Targeted Federal investments in five key areas could shorten by weeks or months the time needed to produce enough vaccine doses to protect the entire nation in the event of another outbreak of pandemic flu—an advance that could save thousands of lives."
The five areas mentioned were:
• Surveillance: Identifying newly emerging pandemic viruses so vaccine production could start sooner.
• Seed viruses: Developing stock viral "backbones" for faster production of specific virus strains.
• Sterility tests: Developing better and faster tests to ensure sterility during the production of vaccines.
• Potency-test reagents: Developing faster and more reliable tests to document vaccine potency.
• Fill-and-finish: Enlarge capacity and modernize machinery used in final stages of vaccine production, including vial filling.
"An investment of $1 billion or more annually for several years can be justified on a cost-benefit basis," the press release says in a report conclusion, "in part because Federal investments in influenza pandemic response would speed development of technical platforms and production facilities that would support medical countermeasures against a variety of other dangerous pathogens, and in part because large numbers of lives could be saved by relatively inexpensive improvements in current methodologies."