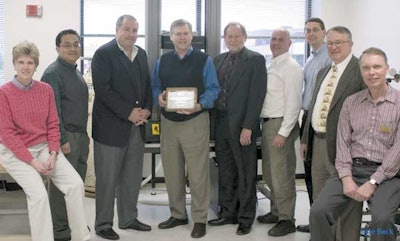 Rochester Institute of Technology packaging science program will receive $90ꯠ in grants from American Packaging Corp. to support graduate research in RIT's Integrated Plastics Center of the College of Applied Science and Technology.
The grant, made over three years, will fund American Packaging's graduate assistantship and provides a one-year tuition stipend to two RIT grad students. The grant was announced by Peter Schottland, president and CEO of Rochester, NY-based American Packaging, during a recent visit to the campus.
Launched last year, RIT's 1걄-sq' plastics center is used to evaluate and characterize plastics and to develop cost-effective packaging.
Shown from left to right in the photo below are Karen Proctor, RIT; Spencer Kim, RIT; Peter Schottland, American Packaging; Larry Webb, American Packaging; Wiley McKinzie, RIT; Fritz Yambrach, RIT; David Geier, American Packaging; Guy Johnson, RIT; and George Sutherland, RIT. —AO
Companies in this article