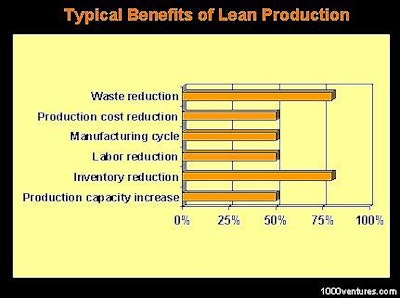 What is lean production? Lean is about doing more with less: less time, inventory, space people and money.
Lean manufacturing (also known as the Toyota Production System) is, in its most basic form, first the systematic elimination of waste, overproduction, waiting, transportation, inventory, motion, overprocessing, defective units. Secondly, it is the implementation of the concepts of continuous flow and customer pull. The lean production concept was largely inspired by the Kaizen, the Japanese strategy of continuous improvement.
Five areas drive lean manufacturing/production:
1. cost
2. quality
3. delivery
4. safety
5. morale
Just as mass production is recognized as the production system of the 20th century, lean production is viewed as the production system of the 21st century.
Benefits of Lean Production
Establishment and mastering of a lean production system would allow you to achieve the following benefits:
* Waste reduction by 80%
* Production cost reduction by 50%
* Manufacturing cycle times decreased by 50%
* Labor reduction by 50% while maintaining or increasing throughput
* Inventory reduction by 80% while increasing customer service levels
* Capacity in current facilities increase by 50%
* Higher quality
* Higher profits
* Higher system flexibility in reacting to changes in requirements improved
* More strategic focus
* Improved cash flow through increasing shipping and billing frequencies
However, by continually focusing on waste reduction, there truly is no end to the benefits that can be achieved.
To read the full article, see www.1000ventures.com.
Companies in this article