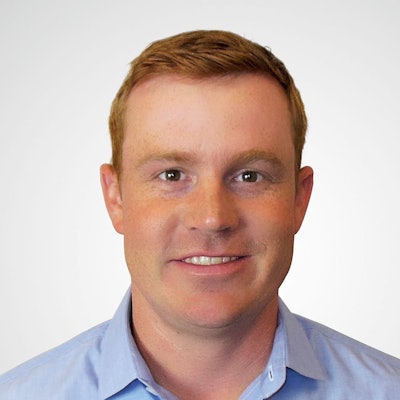 For example, most of the big HDPE multipack can handle suppliers are focused on light-weighting. This is no doubt right-headed because it's a good example of source reduction. But even lighter HDPE can handles may wind up in the ocean when you consider how bad consumers are at recycling. So it's encouraging to see, at PACK EXPO Las Vegas and beyond, that some approaches to multipacking of cans go further than mere light-weighting.
The big-splash examples of this have come from brands outside the United States. Denmark's Carlsberg, for example, has adopted a microdot adhesive strategy, using tiny glue dots directly on and between the cans themselves to hold them together in a six-pack formation. It's featured prominently on page 32 of this issue. The formation completely eliminates the need for the plastic shrink wrap the company previously used. Carlsberg estimates that once the system is rolled out into all the markets where it has a significant amount of volume in four-, six-, and eight-pack formats, it will reduce plastic waste by approximately 13,000 tons per year.
Also thinking outside the box, Corona this summer introduced a plastic- and adhesive-free interlocking can design that it calls Fit Pack. Imagine stacking two or more of your typical 12- or 16-oz aluminum cans on top of one another, and then twisting to lock them together via a threaded mechanism built into the cans. As the number of cans consumers choose to twist together grows, so does the height of their stack, making the design ungainly if a lot of cans are involved. But for grabbing two or three for the beach, a baseball game, or picnic, there may be an application. A pilot program is currently underway in Mexico, and Corona spokespeople say they plan to make the can design open source for other beverage manufacturers, though retooling packaging machinery may be an issue.
If your antennae were calibrated for it, the recent PACK EXPO Las Vegas was replete with fiber-based multipacking alternatives and the machines designed to apply them. WestRock's CanCollar™ was one that I saw in person at the show. The can handle is made from WestRock's wet-strength CarrierKote™ material, which while 86% renewable paperboard fiber, is laminated to a polymer to protect from moisture and rough handling. The recycling profile will vary by regional capacity. Application currently relies on a semi-automatic platform geared more toward microbrew volumes than massive commercial canning operations.
Also showing a fiber-based multipack can handle option at PACK EXPO Las Vegas was Graphic Packaging. It was demonstrating what it calls its environmentally responsible paperboard packaging, which also offers the benefit of clean tops, spacious billboard area, and orientation flexibility. Its associated can handle application machinery is flexible with regard to product orientation and diameter, with core formats ranging from 2x2 to 2x6.
Can handle technology even brought home a coveted Technology Excellence Award from PACK EXPO. The collaboration between machinery builder TECMA ARIES in the role of can handle applicator and molded pulp material technology from E6PR™ resulted in the combined TECMA ARIES E6PR. In this system, four- and six-pack rings made from beer brewing byproducts like barley and wheat ribbons are strong enough to hold cans through distribution, despite being fully compostable. Our earlier coverage of this innovative approach can be found here: pwgo.to/5312.
One final example comes from multipack ring carrier pioneer Hi-Cone, which is going the circular economy route to sustainability. It recently launched RingCycles™, which contain greater than 50% post-consumer recycled (PCR) content (LDPE #4 recyclable). They appeared on shelves in late 2019 in the UK. Consumers in the U.S. and Mexico will start seeing them in Q1 in 2020 with additional regions being added throughout the year.
It's good to see such innovative approaches bubbling up. I suspect we'll see a few more at next year's interpack.