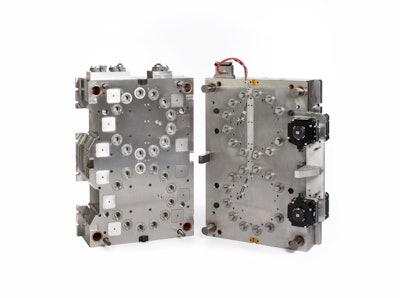 With advances in rapid prototyping and 3D printing, device manufacturers can produce concepts quickly. But a device concept and a full production-quality part are two very different things, particularly when it comes to high-risk, high-precision devices such as insulin pens or tear duct plugs.
Manufacturers can run into problems when attempting to turn a rapid-prototyped part into the next product for the market. If they jump straight from prototype to pilot tool before part optimization, manufacturers may create multiple iterations of the pilot tool, which will be costly and slow the development process.
"Ideally, the pilot mold should confirm the development tool," says Robert Irwin, Director of New Business Development at NyproMold, a leader in the design and manufacture of high-precision plastic injection molds. Making design changes to the part on a high cavitation production mold can be costly and time consuming, resulting in delayed production launches; it's much more cost-effective and efficient to refine the part design on a single cavity development mold, whose purpose is to demonstrate the final production quality part for consumer testing, or downstream processes.
Concurrently optimize part and production tooling
With a high-quality development mold, manufacturers will have a clear indication of the type of productivity, and part quality they can achieve. Traditionally, it has been a challenge to produce quality parts consistent with a production mold in an aggressive timeline. For this reason, NyproMold recently launched its Foundations Development Tooling Program to help customers achieve highly accurate parts earlier in the development cycle, driving better designs and more-productive mold solutions. In contrast to conventional prototyping, Foundations focuses on part optimization and mold development holistically and simultaneously.
While prototyping will deliver parts quickly, Foundations is focused on delivering optimized, production quality parts and enables NyproMold's cross-functional tooling and design team to rapidly assess the part and deliver an analysis of the component and provide a design-for-manufacturing review in a few weeks.
The Foundations methodology includes creation of the development tool using precisely machined steel inserts that feature cooling, gating and mold ejection consistent with a production mold. Using this tool, the team molds and validates production-quality parts in quantities up to 10,000 units, and presents a scale-up plan for manufacturing. Customers can choose to purchase the complete tool, or only the inserts and molded parts for use in market analysis or testing.
More realistic projections
By obtaining a production quality part for testing purposes, and simultaneously creating the design for a robust production tool, earlier in the process, manufacturers will have more realistic forecasts. This comes from more accurate part costs, tooling costs, and production volumes based on cycle time, which can be determined from the investment in a one-cavity development mold. Irwin notes, "NyproMold is committed to helping our healthcare customers create better products faster by optimizing part design for efficient injection molding – all at an early stage in the process, when it's easier and less costly to make modifications."
Micro-molded part analysis
In addition to the Foundations program, NyproMold offers design services for existing parts without documentation or drawings, as well as conventional industrial CT scanning.
The need for thorough, fast and cost-effective inspection of healthcare plastic parts for production qualification is a significant hurdle for plastic parts molders. Extremely small components for medical devices such as tiny, precision plastic gears or cochlear implants present unique design and manufacturing challenges. Analyzing these complex, micro-molded parts and assemblies for defects, accuracy, consistency and fit can be very difficult using conventional measurement techniques.
Traditionally, these parts required high-magnification, microscopic measurements; visual measurement devices; and costly fixtures for proper part alignment. NyproMold has recently expanded its 3D ProScan industrial CT scanning service to inspect, measure and validate micro-molded parts without fixturing. The plastic part is placed on Styrofoam (which allows the part to "float" in the images) and rotated while the scanner snaps images, building a 3D point cloud of the part. The point cloud is then overlaid on the model and 3D ProScan is able to quantify and visualize deviations.
With an accuracy of five to seven microns, clear 3D visual representation of the part, and the ability to non-destructively scan the internal and external geometry of complex plastic assemblies, 3D ProScan simplifies the inspection of micro-molded parts and assemblies, resulting in better decisions, faster. "Plastic parts are getting smaller and smaller," says Irwin. "A trend we're seeing is that more customers are sending tiny parts to X-ray for 3D modeling."