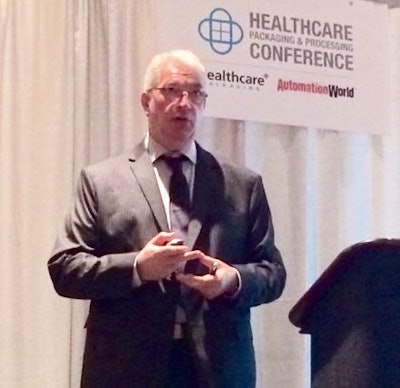 For companies in the life sciences industry, the Drug Supply Chain Security Act probably feels like perpetual waves of regulatory compliance right about now. They've passed 2015 lot-level serialization mandates and now they are working toward unit level serialization, which will be required come November of this year. And, there's more measures on the way as the industry works toward a seamless data exchange across the supply chain by 2023.
Honestly, when I talk to the people responsible for meeting these serialization deadlines in their organizations, I pick up on swells of stress—rising like an astronomically high tide—as the deadlines and regulations align. What feels worse, I imagine, is that all of the investments made for compliance provide no competitive business value, other than fending off FDA fines.
But, there is value underneath it all, according to Marcel de Grutter, Executive Director of the Open Serialization Communication Standard (OPEN-SCS) working group. During a presentation at the Healthcare Packaging & Processing Conference co-located with this year's PACK EXPO East in Philadelphia, he explained that OPEN-SCS is working on a common way to exchange information at the packaging line level, as well as an open source global name registry to manage the serialization variations across different countries.
For pharmaceutical companies, the benefit of the OPEN-SCS efforts will range from easier integration with different suppliers and contract manufacturing organizations (CMOs). Following the OPEN-SCS guidelines could also result in faster implementation times, validation and documentation of serialization platforms. For suppliers, using the standard approach will mean less customization of systems, will ease long term technology maintenance and even allow global market expansion.
Better yet, this is not new technology, rather, OPEN-SCS is working with existing standards groups like the International Society of Automation (ISA), GS1, OPC Foundation and the International Society of Pharmaceutical Engineers (ISPE).
"We don't want to reinvent the wheel," de Grutter said. "And you can't put serialization on top of current processes, it has to be embedded in. We ensure the data models are aligned with ISA 95, ISA 88 and other standards."
Looking at the five layers of the ISA 95 model, including intelligent devices (level 2A), line controllers (level 2), plant/distribution center (level 3), corporate IT (level 4) and government reporting (level 5), it is clear that the plant and packaging lines represent a complex situation for serialization that spans different technology layers for which no standard interface exists.
In addition, there is a lack of end-to-end security, as every vendor tries to protect just their own product's security. Therefore, there is a need for some kind of governing body to take ownership of a global standard that covers all of the layers in the plant. It also must be open and accessible to every company—large and small—in order to be sustainable.
This is a really important point, as noted by a business intelligence report from PMMI, The Association for Packaging and Processing Technologies. The report, the 2016 Pharmaceutical & Medical Devices: Trends and Opportunities in Packaging Operations, revealed that serialization costs have hit smaller CMOs the hardest, some of which can't afford the cost of implementing serialization technology, which threatens their business.
In January, during an OPEN-SCS membership meeting in Brescia, Italy, the group reviewed and edited drafts of the User Requirement Specification (URS) and the Functional Requirement Specification (FRS). They also reviewed successful test case scenarios at level 3 and 4 around serial number provisioning and event reporting.
Testing continues around a batch and master data repository, unused serial number return, and more, as they strive to standardize communication across all five levels of the ISA model. While it is a lot of work, they know they have to move quickly in light of regulatory deadlines.
It's important to remember, however, that this work by OPEN-SCS and the industry in general is not just about regulations. It is allowing everyone around the world to have access to safe medicine. In his presentation, de Grutter noted he has seen families in Pakistan drive hundreds of miles to get the right medicine because they can't trust their local pharmacies.
It is time to build intrinsic trust into the process.
Companies in this article