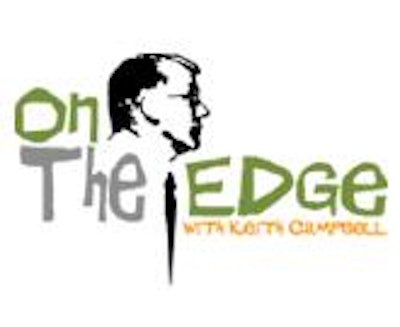 First generation machines were all mechanical, perhaps powered by an electric motor. Second generation machines were electro-mechanical, containing add-on sensors and actuators that were controlled by relays, solid-state logic cards and eventually programmable logic controllers (PLCs). Today's third generation machines are mechatronic machines in which the electrical, control, computer, and mechanical aspects comprise a fully integrated package, designed from the ground up using a mechatronic paradigm.

The movements in these third generation machines are typically initiated by a series of servos that are coordinated in time and space using sophisticated software and high speed networks. It is not uncommon for such machines to see a reduction of up to 80% of its moving parts when compared to its second generation predecessor and for the intellectual property content of the machine to be more than 50% in software rather than 80% or more in mechanical design. These mechatronic machines have resulted in lower costs, shorter lead times, the use of less floor space, faster startups, higher operational effectiveness and efficiency (OEE), more agility and safer workplaces.

During the electro-mechanical period, it was reasonable for end users to create separate mechanical and electrical specifications for their machines, and many did so. These electrical specs included control requirements that were heavily influenced by the steadily increasing use of PLCs. At the time that many of these plant and corporate specifications were being developed, PLCs were relatively new, unproven in the eyes of many, and expensive. A memory card might cost $2500 and be one of five or six such cards making up a processor chassis. There were scores of PLC manufacturers in multiple countries at a time when worldwide overnight express was not yet a reality, consensus standards were mostly regional or national in scope, and we had not yet entered into the global manufacturing economy. Specs at many sites solved these issues by calling for the use of a particular, regional preferred automation vendor.

Today we find ourselves in different circumstances and with three predominant strategies in play for preparing controls specifications for packaging machinery.

Strategy one is no specification at all -- just let it up to the machine builder. This strategy would have worked with first generation machines and MIGHT be ok for completely stand alone machines in operations that can tolerate low OEEs. I've seen this strategy in practice, sometimes resulting in machines arriving at the dock that couldn't be used. I wouldn't recommend this strategy to anyone. It is like taking a trip without a destination in mind, and in that case, any road will get you there.

Strategy two is to continue with the specifications that have evolved over the years and that rely primarily on sticking with one automation partner in the hope that it will simplify parts, training and connecting systems together. I practiced this strategy during the 80's and 90's, but, in today's fast-paced world where hardware is so cheap, many of the reasons that led to adopting this strategy are no longer valid. The preferred legacy suppliers are slowed down by concerns with backward compatibility and by the extra effort involved in developing proprietary platforms and communications systems. One of the saddest statements I ever heard in my 35+ year career as an automation professional was when a colleague at a leading food company stated that his company had decided it was ok to forgo innovations until they could be brought to them by their preferred automation partner. The preferred supplier approach can easily limit innovation and increase purchase costs.

Just as generation three packaging machines start out with a clean sheet design, specification strategy three rewrites user specifications based upon functional needs and accepted international standards. It takes advantage of the economies of scale and the speed of developments in consumer and IT markets by using PC platforms along with open-system standards for software and communications. It opens up the possibility of gaining early competitive advantage, but requires a certain level of competent knowledge within plant operations. I would recommend this strategy to companies today who aspire to be world-class.

Some standards, like OMAC's PackML may be employed in either proprietary or open control architectures. Other standards may only be available within open architectures. Those of us old enough to remember IBM during its mainframe days will remember the saying that "no one ever got fired for buying IBM". This meant buying IBM proprietary designs. But their closed architecture eventually led to the downfall of their hardware business as the industry moved on to open PC platforms. Now we have Apple making a move on the industry with their more closed design for phones and tablets, but on a global basis, more open Android platforms are gaining substantial ground. And so it goes.

What strategy is your company employing? Which one do you think is most appropriate in today's environment? Let us hear your opinions.
Comments
---
From the perspective of a packaging end user about to buy a packaging machine, the machinery specification is - by far - the most important document in the entire procurement process.
Posted by: GK Sharma on May 16, 2012