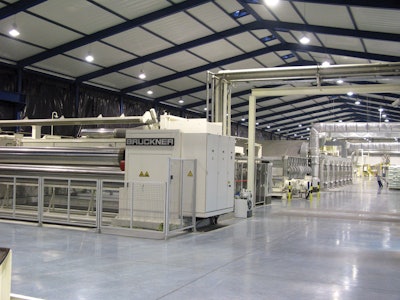 Ask people what they know about Peru and they'll likely say something about its cuisine, its astonishing collection of Inca ruins, or the diversity of its flora and fauna. But Peru is also home to OPP Film, part of the Oben Holding Group and one of the largest producers of Cast Polypropylene (CPP) and Biaxially Oriented Polypropylene (BOPP) in the world.

"We're part of the overall growth economy that has characterized Peru over the past few years," says Alfredo Barreda, OPP Film vice president.

"But," adds technical director Erik Sosa, "our opportunity also had a lot to do with the condition of the market here in South America. Those who were producing BOPP or CPP were not doing it in large volumes, nor were they focused on large markets. As things started changing with the spread of globalization, we recognized what it meant and built a business plan accordingly. We started small with a plant in Ecuador, but even then we aimed to produce in large volumes and to produce as efficiently as possible."

And where do the bulk of these two materials, CPP and BOPP, get used in flexible packaging applications? Most often they're part of an adhesive lamination for salty snack or pasta packaging. BOPP, for example, with the increased molecular orientation it undergoes when it is stretched in both the machine direction and across the machine direction, has clarity, moisture-resistance, high gloss, low haze, and high stiffness. However, it lacks sealing properties and tear resistance. So converters frequently combine BOPP and CPP in a lamination where each provides the properties the other lacks. Add metallization to the BOPP layer and you get excellent gas barrier properties, too.

Already the leading supplier of CPP and BOPP in South America, OPP Film is now targeting North America, primarily through its subsidiary PackFilm North America. Management believes that once the four new lines in its new building are in full production, the company will be able to produce commodity quantities so efficiently that converters in North America will add OPP Film to the list of suppliers who currently meet their CPP and BOPP requirements. Adding to OPP Film's competitive edge, management believes, is that because the four new lines represent the latest technology available, it will be able to combine commodity pricing with consistently excellent quality.

Two Lima facilities
At OPP Film headquarters in Lurin, just outside of Peru's capital city of Lima, OPP Film has two major manufacturing facilities. One is a brand new building measuring 390,000 sq ft. By July or thereabouts, this new facility will house two new BOPP lines (one has been operating since last October) and two new CPP lines (one has been operating since 2008). All four lines, from resin infeed at the beginning to the winders at the end, are supplied by Brueckner.

The distinguishing characteristic of these new lines is their size. When the second CPP line is installed later this year, its 6.6-m wide die will make it the biggest CPP line in the world.

A recent Packaging World tour of the new facility in Lurin began with the Brueckner BOPP line that has been running since October. Four tons per hour is its throughput, and the finished film it produces has a final width of 8.7 m (28.5 ft). Like all of the firm's product, the material produced on the new BOPP line is a three-layer A-B-C coextrusion. A core layer representing 90% of the finished structure is brought to the feed block of the coextrusion die by way of a twin-screw extruder. The skin layers on either side of the core layer are introduced to the feedblock by single-screw extruders.

Exiting the chill roll and water bath at a width of 1,100 m (43.3 in), the film enters the MDO portion of the process, or Machine Direction Orientation. The 18 preheat rollers, six stretching rolls, and 4 annealing rolls are all servo driven as opposed to the more traditional systems that rely on belts and pulleys and gears. It's this newer, more accurate, more controllable technology that enables the firm to meet its efficiency and consistency targets.
Another recent development from Brueckner is what's called "multi-gap stretching." In a more conventional scenario, film is only stretched in the gap between stretching rolls A and B. But with six stretching rolls-three on top and three below, stretching occurs three different times in three different gaps. It results in better control of stretching and of the film's final thickness, which at OPP Films is in the 15- to 20-micron range, depending on the job in production.

Exiting the MDO phase, the material enters TDO, or Transverse Direction Orientation. This process takes place inside a long "tenter frame" oven that measures about 63 m (230 ft) in length. Two chain systems run down the entire length of this tunnel, one down the left and one down the right. Clips mounted all along these chains grip left and right edges of the film, and because the two chains angle outward slightly during the whole length of the oven, the softened film stretches from a width of about 43.3 inches to a width of about 350.4 in. As film exits annealing and cooling zones near the discharge of the tenter frame oven, the clip chains release their grip and both film edges are trimmed. Then the thickness of the film is measured by InfraRed scanning and a Corona surface treatment is executed to improve ink laydown in whatever subsequent converting operations the material undergoes. Now the finished material is ready to be rewound on a jumbo roll. Off-line slitting of these rolls precedes shipment to customers.

Second BOPP line on the way
A second line virtually identical to this one is being installed now and should be in production by April of this year.

A short walk from the BOPP production area takes you to the first of OPP Film's two new CPP lines. With an extrusion die measuring 4.8-m across, it does 1,800 kg per hour. But the newer one that is to be installed beside it in June will be a 6.6-m die, the largest in the world. These numbers are all the more impressive when you figure that most CPP lines in the world are no more than 2 or 3 meters wide.

Resin handling and three-layer coextrusion are similar to what is done on the new BOPP line. But with CPP the die is much wider since there is no stretching of the film to produce the final width and thickness. Also, since there is no stretching, the CPP line has no tenter frame oven. Once film exits the 4.8-m die and is cooled, it goes immediately to pull rolls and winding.

The contact winding technology used on the Brueckner systems at OPP Film, called LiWind technology, is an advancement that comes to CPP manufacturing from the world of BOPP. What's usually used in CPP is gap winding. In gap winding, a laser on one side and a sensor on the opposite side measures the gap between contact roll and the bobbin. The bobbin is the roll of finished film, which grows steadily as each successive layer of freshly produced film is wound onto it. As the bobbin grows, the contact roll must continuously retract. It does so mechanically (gears, belts, drives, gearboxes) according to the gap measured between it and the bobbin. By controlling this gap, the amount of air entrapped between each film layer can be adjusted to optimize how tightly wound the finished roll is. If it's too loose, it's inefficient and it handles poorly in all subsequent operations. But if it's too tight, not enough air is entrapped between layers; consequently, the material isn't allowed to shrink the way it needs to as it cures. This leads to the material becoming "blocked," which means it won't unwind as it's supposed to.

Linear servo motors
The one inherent shortcoming with gap winding when the rolls of finished film being wound are as big as they are at OPP Film is that telescoping becomes a problem. This made OPP Film a perfect candidate for Brueckner's LiWind technology, a method of contact winding that is based on linear servo motors.

With LiWind, there is no gap between contact roll and bobbin. The pressure of the contact roll against the bobbin is the decisive factor for how much air is entrapped between successive layers. Rolls typically can be wound tighter yet still cure properly. Also, the backward movement of the contact roll in response to the growth of the bobbin is not done mechanically as it typically is in contact winding. Rather, it's done by way of two Siemens linear servo motors, one on each opposite end of the contact roll unit. The maximum precision in speed and torque delivered by linear servo motors as opposed to gearboxes and mechanical linkages ensures that enough air is entrapped between film layers to permit curing. Direct drives on all rolls along the web path throughout the machine also ensures that the film is stretched as little as possible during production, thus minimizing shrinkage during the curing time.

Metallizing will be consolidated in the new plant in the next few months, says Sosa. Included will be a new metallizer. At 3.6 meters, it will be the largest in South America. It promises to be a sizeable part of the firm's business. "We see about 25% of our films being metallized," says Sosa. "We'll do up to 2,000 tons of metallized films per month."

The metallizing technology itself doesn't break new ground. Coils of aluminum are vaporized in an enclosed chamber so that they adhere to the film. But like so many of the systems installed or being installed at OPP Film, the size of the rolls produced and the speed at which the metallizing will be done—1,000 m/min—are notable.

Among U.S. film converters who are using materials from OPP Film is Signature Flexible Packaging. A typical lamination made at Signature, says company president Jeff Sewell, is a reverse-printed 120-ga BOPP adhesive laminated to a 120-ga metallized CPP. The finished lamination goes into a vf/f/s machine on which snack foods are packaged.

Sewell says his customers like the strong heat seal they get when CPP is the sealant layer rather than polyethylene. "It comes in handy for customers who have to ship product over the Rocky Mountains, because the altitude change can make the snack bag blow up like a balloon," says Sewell.

OPP Film's Barreda expects metallized CPP to be popular in the U.S. market. Selling into coastal destinations such as New York, Miami, and Los Angeles is coming along. "Places like Kansas and Chicago are proving more challenging," he notes. "But," he adds, "we're figuring it out. In every country we supply film we've developed strong relationships that have allowed us to grow. This is part of our philosophy."
Companies in this article