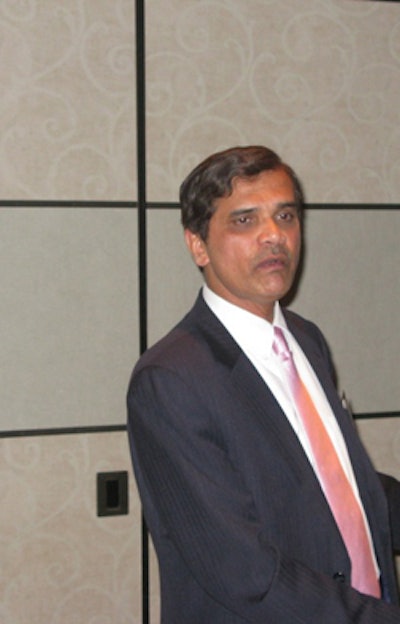 Not everybody was able to attend The Automation Conference May 14-15 in Chicago. So I figured I'd share a few things I heard while there.
• The prevailing U.S. attitude of "invent it here, make it elsewhere" is a failed way of thinking, says Sridhar Kota (photo), director of the advanced manufacturing initiative at the University of Michigan. The U.S. federal government spends something like $140 billion annually in research, but not enough of that investment is leveraged in a way that brings innovative new products into the marketplace. "Real innovation is when you are successful in scaling up a new technology that research develops and getting it to the marketplace," said Kota. To those who suggest that building the "knowledge" economy is enough and that manufacturing is unnecessary in the U.S. economy, Kota says whoa, not so fast. Noting that Germany, South Korea, and Taiwan all have national institutes that are laser focused on taking ideas out of universities and into the marketplace, Kota asks where are such institutes in the U.S.?
• IT and Automation Departments in CPG companies must forge a partnership if they're the least bit interested in real success. It makes no sense for the two disciplines to exist in parallel universes, or to have the professionals from one discipline reinvent the wheels that have already been invented by the other. "By working with the IT team, we in Automation and Manufacturing can streamline and improve communications and manufacturing," said the TAC opening keynoter Jeff Russell, operations manager of factory floor automation at PepsiCo. He was joined by PepsiCo colleague Bryan Cleal, infrastructure engineer. Cleal agreed wholeheartedly with Russell, but he acknowledged that getting the two disciplines to see eye to eye can be challenging. The key, he says, is to identify common ground and then leverage existing processes, systems, and best practices wherever possible.
• All kinds of cloud applications, mobile technologies, video feeds, and real-time data sharing and analysis are poised to transform manufacturing in the immediate future, said keynoter Arnav Anand of The Center for Entrepreneurship & Technology at UC Berkeley. Watch for Google Goggles and other hands-free computing technology, for example, to bring a whole new level of sophistication to remote diagnostics of packaging machinery on the plant floor. Anand also expects to see tremendous growth in prognostics, augmented reality servicing, and 3D printing capabilities.
• Servo motors with drives integrated right on them have been around since about 2005. But two new developments from Bosch Rexroth are worth reporting. First, that firm's IndraDrive Mi range of motors now have a single automation bus to replace the more conventional configuration where both a field bus and a separate motion bus are required. Fewer cables, faster machine installation times, and the potential for reduced costs are all said to be advantages that come with this development, says Jim Hulman of Bosch Rexroth. "Also in the new range of these motors," Hulman told me over breakfast at TAC, "the safety relay is integrated directly at the drive rather than having to tie it in at the control cabinet. This will enhance an OEM's ability to build in modularity and to provide a machine where one region of servo motors can be shut down and the other servo motors on the machine can still run with no safety threat whatsoever." In a future issue of Packaging World, we'll revisit these motors from the vantage point of one of the first packaging machinery OEMs to incorporate them.