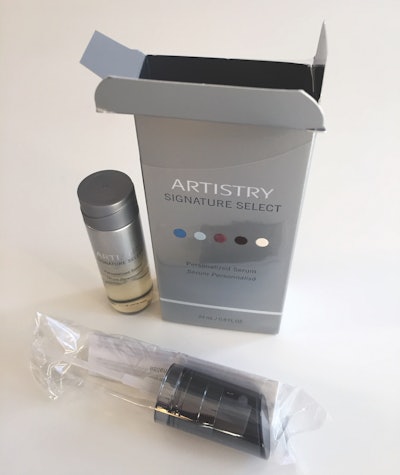 In this article, which debuted nearly a year ago on January 9th, 2019, Pat Reynolds introduces us to Amway's Vessl. In bringing out a new skin care line called Artistry Signature Select, Amway is among the first to leverage the unique advantages of the Vessl nitrogen-pressurized dispensing system.
With the launch of Artistry Signature Select™ Personalized Serum, Amway is among the first brand owners to capitalize on an innovative nitrogen-pressurized product-dispensing system from Vessl Inc. This innovative new product is sold exclusively through Amway's network of independent business owners.
Ada, MI-based Amway saw the Vessl Dispensing System—which is threaded so that it screws onto a container just as a closure would—as a suitable format because it includes an oxygen-depleted and nitrogen-pressurized tank designed to hold a precise volume of concentrated ingredients that are released automatically when the consumer twists the Dispensing System open. The whole idea is to keep concentrated ingredients fresh and protect them from oxidation and harmful exposure to UV light. In doing so, key ingredients like antioxidants, organic botanicals, vitamins, or natural flavors remain at peak potency. All it takes is a twist of the threaded Dispensing System to release the concentrated ingredients into the base liquid.
Artistry Signature Select products are filled...
Companies in this article