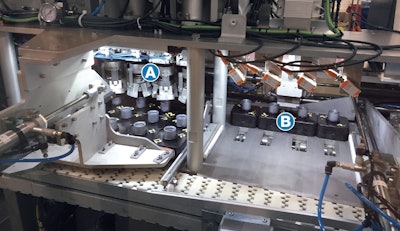 With the launch of Artistry Signature Select™ Personalized Serum, Amway is among the first brand owners to capitalize on an innovative nitrogen-pressurized product-dispensing system from Vessl Inc. This innovative new product is sold exclusively through Amway's network of independent business owners.
Ada, MI-based Amway saw the Vessl Dispensing System—which is threaded so that it screws onto a container just as a closure would—as a suitable format because it includes an oxygen-depleted and nitrogen-pressurized tank designed to hold a precise volume of concentrated ingredients that are released automatically when the consumer twists the Dispensing System open. The whole idea is to keep concentrated ingredients fresh and protect them from oxidation and harmful exposure to UV light. In doing so, key ingredients like antioxidants, organic botanicals, vitamins, or natural flavors remain at peak potency. All it takes is a twist of the threaded Dispensing System to release the concentrated ingredients into the base liquid.
Artistry Signature Select products are filled right in Amway's Ada plant on equipment that is pretty much custom-built for the purpose. The liquid filling equipment is from Hibar, while nitrogen-gassing, assembly of the Dispensing System's two main sub-assemblies, and sealing are done on equipment from Nuspark.
So what is the Vessl Dispensing System all about? The answer is not a short one, as readers may recall if they happened to read the story about Tea of a Kind that appeared in the February 2018 issue of Packaging World. Rather than repeat what was presented there, we refer you to that story and video at pwgo.to/3933. Also helpful is this animation: pwgo.to/3368.
The driver behind this new Artistry Signature Select line is personalization. "It's everywhere you look these days," says Mary Jasch, Brand Manager of Artistry Skincare. "Your beverage, your car, your jeans—they can all be personalized in some way. So we thought why not skincare? Why not offer consumers something that is uniquely theirs? But we also wanted to provide a special experience. We saw that by permitting consumers to mix it themselves, we'd be providing a kind of a wow factor.
"As we evaluated the packaging technologies we might use for this new launch, Vessl quickly became a front runner. Not only is this technology new and fun, it had never been done before in skincare. So we set out to co-develop this particular application together with Vessl. Applying it in skincare was a very different thing than for a beverage, which is where this technology has been used in the past. Formulas and viscosities are miles apart. So it required many rounds of testing to get where we wanted, and throughout the process, Vessl was a great partner to have."
Innovation hatchery
"We did what we call an innovation hatchery session," says Walter Apodaca, Vessl Founder and CEO. "Along with a cross-functional team of Amway people in a day-long off-site setting, we started with a blank white board and a series of questions. What is it we're trying to accomplish? What does the Vessl system offer? How do we deliver on personalization? We left the meeting with two ideas, and one of them was the one that hit the market.
"During this development process we also took a good look at other offerings in the marketplace, some of which were a bit crude, like where the customer uses small droppers or pipettes to customize her skin care product. The thing about today's anti-aging serums is that they are really effective, but only if they are in the highest state of potency. That means either you have to load them up with preservatives—not something consumers are interested in these days—or you have to keep them refrigerated to have any kind of shelf life. One product out there today comes with a tiny little refrigerator you keep in the bathroom in which to store the serum."
What Amway and Vessl came up with is a base serum and five "amplifiers." The base serum is in a 30-mL (1-oz) bottle injection-stretch-blow-molded of PET. Decoration includes both silver metallic vignette and clear UV spray coatings, along with foil hot stamp and screen printing. The five amplifiers are contained in 2-mL (.06-oz) Vessl Product Dispensers. The consumer can add to the base serum as many as three amplifiers based on the benefits she is after: hydration, brightening, firming, spot removal, or anti-wrinkle treatment. That's where the personalization comes in. You create a skincare treatment that is just for you by selecting the amplifiers you want.
When it came to picking the means by which the amplifiers would be added to the serum, Vessl technology was deemed perfect. The ingredients in the amplifiers are protected from oxygen until the consumer is ready to fire the amplifier into the serum, so maximum potency is assured. Just as important is the experience that comes with the act of twisting a nitrogen gas-infused container of amplifier onto the bottle of serum and firing in its contents. "You wouldn't believe the unexpected delight that's part of this process," says Jasch. "This packaging format absolutely nails the wow factor."
Once the desired amplifiers have been fired into the serum, all that's left is insertion of the dispensing pump and a little shaking to combine the ingredients. Then the skincare treatment is pumped into the hands and applied to face or neck.
According to Apodaca, extensive testing was necessary before the product could be launched, especially where the amplifiers are concerned. "There's five of them, and they don't all behave the same way," he points out. "An oil-based substance behaves very differently than a propylene glycol or gel-based substance or water-based substance. We needed to dial in the right amount of nitrogen pressure combined with the right orifice size. Stability testing was important, too, to make sure we didn't have any negative material interactions or degradation that we didn't foresee."
The package was named the winner of the 2018 IoPP AmeriStar Design Excellence Award. The Amway press release announcing that honor describes the package this way: "It features the Power Infused Technology, which is the first and only in the beauty industry. This innovative packaging technology protects the highly concentrated formulas in five different amplifiers until they are infused with the Base Serum, ensuring the ultimate potency of the ingredients. Customers simply twist the amplifier on the Base Serum bottle, then slowly twist off to activate it. With a visual surge and audible 'whoosh' the easy, mess-free activation is an experience in itself for a completely personalized serum."
The components
The Vessl Dispensing System, which comes from RPC under a co-manufacturing arrangement with Vessl, is shipped from RPC in two sub-assemblies. One is the Casing Sub-Assembly, which consists of an injection-molded PP Casing and an injection-molded polybutylene terephthalate (PBT) Spike that are both snapped together. The other sub-assembly is the Closure Sub-Assembly, which is made up of four parts: an injection-molded PP Closure is overmolded over a PBT Tank, and it's this tank that holds the liquid amplifier. The remaining two pieces of the Closure Sub-Assembly are the Seal and the Skeleton. The Seal, made of rubber nitrile, plays the essential role of hermetically sealing the liquid concentrate and the nitrogen gas inside the Tank. The injection-molded PP Skeleton and the rubber nitrile Seal are snapped together, inserted into the Closure/Tank component, and ultrasonically welded in place.
In a minute we'll get to the customized equipment that fills the liquid concentrate and the nitrogen gas into the Tank of the Vessl Dispensing System. But first a look at how this novel technology operates in the hands of the consumer who purchases Artistry Signature Select. As the threaded Dispensing System is twisted counterclockwise, an outer set of threads between the Closure Sub-Assembly and the Casing Sub-Assembly causes the Spike that is part of the Casing Sub-Assembly to move in relation the rubber nitrile Seal. With that, the pressurized contents of the tank escape into the serum below. The consumer then removes the spent dispensing system, screws on the next one, and repeats the process. The same steps are repeated if a third amplifier is being added. Finally, the pump dispenser is screwed on and the product is ready for use after 30 seconds or so of vigorous shaking.
Shelf life on the amplifiers in their Vessl Dispensing Systems is two years. The base serum has a shelf life of three years. Once serum and amplifier(s) are combined, the product should be used within one year.
Filling the serum into the PET bottle is pretty routine stuff. Far more interesting is the line on which Amway fills the Vessl Dispensing Systems, even though it's what might be described as semiautomatic. For starters, it's a closed loop. Closure Sub-Assemblies are placed in pucks by hand. The pucks are conveyed into a filling station, where they pause while four nozzles on the Hibar liquid filling machine dispense the required amount of amplifier. Then the pucks move into the custom-built system from Nuspark.
The backbone of this rather complex system is a main conveyor belt that takes the pucks on a straight line that we'll call west to east. But along the way the pucks are pushed at a right angle—we'll call it north—into three separate stations where the real magic happens. First is an orientation station, where four mechanical grippers pick four Closure Subassemblies from their pucks and rotate them in order to orient them. On the inner sidewall of each gripper is a fixed pin that catches a designed protrusion on the outer sidewall of the Closure Subassembly. This causes the gripper's magnetic clutch assembly to slip, thus halting any further rotation and ensuring proper orientation.
Now that all four Closure Subassemblies are properly oriented, each is placed back into its puck. O-rings inside each puck ensure that precise orientation is maintained. Now the four pucks are pushed ahead—eastbound, as it were—to the next station. It's here that the Casing Subassembly and the Closure Subassembly are joined. Casing Subassemblies, it's important to note, have already been manually placed into one of two jigs, four per jig, that will only accept the Casing Subassemblies if they're properly oriented. The two jigs take turns stroking into position above the pucks and then descending so that they can deposit four Casing Subasemblies into four Closure Subassemblies.
Gassing and snapping station
Now it's time for the four pucks to be pushed at a right angle (call it south) back onto the main conveyor belt so they can proceed east again. Not for long, however, as they soon are pushed at a right angle again—back north again—into a nitrogen gassing and snapping station. Here tooling comes down and presses a seal around the nipple on the Casing Subassembly so that nitrogen can be injected into the tank of the Closure Subassembly through the nipple. In a second step—performed by the same two-stroke tooling and in the same station—the two subassemblies are snapped together.
From here the pucks are pushed in an easterly direction to the final station on the Nuspark system. This is where LVDT (Linear Variable Differential Transformer) sensors, or what Nuspark Project Manager Boris Motskin calls "displacement sensors," take an exact reading of the now-finished piece. If the positioning of the Casing Subassembly relative to the Closure Subassembly is outside of a predetermined range, that piece is marked for rejection so that an operator can thoroughly inspect it.
The finished parts are now conveyed past a Mettler Toledo checkweigher and a Markem-Imaje laser coder that puts a date and production code on the side of each piece. Then, when the pucks are back in the same position of the closed loop where they first had Closure Sub-Assemblies placed into them, a collaborative robot from Universal Robots picks six finished parts at a time, inverts them, and places them on a discharge conveyor running at a right angle.
"Originally we had people doing this job by hand," says Amway Process Engineer Andrew Vavere. "But it was an ergonomic concern because you're picking them up and twisting them 180 degrees. This is a much better approach."
Now the Vessl Dispensing Systems are conveyed through a Quadrel pressure-sensitive labeler that applies a small round label to the top of each one. Printed on each label is one letter: an F for firming, an H for hydration, a W for anti-wrinkle, an S for spot removal, and a B for brightening.
Each Vessl Dispensing System goes into a folding carton by hand. But the cartons are automatically erected by an R.A Jones cartoner that was moved to the line from elsewhere in the manufacturing facility. The same machine also tucks top and bottom flaps. At that point, each filled and closed carton hits a bar that nudges it from a vertical to a horizontal orientation so that it is properly oriented for the IMA clear film wrapper that comes next. All that's left is case packing, which at this point is done by hand.
Artistry Signature Select Personalized Serum launched in South Korea first and has since appeared in the U.S. and Japan. Russia and China are scheduled for 2019.
Sales of Amway products, of course, is not done through brick-and-mortar retail channels but rather through independent ABOs (Amway Business Owners). The 2-mL amplifiers are individually cartoned and film wrapped. The 24-mL serum, topped by a conventional threaded closure, comes in a larger folding carton that also includes a film-wrapped pump dispenser. In the U.S., a carton containing the base serum, a pump dispenser, and one amplifier sells for about $80. Individually cartoned amplifiers range from $34 to $47.
"We helped Amway deliver a product that they wouldn't have been able to deliver before," says Apodaca. "Shelf life, personalization, the wow factor—all that good stuff is just really difficult to pull off in that skin care space. It was a partnership from beginning to end. We might as well have been employees of the same company. That's how closely we worked together."
Personal care market snapshot
The personal care market in North America was valued at USD 92 billion in 2017 and is projected to grow at 3.7% CAGR through 2022. The US personal care industry, dominated by small business owners, adds significant value to the economy and provides millions of jobs in the U.S.
The personal care market is led by skin care, owing to an increase in demand for anti-acne products, body moisturizers & lotions, and anti-aging products, followed by hair care and color cosmetics.
The personal care industry is expected to shift toward more sustainable packaging mediums as consumers seek brands and experiences that reinforce their values. Companies are also focusing on the development and innovation of packaging products with the dispensing application; easier-to-open caps and spray dispensers are popular closures in the personal care packaging industry, which cater to the demand for consumer convenience.
Source: Personal Care Industry Trends by PMMI's Business Intelligence. Download the whitepaper for free at pwgo.to/3934.
Companies in this article