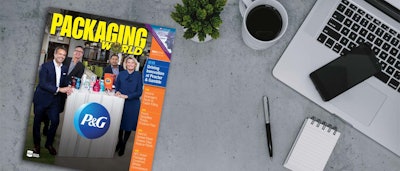 Packaging World's December 2019 issue is now live, wrapping up our 25th year reporting on the industry!
In this issue, you'll learn how P&G's big-picture packaging strategy is always designed and evaluated in terms of how it meshes with four other key business drivers. Click here to read the entire issue in its digital format. Other topics in this issue include:
· How P&G's packaging strategy fits into the big picture
· Blender upgrade boosts soft drink filling line
· Microwave pouch simplifies potato, produce prep
· Whisky bottle tells brand story with smart, NFC tag
· Paper-based cheese tray sends clear artisan message
· Plus e-commerce, sustainability, smart packaging, and much more!