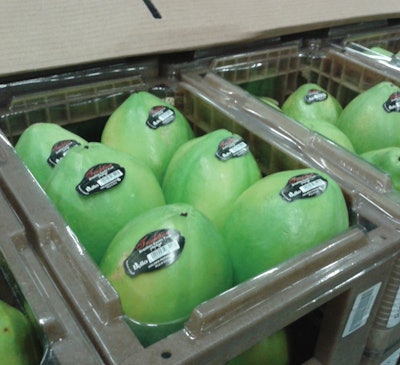 This Dow Award Finalist fruit case system maintains fruit quality longer to significantly reduce post-harvest losses to below 5% and decreases energy use in the lower cold chain of the supply chain.
The package were developed as a two-piece system. The first, an injection molded piece that serves as a case replacing the traditional wooden crate or corrugated shipper, is made of high-density polyethylene (HDPE). This piece is rigid, and molded specifically with slots and tabs that interlock with identical HDPE cases above and below it. The second piece, where the fruits are packaged, is made of thermoformed PET and rests on and within the formed HDPE case around it. The upper edges of this piece bonds with the top of the HDPE crate, and fruits are cradled in the PET layer within the surround crate. Specialized sizes and varieties are molded and designed specifically for one of papaya, persimmon, and mango.
The packages are returnable in a reverse-logistics system, and these package designs can also be manufactured by adding a percentage of fiber to the plastic composite, reducing the amount of plastic.
"As the composite packaging was aimed for reuse, a central question in the study was to assess the number of reuses needed to attain break-even when compared with the one currently in use," says Dr. Antonio Gomes, Embrapa Food Technology. "The study was performed in the context of Brazilian mango production. Two scenarios were developed, first assuming end-consumption in Brazil, and the other considering end-consumption in Europe. Considering the emission of greenhouse gases, the composite packaging alternative is preferable to corrugated boxes after four reuses, supposing that the product is consumed in the Brazilian market. However, if the product is exported overseas for end-consumption in Europe, 29 to 35 reuses are necessary to attain a break-even in GHG-emissions. This divergence is largely due to differences in EoL treatments in Brazil and Europe."
Post-harvest losses are drastically reduced to below 5% while maintaining fruit quality and avoiding damaged product. The packaging also optimizes the use of refrigeration, decreasing the energy expenditure further down the cold chain.
"Corrugated packaging is very closed and has little space for cold air ventilation," Gomes says. "Developed packages have plenty of room for cold air, reducing the expense of maintaining the temperature as the compressor will work less. Regarding wooden crates, the use of such packaging in Brazil increases mechanical injuries on fruits and vegetables, also increasing losses during the logistics of commercialization."
According to Embrapa, the national and international market has few packages that take into account the specific size and shape of individual fruits. Packaging for domestic and international marketing are similar and do not fully protect the fruits against damage on the way to market. —Matt Reynolds
Judges' Criteria
In evaluating entries, jurors considered excellence based on the following criteria:
Technological Advancement
• New and/or clever use of materials
• New technology integration and/or rapid technology development/prototyping
• Creative configuration and/or assembly
• Increased production and/or distribution efficiency
Responsible Packaging
• Responsible use of materials
• Clean and efficient energy consumption
• Reduction in product and package waste
• Benefits the greater good
Enhanced User Experience
• Fulfills a user need and/or provides an enhanced experience
• Aids product merchandising and motivates purchase
• Enables greater product accessibility
• Establishes a preferred price/value equation
The 2019 Packaging Innovation Awards represent the packaging industry's longest running, independently judged competition. They honor innovations in packaging design, materials, technology, processes, and service across the entire packaging value chain. Inaugurated in 1986 by DuPont, the program's tradition of excellence is now proudly continued by Dow.
Calls for entry began in January 2019, with judging beginning in May and winners ultimately announced on Sept. 17, 2019. Packaging World editors were granted early audience with award finalists, prior to their announcement, in order to provide timely reports on winning innovations.