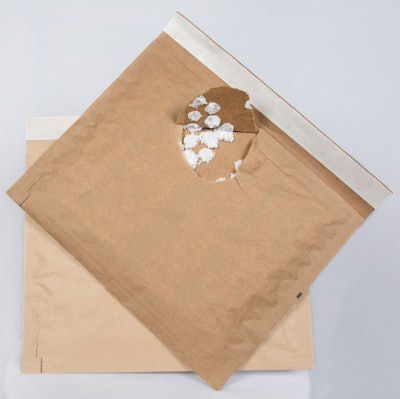 EPIX™ technology, from Henkel's Packaging and Consumer Goods Division, was formally launched in July 2019 and comprises a platform of functional and sustainable materials and chemistries to enhance paper packaging. Examples include a heat-resistant solution for paper cups and a recyclable, padded mailer that replaces the traditional bubble envelope for e-commerce applications. It's the latter that caught the attention of The Packaging Innovation Awards' judges, who honored the EPIX mailer as a Diamond Award Finalist.
The mailer is a paper-based package that includes a cushioning material that Henkel says is easily separated from the package during the recycling process. As Henkel's entry form explains, "The EPIX package integrates the key elements of a legacy padded mailer, but includes innovative improvements in the weight, impact resistance, and ability to separate the fiber from the cushion to facilitate recovery of the fiber in the re-pulping process." In fact, Henkel says the technology allows more than 90% of the pulp to be recovered.
Tests performed on the padded mailers for repulpability by Western Michigan University in a simulated paper mill environment confirmed the high rate of fiber recovery. The mailer's suitability for single-stream recyclability was subsequently tested by an independent recycling facility. GreenBlue has labeled the EPIX mailer as "widely recyclable" through its How2Recycle label, allowing consumers to drop the entire mailer into their recycling bin.
The material used for the cushioning is proprietary, but according to Scott Farber, Head of Global Paper Solutions Strategy, Henkel, it is "not paper based." The process to produce the mailer is also proprietary. The only information provided by Henkel is that it "requires intricate feeding, folding, extrusion, and activation steps to yield a package optimized for performance, strength, packing, transportation, and ultimately recycling."
The mailer is manufactured in multiple sizes, and with different levels of protection to provide a choice of packaging closest in size to the contents being mailed, eliminating the need for additional packing materials. This feature is said to improve distribution efficiency in multiple dimensions. "The EPIX mailer's flexibility provides two primary benefits," explains Farber. "First, it provides ease in packing at fulfillment centers, resulting from the flexibility and design of the mailer. Second, it has the potential to increase the number of packages on the truck, as it is 'form fitting' to the shipping payload and does not require additional overpacking. The potential for improved truck loading will lead to a reduction in the number of trucks required and reduce the overall carbon footprint."
Since late 2017, Henkel has been working with Amazon in Seattle to fine-tune and deploy the single-stream, curbside-recyclable package. As Justine Mahler, Sr. Manager, Customer Packaging Experience for Amazon, reports, "Using padded mailers, we ship 77-percent less packaging material and ship 33-percent less empty air to our customers. We wanted to take these waste reduction properties and combine them with the curbside recyclability our boxes enjoy. This was achieved by partnering with Henkel, creating our new curbside-recyclable paper padded mailer. Amazon is delighted to see Dow recognize Henkel's achievement and will continue to support waste reduction innovations."
Judges' Criteria
In evaluating entries, jurors considered excellence based on the following criteria:
Technological Advancement
• New and/or clever use of materials
• New technology integration and/or rapid technology development/prototyping
• Creative configuration and/or assembly
• Increased production and/or distribution efficiency
Responsible Packaging
• Responsible use of materials
• Clean and efficient energy consumption
• Reduction in product and package waste
• Benefits the greater good
Enhanced User Experience
• Fulfills a user need and/or provides an enhanced experience
• Aids product merchandising and motivates purchase
• Enables greater product accessibility
• Establishes a preferred price/value equation
The 2019 Packaging Innovation Awards represent the packaging industry's longest running, independently judged competition. They honor innovations in packaging design, materials, technology, processes, and service across the entire packaging value chain. Inaugurated in 1986 by DuPont, the program's tradition of excellence is now proudly continued by Dow.
Calls for entry began in January 2019, with judging beginning in May and winners ultimately announced on Sept. 17, 2019. Packaging World editors were granted early audience with award finalists, prior to their announcement, in order to provide timely reports on winning innovations.
Companies in this article