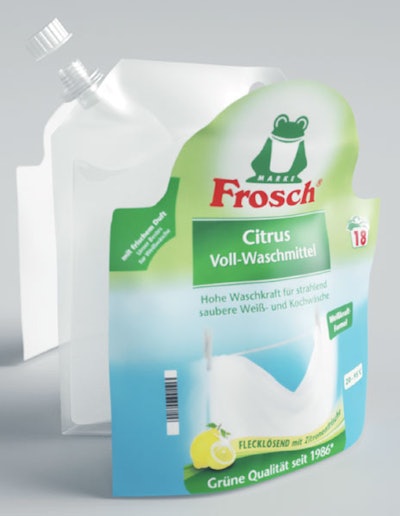 Flexible packaging has always had a good sustainability story versus rigids, given that it has a lighter weight, generates fewer CO2 emissions, and results in a higher product-to-package ratio, among other advantages. The sticking point has always been the non-recyclability of multilayer pouches. But new material technology is making the use of mono-material, recyclable polyethylene for flexible packaging a reality.
For German cleaning products company Werner & Mertz GmbH however, it wasn't enough to move from a multilayer pouch to one made from PE only for its laundry detergent. It also wanted to ensure that as much of the pouch as possible was free of ink and adhesives. What it came up with—a single-layer PE pouch with detachable, decorative panels—won the company, along with supplier partner Mondi, a Diamond Award Finalist spot in The Packaging Innovation Awards.
"Other mono pouches are made of two layers of one material. One is printed and glued onto the second layer. The print is on the inside to secure it from damages," explains Werner & Mertz Packaging Developer Alexander Schau. "There are two reasons for the special construction of our pouch. First, we want to keep most of the material—up to 80 percent—unprinted to ensure high-quality recycling. Only a very thin film is printed and can be used for the colored recycling stream.
"Second, we wanted to prevent adhesives. The outer film is printed backwards. This creates a damage-secure surface on the outside. Afterwards, it is welded onto the main body just on the outer edges of the film. No adhesives are needed."
The impetus for the four-year-long development project was Werner & Mertz's commitment to sustainability and its efforts toward creating packaging that fits the circular economy model. "We believe that plastic packaging can be kept in a real circular use like glass," says Schau. "For PET and PE rigids, we're close already, but so far, we haven't reached this for our flexibles due to multi-material mixes. It is our clear task to roll out recyclability over our complete packaging portfolio."
In 2015, the company challenged several flexible packaging suppliers to come up with a 100% recyclable pouch, "but only Mondi was willing to take this challenge and develop, in a partnership, this outstanding result," says Schau.
The main pouch body and the detachable front and back panels are devoid of barrier and are made from Dow's Dowlex NG 5056 G low-density polyethylene resin. A spout and cap, also made from 100% PE, are heat-sealed to the clear pouch body along with the 0.05-mil reverse-printed panels during manufacturing by Mondi.
Reads Werner & Mertz's competition entry form, "The two detachable printed panels (films), carry the decorating print design and product information. By just printing on the outer film, we can assure a good detectability in near infrared during sorting. No additional label material, such as paper, is disturbing the detection process.
"When recycling the packaging and grinding the material, the printed and unprinted parts of the pouch are getting separated with the help of a mechanical process and can be sorted afterwards (flake sorting). By doing this, 80 percent of the clear, unprinted, valuable material is won for the recycling process. The rest can be used in the colored fraction." The panels can also be detached by consumers before they recycle the pouch.
When moving from the former, multilayer pouch to the PE package, Werner & Mertz also reduced the size of the pouch approximately 5 to 10 mm, resulting in a weight savings of more than 8%, according to Schau.
The new pouch will be introduced in Germany in Q4-2019, and in the beginning will be used solely for the Frosch liquid dishwashing detergent refill product. Eventually, Schau says, Werner & Mertz plans to use the package for its complete range of products, "starting with all types of detergents to different types of refills" in sizes from 500 to 2,000 mL.
Judges' Criteria
In evaluating entries, jurors considered excellence based on the following criteria:
Technological Advancement
• New and/or clever use of materials
• New technology integration and/or rapid technology development/prototyping
• Creative configuration and/or assembly
• Increased production and/or distribution efficiency
Responsible Packaging
• Responsible use of materials
• Clean and efficient energy consumption
• Reduction in product and package waste
• Benefits the greater good
Enhanced User Experience
• Fulfills a user need and/or provides an enhanced experience
• Aids product merchandising and motivates purchase
• Enables greater product accessibility
• Establishes a preferred price/value equation
The 2019 Packaging Innovation Awards represent the packaging industry's longest running, independently judged competition. They honor innovations in packaging design, materials, technology, processes, and service across the entire packaging value chain. Inaugurated in 1986 by DuPont, the program's tradition of excellence is now proudly continued by Dow.
Calls for entry began in January 2019, with judging beginning in May and winners ultimately announced on Sept. 17, 2019. Packaging World editors were granted early audience with award finalists, prior to their announcement, in order to provide timely reports on winning innovations.
Companies in this article