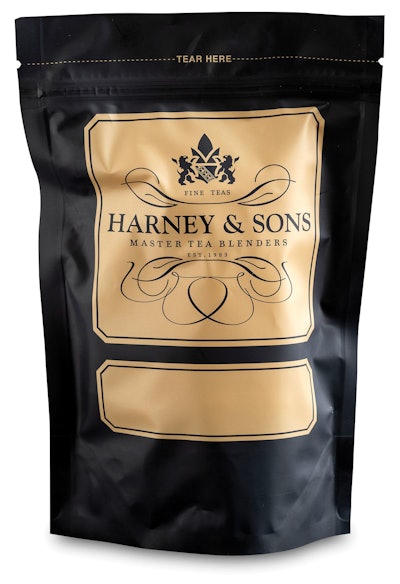 Over the past 13 years, Harney & Sons has given away nearly $3.5 million to eco-friendly causes through the 1% for the Planet non-profit program.
"It's a way for us to work with local non-profits. For instance, we do a lot of work with Scenic Hudson here in the Hudson Valley. But we are also able to do things more broadly, like on the Appalachian and Pacific Trails, and it allows us to use a portion of our profits in a way that we feel speaks strongly to our mission," says Emeric Harney, marketing director at Harney & Sons. "It has made our customers more aware, and it has made us, as a company, hold ourselves more accountable."
Harney also recognizes that his product—premium tea—is a cultivated one that relies on strong stewardship of the Earth. So the growing connection between Harney & Sons and environmental issues led them to reconsider the company's packaging, which heretofore had strictly used tins.
"It has driven us to find something that can lower our impact as much as possible," Harney says. "So, we set out to find recyclable flexible packaging options in the market with a set of specific boxes that needed to be checked."
First, the package needed to be 100% single-stream recyclable. Also, product freshness couldn't be compromised—any package required a barrier layer to ensure freshness and keep oxygen from tainting the flavor and aroma of the tea. A decent degree of durability was another requirement, as the material had to handle multiple touches between packaging and the last mile. Given the premium nature of the product, the material needed to carry logos and messaging that conveyed luxury. And finally, seal strength was key as the seal and reseal needed to accomplish both flavor protection and ease of opening for the consumer.
Harney & Sons quickly discovered that no such product existed on the market yet, at least not for an application like his. But upon discussing the project with TC Transcontinental Packaging, the tea producer became optimistic that the converter could create something that checked all the necessary boxes. After some time in R&D, the TC Transcontinental Packaging (Transcontinental Flexstar) team developed a lighter gauge, 100% PE recyclable film, that hit the eco target Harney & Sons was aiming for without sacrificing product freshness. The new packaging is made of laminated layers that won't wear down from the natural oils that give tea leaves a smooth flavor and finish.
The newly developed film was a 2-ply structure that contained the oxygen barrier protection to protect the product. The film was downgauged from the original 3-ply structure used in the previous package. This 2-ply structure also presented benefits as the new fully-recyclable pouch was made lighter, and therefore more sustainable.
TC Transcontinental Packaging, in collaboration with Charter NEX Films, Inc. and The Dow Chemical Co., achieved all of Harney & Sons key criteria of excellent shelf appeal, shelf life, and recyclability. This pouch is the first commercial example of a package which contains EVOH, for oxygen barrier, and moisture barrier properties in a format which is 100% recyclable for in-store drop-off.
Currenlty, the pouches are purchased die-cut and hand-packed with tea at retail locations.
The half-pound pouch-size replaces the existing half-pound tin used in Harney & Sons off-the-shelf B to C stores, but the successful pilot and launch promises to lead to other package applications, perhaps in B to B situations like foodservice.
To read more about the other Gold Winners click on the links below:
https://www.packworld.com/article/sustainability-common-thread-among-fpa-award-winners
https://www.packworld.com/article/shaped-pouch-proves-integral-unique-wearable-breast-pump
https://www.packworld.com/article/grain-free-dog-food-line-appealing-spot-coated-graphics
To view photos of the Silver Winners, go to pwgo.to/4022.
Companies in this article