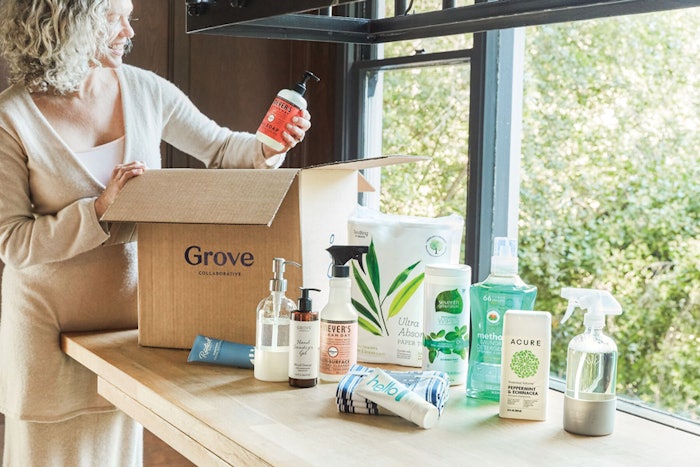 Grove Collaborative is a subscription-based auto-shipment service that uses the e-commerce channel to deliver all-natural home, beauty, and personal care products directly to its customers' doors. With an aim of making living a healthy lifestyle easy and accessible for its members, the company joins well-known consumer brands like Patagonia and Ben and Jerry's, and online retailer Etsy, in Certified B Corp. status. This designation means it has received third-party certification for having the strictest standards among businesses when it comes to prioritizing social, environmental, and community well-being.
According to the company, every product it sells has been tested by industry experts for health, effectiveness, and environmental impact. Grove claims its mission is to get the best products on the market into the homes of conscientious consumers around the country, and its continued growth and success after six years only highlights North American consumers' growing devotion to sustainability.
Auto-replenishing e-commerce model
But Grove Collaborative is unique among its socially-conscious retailer peers in that it's a customizable, subscription-based, auto-replenishment service. The company asks its customers to visit its website to create an individualized ordering and delivery schedule for any combination of daily-use household products—say, hand towels, bath soap, and dishwasher detergent. The platform will suggest a schedule suited to a customer's specified weekly or monthly needs, keeping them stocked and on-budget with the requested home products.
At any time, customers can make adjustments to better tailor the recurring order to their family's needs. For instance, a Grove customer may choose to increase volume of hand lotion and lip balm in cold winter months, reduce the volume of hand soap and hand towels when junior goes away to college, or eliminate a product that doesn't get much use.
The company carries brands that share its mission, such as Mrs. Meyer's, Dr. Bronner's, Burt's Bees, Tom's of Maine, Seventh Generation, Method, and others. And when the company was founded six years ago, then under the name E-Pantry, these national brands were all it carried.
"But as we started to prove that the concept worked, to prove that people will buy these eco-friendly products on a subscription-style basis, we started expanding out to more personal care, vitamins and supplements, and more," says John DeVierno, Head of Community Happiness at Grove. "That represented the advent of our own Grove-branded line personal care and home products."
The company now carries more than 70 national brands with about 2,000 SKUs, including its own Grove Collaborative line of products. The company develops its own, proprietary product formulas, and uses co-man/co-pack services before accepting inventory at each of the company's three fulfillment centers—one in Reno, NV, one in St. Peters, MO, and one in Elizabethtown, PA, allowing for two-day delivery to more than 90% of its customers across the continental U.S.
Fulfillment system scaling
"It takes a lot of time and effort to get all three warehouses up and get our fulfillment systems scaled accordingly," DeVierno says. "We rely heavily on technology to keep the logistics manageable."
The company relies on a software stack that includes a software-as-a-service (SaaS) warehouse management system (WMS) that is particularly suited to high-growth brands like Grove, and that is integrated into the company's enterprise-level WMS. Grove employs another vendor to create the shipping labels, optimize the corrugated box sizes and DIM weights, and more. Since opening the three facilities, the company had relied on that multi-pronged technology stack to cover operations.
But delivery is the ultimate critical success factor in any direct-to-consumer service, and Grove is no exception. In fact, given the repetition of subscription-based deliveries as opposed to one-offs, the likelihood and opportunity for exceptions—in the form of delays, incorrect addresses, damaged packages, or returns—only compounds over time. Driven by a lack of shipper visibility into delivery workflows and an inability to collaborate and resolve issues with carriers in real-time, this can add up in retailer cost and customer frustration.
"We noticed that, while they've been good partners to us, our shipping carriers didn't always do the best job of letting us know when a shipment was damaged, and different shipping carriers send notifications in different ways," DeVierno says. "We noticed that sometimes they'd just batch a hundred different exceptions together in one email. And sometimes they would send a hundred different emails, one for each individual exception. They'd send these alerts to different people's work emails, so it was hard to know who was responsible for following up. And many of the times, they wouldn't alert us at all."
DeVierno began looking for tools to create a more efficient and uniform process in dealing with exceptions. After some research, Grove landed on Convey Inc.'s delivery management platform. Now that the platform is up and running, just 70 customer support people are able to handle 110,000 points of contact in a single month. Within six months, Grove's Net Promoter Score (NPS) rose by 9.4%, and its Customer Satisfaction Score (CSAT) rose by 1%.
"Before Convey, we had to deal with a hodge-podge of different carriers doing it different ways, and we had different systems for different carriers," DeVierno says. "With Convey, we log into one system. It takes all the APIs of the different shipping carriers and sources all exceptions into one dashboard. We can create different filters if we need to drill down to one carrier or another. There are also tools for us to both easily reship the order, and immediately notify the customer, just by clicking on an exception. And notifying the customer had always been a time-consuming problem, previously. Now we can do so with a click of a button."
Convey has proven to be a money saver for Grove in terms of claims for damaged shipments. Using Convey, the team has saved $65 per damage claim and $23 per incorrect address by connecting the dots between package, carrier, and customer.
"They charge you a fee every time they send something back to your warehouse. Just getting the money back from that fee, I think it's sometimes like up to $25, that's where you can win a lot of the dollars back," he says. "But just as if not more important is the improved customer experience with any given exception. We know when one happens right away, and we have good tools and system to reship that order right away compared to an old system of not getting notified and having the customer waiting around for a shipment, or having to be the one to alert us to the issue."
An unforeseen benefit has been the coordination of multiple or outdated physical addresses. "Doing that in one spot, in Convey, is a lot easier than individually updating addresses, one by one, with other shipping carriers, so that's been a huge tool for us as well," DeVierno says.
The company has also seen a 77% increase in response time and 50% reduction in damaged shipment tickets, resulting in a $4 savings per ticket.
All of these newfound efficiencies have allowed Grove to redirect valuable resources to its new Grove Guides program in which a Grove team member is personally matched to a customer to ensure a positive experience by making recommendations, answering questions, and helping navigate the site. This program has allowed for a 50% increase in average order value per customer in just three months.
Concentrates a growth area
Concentrated household products have been a big Grove-branded-product seller of late. In packaging spheres, sustainability and e-commerce have often seemed to be mutually exclusive—competing elements in a zero-sum contest of convenience vs. environment. But concentrates ordered online represent an instance where both ecological and convenience goals can be met—a sweet spot that Grove prides itself on inhabiting.
"We offer a concentrated version of glass cleaner that only includes the active ingredients packaged in a small tube container—we also sell a reusable glass spray bottle—and customers need only add water," DeVierno says. "It saves the customer money because they don't have to buy a new bottle every time, and it saves us both on a lot of shipping costs just because we're not shipping water all across America. Plus, the bigger the box is, the higher the DIM weight is and the more likely it is to get leaks. We've seen a solid damage reduction for the concentrated glass cleaner as opposed to sending a watered-down version of the glass cleaner each time."