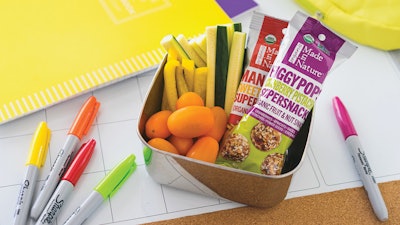 What started 25 years ago as a small pear farm in Mt. Hood, OR, is now a thriving organic dried fruit producer with growers and production centers in California's San Joaquin Valley and corporate operations in Boulder, CO. The company has drawn a firm, real-food line in the sand, going all-out organic in everything it does. The certified organic farms that supply Made in Nature don't use any synthetic preservatives, pesticides, herbicides, or fertilizers, and the company ensures the snacks it produces are sustainably grown, non-GMO, and free of artificial additives, colors, and flavors.
"When did 'snack' become a dirty word?" asks Tim Abernathy, Continuous Improvement Manager at Made in Nature. "It's the best word in the English language, as far as we're concerned, yet somehow we humans lost our way in seeing what food really is. Made in Nature is here to fix that. Our goal is to get back to organic foods that come from the earth and shouldn't be messed with by adding sugars or other additives. There are a lot of labels on foods these days, warning about chemicals inside of them. Made in Nature is all-organic. Fruit is fruit, so that's how it should be, and that's how we maintain it."
The product line includes dried fruit, coconut chips, and unique, bite-sized vegetable or fig snack balls that the company calls 'pops,' in a variety of flavors packaged in gusseted stand-up pouches. Kale chips, also in a variety of flavors, are packaged in a clamshell container, and the company offers a variety pack of 1- to 2-oz servings of all of their offerings, available in a retail- ready corrugated case.
The company operates strictly under its Made in Nature label. Pack sizes range from the smallest 1-oz dried mango bag and 2-oz snack pack, all the way up to 28- to 40-oz bags sold in Costco and other club stores.
"These one- and two-ounce bags are actually foil bags that can be easily hung or displayed in retail settings as on-the-go snacks. Those, especially the 1.4 ounce and the 1.6 ounce, are our most popular, largest-volume sizes," Abernathy says. "The larger formats are gusseted stand-up pouches."
The company maintains an online retail presence, both via Amazon and its own direct e-commerce channels, but its largest channels are with retailers like Walmart and Target, and wholesalers like Costco. Made in Nature's most recent store, 7-Eleven, represents a bit of a breakthrough into convenience stores.
"In recent years, we've benefited from the desire to have a healthy alternative," Abernathy says. "I have two little girls who are nine and eleven years old, so my options when I go to a convenience store used to be limited to sugary, processed snacks. Now, you're starting to see healthier foods. Trail mixes, yogurts, or even dehydrated mango are becoming the norm. As a parent, and as somebody who is conscious about what he puts in his body, it's a great option to have, to be able to go into a convenience store and buy organic fruit and things that are good for you instead of the usual high-sugar snacks."
Brand security
While the wholesome, real-food trend works in the company's favor, it still has had to deal with the juxtaposition between its barely-processed products on the one hand, and on the other the ultra buttoned-up requirements major retailers rightfully impose on their vendors. To land on Walmart, Target, or Costco shelves, the snacks had to be validated to be free of post-processing contamination, as ensured by a physical contamination elimination step at a critical control point (CCP) in the packaging line.
Also, big retailers ask for quality assurance (QA) measures to collect and report data about packages to ultimately guard against underweights.
Of course, metal detection has always been a staple on Made in Nature's packaging lines to prevent metallic shavings from making their way into pouches. But Abernathy felt the brand needed to go a step beyond.
"We wanted to scan for things that metal detection can't pick up, like glass, rocks, or other non-ferrous foreign objects. We want to make sure that we get all that out of the bag to make sure our brand keeps its good name. We actually validate our suppliers, and most of our suppliers have X-ray metal detection built into their systems before our raw ingredients ever arrive here," he says.
Research led him to the latest Combi Meki X-ray detection and checkweighing system from Mekitec, which has been able to accomplish both the QA and CCP goals. Over the past year, the company has purchased three of these systems to complement the two existing.
"With this system, we're double-checking the weight after having sent it through the combination scales. We're also able to scan each and every bag that runs through that machine with foreign object detection," Abernathy says. "This detection is really a triple check according to HACCP because it's already been through the X-ray at least once or twice at our suppliers' facilities before the actual raw materials arrive here. But this way we close the loop with a full flow of X-ray detection throughout the supply chain."
When the Combi Mekis do catch a foreign object in a bag, whether it be a rock, a bolt, or a washer, Abernathy is able to do an investigation of where it came from and prevent future inclusions. He says the ability to do that kind of investigation has really become an important safety improvement while further mitigating risk.
Precision with checkweighing is another key improvement that the Combi Mekis provide. Made in Nature is able to keep overweights to less than 0.001 g, without going under, where the company's previous checkweighers could only get down to 0.5 g.
"We have directives to always be a little bit over. We're never under, so we're giving a little bit away with each bag, but we are now able control that more precisely than ever," Abernathy says.
The FDA allows for a bit of wiggle room around the stated weight and even allows for slight underweight. But Made in Nature takes the high road, preferring to give a little away over the required package weight rather than potentially shorting a customer. The Combi Mekis allow for them to do so without worrying that they'll be giving away too much, as the difference between 0.5 g and 0.001 g of product giveaway at Made in Nature's volume, over an entire year, can be heartburn-inducing.
"I've been in the food industry 25 years, and I've never seen such a small unit do such a great job of what it does in detection and weighing. I've seen much bigger units do as good a job. But I don't know how this machine could be any better in the small package that it comes in," Abernathy says. "It also incorporates the tech layer of data and reporting. The Mekitecs have been 100 percent on target since we installed them this year."
Other factors
The two capacities that Abernathy was seeking to add to his line with the Combi Mekis—X-ray detection with reportable data collection, and precision checkweighing—can be accomplished by a lot of different standalone machine combinations and systems. Flexibility and price point were the factors that pushed him in this direction.
"Years ago, the mantra often was that X-ray was way too expensive. I've been keeping an eye on it for at least ten years before I even got to Made in Nature and knew its potential, but it was out of our price range," he says. "The new technology, and the way Mekitec has found a way to piece it together, and to offer that technology at the price point that they have, is kind of unbelievable."
He also cites the portability and flexibility of the systems. He doesn't quite yet have a dedicated machine for each line, rather he shares his five Combi Mekis over seven lines. Plugging them in to different lines as production dictates has been a breeze, he says.
The full line
Of Made in Nature's seven lines, five of them are running smoothly using legacy Ishida combination scales to measure products and feed into PSG pouchers from Leepack. The pouchers fill and seal preformed pouches for most gusseted-pouch SKUs in the Made in Nature line, everything from a 3-oz size to the largest bag.
But the larger-volume items are the 1- to 2-oz on-the-go 'pops,' chips, and mixes. They got an equipment upgrade for the remaining two lines just last year, investing in Paxiom systems that use Weighpack combination scales with PPI pouchers. These smaller bags are formed from foil rollstock before being filled and sealed.
"Before these new machines, we were running at a pretty slow rate of bags per hour just because of the speed of the older machines. The one-ounce machines, what we call our single-serve machines, had been running at eight to 10 bags per minute," Abernathy says. "We bought these machines to achieve a higher output and also achieve a more efficient, more targeted weight. They help us keep a closer weight tolerance."
Some of the ROI on the new machines is derived from the ability to keep that variation minimal, alongside the sheer throughput per hour, which has increased to 50 bags/min for the 1- to 2-oz sizes. These newer machines also have a lot more automation the legacy machines did not have.
"We're able to create a 21st century production-reporting structure," Abernathy says, "because data has become so important these days. We need to know production numbers in real time. We need to know how the machine's doing now, versus getting a report two days later."
Armed with precise detection systems, reassuring checkweighing and underweight rejection systems, and the data reporting systems to tie them all together, even these gently processed, nearly direct-from-the-farm food products are able to jump through all the safety and quality assurance hoops that the major chains require.
Companies in this article