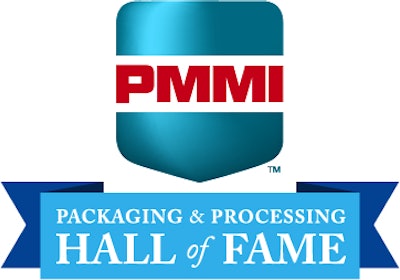 The Packaging & Processing Hall of Fame recognizes career packaging and processing professionals for their significant contributions to the industry and education. The honor, which PMMI coordinates, had been awarded annually from 1971 until 2014. A new class will be inducted during PACK EXPO International 2018.
The Packaging & Processing Hall of Fame is the top honor a packaging or processing professional can receive in his or her career. Past inductees are packaging leaders who have dedicated themselves to the industry through expanding knowledge and volunteer leadership and have personally advanced the field of packaging.
The 2018 class includes Tim Bohrer, Keith Pearson, Michael Okoroafor, Susan Selke, and Chuck Yuska.
"These professionals have contributed to our industry as advisors, pioneers, visionaries, educators, and innovators and inventors of packaging and processing technology. Their contributions have led the industry to where it is today," says Jim Pittas, CEO, PMMI.
You can meet the individuals who have been chosen for induction into the Hall of Fame Class of 2018 at this year's PACK EXPO International in Chicago. They will be honored on Monday night at PACK gives BACK™, the annual networking event to benefit the PACK EXPO Scholarship program. Plan now to attend by purchasing a ticket for the event at www.packexpo.com.
Tim Bohrer, Pac Advantage Consulting

Next time you enjoy the convenience of a bag of popcorn kernels quickly popped in the microwave, you can thank Tim Bohrer, CPP, founder of Pac Advantage Consulting, LLC. Among his many accomplishments in technical innovation and his contributions to the packaging industry, this PMMI Packaging & Processing Hall of Fame inductee led the team that developed and commercialized the first metallized film susceptor packages in the early '80s. "The first few susceptors were simple in concept, but complicated in execution," says Bohrer. "But over the years, we developed a very large patent portfolio of technologies and kept pushing the envelope."
During his 45 years in packaging, Bohrer has been named inventor or co-inventor of 17 patents for microwave packaging technology, composite containers, barrier film, thermoforming, and other technologies. While leading the team that made a whole new market possible through the use of susceptor technology is certainly a highlight of his career, Bohrer can also list a number of others, made possible, he says, by supervisors and managers who gave him the latitude to "stretch."
One highpoint, he shares, came when he was less than two years out of school, working at American Can. Asked to assess tubular water cooling technologies for blown film, Bohrer scouted out the best option for the company and laid the groundwork for a pilot line that eventually became a part of American Can and its successors' process. "At a very early stage in my career, having a chance to lead that process and be trusted to go out and find something and make judgements was a very big deal to me."
Another milestone was his move from an engineering role to a supervisory one during his time at James River, which eventually led to him directing a large technology group there. "I began to learn how to coordinate the activities of multiple people, to choose the right skill sets and assign them to different tasks, and to start being a mentor and a teacher."
Packaging education, in fact, is near and dear to Bohrer's heart. For 20 years, he was a Clemson University Packaging Science Advisory Board member, ramping up his participation after starting his consulting business in 2008 as a way to give back. "I really enjoyed my time working with the folks at Clemson," he says. "I had a chance to meet with a lot of young people and give them direction and advice. I think it's crucial for packaging companies to take packaging education seriously, even if all they do is hook up with a two-year junior college in their area that teaches the technologies and skills that are needed."
Especially valuable are internships, he adds. After all, it was an internship at American Can during the summer before his senior year of college that led Bohrer down the packaging industry path. "That's where I learned the interesting and challenging things that could be done in packaging, and I told myself, 'This is the company I want to work for. This is the kind of stuff I want to do,'" he recalls.
After finishing his undergrad work in chemical engineering at Michigan Tech University, Bohrer got his Master of Science in Chemical Engineering from Purdue University, then returned triumphant to American Can.
Today, Bohrer says he has the luxury of only working on consulting jobs that meet three criteria: The work has to be intellectually challenging, the work must be meaningful, and the clients must be those he genuinely wants to work with. "That's what I enjoy a great deal," he says. "It engages me on an intellectual level, it's satisfying in terms of doing something that makes a difference, and it satisfies me on an emotional level, with friendships and the enjoyment of working with good people." —Anne Marie Mohan
Michael Okoroafor, McCormick & Co.


With more than 40 patents to his name and a rich history of innovation behind him—think Coca-Cola's PlantBottle™, the Dip N' Squeeze at Heinz, and the Herb Grinder at McCormick & Company, Inc.—Dr. Michael Okoroafor certainly qualifies for membership in the PMMI Packaging & Processing Hall of Fame. Further cementing his Hall of Fame bona fides are his many contributions to packaging education, his mentoring of upcoming packaging professionals, and the leadership roles he has had in organizations dedicated to the advancement of packaging.
Talk to colleagues who have worked with him over the years and you'll conclude that the PlantBottle—the first fully recyclable PET bottle made partially from plants—is the highlight of his career. Making this technology breakthrough all the more impressive is that when Okoroafor left Coca-Cola for Heinz, he negotiated with his former employer so that the PlantBottle technology could be extended to the Heinz ketchup bottle. "It was probably the first time two such major CPG companies partnered on something so transformational," says Okoroafor. He believes that this kind of collaboration or coopetition will be essential in the future, especially if anything resembling a circular economy is ever to emerge.
Okoroafor won't argue against the notion that the PlantBottle was a milestone in his career. But he also points to the flexible film packaging material that he helped develop for Coca-Cola's Freestyle™ carbonated soft drink dispensing system. "There was no film structure at the time capable of withstanding the aggressive nature of the super concentrate that is at the heart of the Freestyle program," notes Okoroafor. He spearheaded the team that came up with one. To this day the tightly guarded and proprietary material is made exclusively by Coca-Cola near its Atlanta headquarters office.
With an undergrad degree in chemistry and a PhD from Michigan State University, where his field of concentration was organic polymer chemistry, Okoroafor is also a graduate of Executive Development Program, Northwestern University's Kellogg School of Management. He joined herb and spice maker McCormick & Company in 2015, where he now is Vice President, Global Sustainability & Packaging Innovation. His passion for sustainable packaging is well documented. As one former colleague put it, "He lives by the adage that 'what is good for the environment is good for business.'"
He is convinced that packaging can play a key role in reducing the amount of food waste that continues to haunt us. "Food waste in the next five to 10 years must be a primary concern and focus," says Okoroafor. "People are starving, yet we are producing enough food to feed them all. If we minimize food waste, we can do a better job of feeding people." —Pat Reynolds
Keith Pearson, World Packaging Organisation


When Keith Pearson accepted the World Packaging Organisation presidency in 2006, the International Packaging Press Organisation noted it was the first time that a WPO president came from Africa. At the time, IPPO pointed out that Pearson was "strongly committed to educational matters, and to helping spread knowledge of packaging to the third world."
Born on the East Coast of South Africa, this inductee into the Packaging & Processing Hall of Fame has dedicated his life and nearly 50-year career to packaging on that continent—and around the globe. His passion is educating professionals and students about the packaging function's significance in society, particularly when it comes to reducing or eliminating food and packaging waste in a circular economy and addressing starvation.
"For the circular economy to be effective or have any chance of becoming a reality, there needs to be meaningful collaboration for all the stakeholders, government, raw material suppliers, converters, consumers, and recycling industries," he says. "Stakeholders must move away from the linear model of make and dispose, to manufacture products that are recycled back into the manufacturing stream. This form of sustainability embraces the 'Triple Bottom Line' by adding value to people, planet, and profit. Consumers will need to support this by [embracing] the reduce, reuse, and recycle way of living, with industries redesigning waste out of manufacturing processes."
Pearson's passion has evolved during a distinguished professional career that started as an engineer at Kohler Corrugated Packaging in 1970. Three years later he was transferred to Walvis Bay Containers in Namibia as the production manager at a corrugated converter serving the fishing industry. He continued to advance within the Kohler Group, becoming Managing Director. He subsequently became active in the Institute of Packaging South Africa, where he served two terms as Chairman. IPSA awarded him with an honorary membership, while he also earned a Packaging Achiever Award from the Packaging Council of South Africa.
The IPSA experience provided important international exposure for Pearson, who also began to attend WPO board meetings. "Rubbing shoulders with packaging executives from around 50 countries was an amazing experience. It provided me with an in-depth understanding regarding the global role of packaging when visiting WPO member countries," he says. Pearson played an integral role in the inauguration of packaging institutes in Ghana, Nigeria, Tanzania, and Iran, and in the formation of the African Packaging Organisation.
That worldly experience lent Pearson a unique perspective. "With the advent of democracy in South Africa, the rest of Africa started opening up for trade," he recalls. "It was then that South African packaging organizations were able to supply packaging as well as establish manufacturing facilities through partnerships and joint ventures."
His specific expertise lies in food and beverage packaging, particularly in the export of products such as fruit to Europe, whose currency helped the African farming community expand. "South African packaging has always maintained a high standard, and it is not uncommon today to find South African-owned companies operating in Europe," he says. Pearson also notes that many global firms operate manufacturing facilities in South Africa, mentioning Kellogg's, AB InBev (SA Breweries), Nestlé, Unilever, Mondelez, Coca-Cola, PepsiCo, Colgate, Procter & Gamble, Heineken, Diageo, GSK, Danone, Beiersdorf, and Reckitt Benckiser.
His 18 years serving on the WPO board remains a highlight of his career. "WPO gave me the privilege of being part of a global family where developed and developing countries could network," Pearson says. He takes pride in "supporting WPO's vision of providing 'Better quality of life through better packaging for more people.'"
Since retiring from Kohler Packaging, Pearson has continued to work as a packaging consultant in countries throughout Africa.
"The most positive aspect of my experience has been the fact that I have been given opportunities for personal growth, both in the company I worked for, and in the organizations that I became involved in," says Pearson. Clearly, he has paid that opportunity forward to the numerous professionals and students with whom he has shared his wisdom over the past 48 years. —Jim Butschli
Susan Selke, Michigan State University


If it weren't for a bit of happenstance, Sue Selke might not have made her way into packaging at all, much less PMMI's Packaging and Processing Hall of Fame. In her first professorial role in engineering at the University of Iowa, she happened to be at her desk to take a call from her doctoral alma mater, Michigan State University, about an open packaging faculty position. Her Chemical Engineering PhD did the trick in the days before packaging PhDs, and she was game to try out a field in which she had little experience.
"That was almost 35 years ago, now," Selke says. "Hopefully I know a little bit about packaging by now."
She knows a little more than a little. She has served as both a professor in MSU's School of Packaging and as an adjunct professor in the College of Engineering. In 2014, she became Director of the MSU School of Packaging. She was studying packaging sustainability before sustainability was a widely used term and has published too many scholarly articles on the topic to name.
"I got into research related to plastics recycling that fit my interests and fit what was going on in the industry," she says. "The environmental interest faded away after a while, but then in the last number of years, it has been back with a vengeance."
In parallel to her research, Selke has been the consummate educator. Not long after joining the faculty at MSU, she was asked to take on the role of graduate coordinator. This translated into a lot of interactions with new graduate students, and she now considers her work with them to be among her greatest accomplishments.
Selke is also one of those few people who, quite literally, wrote the book on her field of expertise. She was the lead author in creating a textbook for plastics packaging, and later was one of the people involved in creating a similar textbook on paper-based packaging.
"The level of science that is applied to packaging, both in academia and out in industry, has changed a great deal since I started out," she says. "We're much more rigorous in analyzing what's going on and in designing solutions for real issues that are happening. The discipline of packaging is still really young, but it's come a long way in those intervening years."
Recent years have been challenging for packaging, particularly for her field of plastics packaging. But much of the derision aimed at packaging waste in general and polymers specifically is unearned, and on balance, there's a lot more good than bad. Selke sees it as an awareness and communication problem that can be solved.
"Certainly, there are cases of overpackaging, but there are also compelling reasons why, on average, packages have tended to get more complex over the years. And a lot of that is directly related to sustainability," she says. "Many packaging changes are designed to save money, and when money is saved, often resource consumption is reduced, and that means that the systems involved are becoming more sustainable. But consumers think of packages in terms of what they have to throw away, rather than the value they provide. We have to better communicate this dynamic."
She says educating consumers is a shared responsibility between the academy and industry, and between packagers and retailers, and that not any one sector can accomplish it alone. But more broadly, and in no small part due to Selke's efforts, the arrow is pointing up for the packaging field.
"The packaging community is really a wonderful, close-knit one that provides a whole lot of benefit to everybody," she says. "Too often it isn't recognized for what all the people working in the industry contribute." —Matt Reynolds
Chuck Yuska, PMMI


When Chuck Yuska decided in 2017 that it was time to hand the reins of PMMI over to Jim Pittas and spend more time with his grandkids, he closed the book on 27 years as one of the most visible and influential figures in the packaging industry. Anyone who has watched Yuska feted with appreciation for the mark he left has also witnessed his large presence genuinely humbled by all of the attention and admiration. His induction into the Packaging and Processing Hall of Fame provides one last opportunity for him to deflect and credit his staff and family for most of his success.
In 1990, the Packaging Machinery Manufacturers Institute tapped Yuska to lead its association of American packaging machinery manufacturers. From its humble office in downtown Washington, Yuska saw potential beyond a trade association and its biannual PACK EXPO International trade show.
Because PACK EXPO International was such a successful endeavor, he believed it could help create and sustain a number of initiatives to promote membership and the industry. Throughout his tenure, the number of shows increased not only to expand the trade show business, but also to raise money for scholarships, education, workforce development, industry relations, and business intelligence.
Not content to remain the preeminent packaging trade organization in the U.S., PMMI, under Yuska's leadership, recognized the benefits of a true North American association. Within five years, PMMI opened a Latin American office in Mexico City, acquired 50% of EXPO PACK México, opened membership to Canadian companies, and launched a second U.S. trade show: PACK EXPO Las Vegas. What began in 1995 as a regional show serving the West Coast now serves the packaging community as the second largest trade show in North America behind only PACK EXPO International.
From 2003 until his retirement, Yuska truly ramped up PMMI's influence south of the border, acquiring full ownership of EXPO PACK México, creating an additional show for the Latin American audience with EXPO PACK Guadalajara, and opening membership up to Mexican companies. Like Las Vegas in the U.S., Guadalajara initially began as a regional trade show, quickly growing large enough to serve as the main EXPO PACK exposition in odd numbered years. Yuska and PMMI were not finished with the regional trade show market, however, creating the wildly successful PACK EXPO East in Philadelphia, which wrapped up its third and most comprehensive show to date earlier this spring.
While expanding across North America was a priority, so too was Yuska's desire to extend PMMI beyond the current packaging landscape. The PMMI Foundation has contributed millions of dollars toward education and scholarships for the future of the industry, and throughout Yuska's tenure, PMMI opened membership to include processing machinery, components, materials, etc. In 2016, after 80 years, PMMI became a complete association of the packaging and processing industry when it updated its bylaws to welcome all qualified companies that manufacture or assemble in North America as well as suppliers to the packaging and processing industry that do not supply components for the building of machinery. The following year, PMMI added yet another trade show when ProFood Tech debuted in Chicago.
In 27 years, with Yuska at the helm, PMMI grew from less than 300 members to nearly 850 members and its trade show portfolio expanded to six. In 2003, PMMI created its own successful packaging publication Packaging Machinery Technology that served the industry as a thought leader until PMMI made the bold decision to acquire Summit Media Group and Packaging World magazine. The acquisition sent shockwaves through both packaging and the media, but now, PMMI Media Group has emerged as a natural expansion of the PMMI brand. PMMI Media Group further cemented PMMI as a real hub of the packaging and processing industry.
Under Yuska's leadership, PMMI became the leading packaging and processing trade association, advancing industry by connecting the global makers of goods with their processing and packaging suppliers. Deeper than that legacy from a business standpoint, however, is the leadership and loyalty that he shared with his colleagues, membership, and the packaging and processing industry at large.
In 2001, PACK EXPO Las Vegas was entering its second day on Sept. 11, when the world changed forever. After much discussion, Yuska urged the PMMI Board of Directors to keep the show open because he recognized the industry would need a place to come together. A community isolated from their families in Las Vegas, with no way of getting home, needed to grieve together and to try and understand what was happening. He put large-screen TVs around the Las Vegas Convention Center so that everyone could follow the news—together. He made sure that the industry had each other to lean on during that terrible time.
Yuska's legacy as a Hall of Famer might just be that he was more than a significant influence on the business end of packaging and processing, as his nearly three decades in the industry helped bring together packaging and processing as a community. —Sean Riley
The 2018 Packaging & Processing Hall of Fame Selection Commission
Coordinated by PMMI, a Packaging & Processing Hall of Fame selection commission evaluates nominations and chooses the 2018 class out of a deep pool of deserving, influential nominees. The commission is made up of a cross-section of industry professionals, including suppliers, journalists, and end users.
• Patricia Anderson, Vice President of Human Resources & Training, Delkor Systems, Inc.
• David S. Smith, PhD, Vice President, Global Package Development, Johnson & Johnson
• Suzanne Fisher, Senior Program Manager, Special Handling Packaging, Amazon
• Mary Gregg, President, Springboard Packaging Solutions, Inc.
• Laura Bix, PhD, Professor, Associate Director, Michigan State School of Packaging
• Tom Schneider, CPP, President, World Packaging Organisation
• Michael Richmond, PhD, PTIS, LLC, Global Management & Packaging Consultants
• Bill Rice, Associate Manager, Packaging Technology, RD&E - Global Home Cleaners, SC Johnson
• Kim Carswell, Director, Packaging, Target
• James D. Downham, President & CEO, Packaging Consortium (PAC), Canada
• Glen Long, Senior Vice President, PMMI
• Joe Angel, President and Publisher, PMMI Media Group, Packaging World
Companies in this article