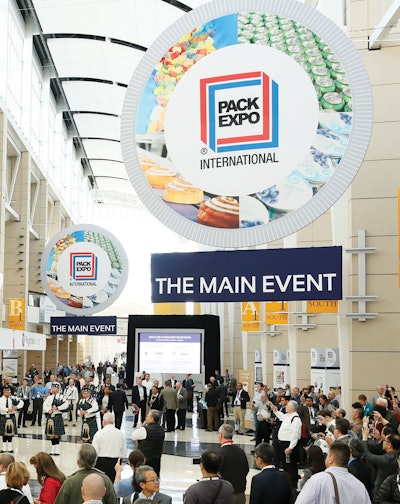 PACK EXPO International 2018 represents the biggest event of the year for the packaging sector, and it's coming to Chicago's McCormick Place Oct. 14-17. Healthcare Packaging EXPO is co-located by PACK EXPO producer PMMI, The Association for Packaging and Processing Technologies.
These combined events will bring together 2,500 exhibitors showcasing their packaging innovations to 50,000 attendees in 1.2 million net sq ft of exhibit space.
The big show is always evolving and improving, and 2018 has a host of new highlights, features, and events. One of the most impactful emerging sets of technologies where packaging is concerned has been digital printing. In light of the recent advances in the technology—and the massive opportunity those advances may present to packagers dealing with SKU proliferation and customization—PACK EXPO debuts the PACKage Printing Pavilion.
Digital printing pavilion
Printing industry leaders consider the PACKage Printing Pavilion as the industry's new main stage for package printing innovations.
"There has been an overwhelming response from exhibitors, and we are excited to provide attendees, in one place, all of the new package printing innovations PACK EXPO International will showcase," says Laura Thompson, senior director of expositions, PMMI.
A few of the big names showcasing their innovations in the debuting pavilion are:
• HP Inc.
• Kao Collins Inc.
• H.S. Crocker Co, Inc.
• KBA – Kammann USA Inc.
• Afinia Label
With space approaching 90 percent full at press time, this must-see pavilion is positioned to exceed the expectations of digitally charged end-users and OEMs hoping to explore the latest trends in package printing.
SKU proliferation, micro marketing efforts, sustainability, and traceability concerns are driving companies toward digital packaging applications. Meanwhile, more and more suppliers at PACK EXPO International are exhibiting digital products, with an emphasis on smart packaging applications. The PACKage Printing Pavilion brings together these digitally charged end-users and OEMs. The 50,000 square-foot pavilion specifically targeting package printing, located in the South Building at McCormick Place, shines a spotlight on digital printing and converting technologies for short-run, on-demand, cost-effective, variable data and personalized packaging.
A funny thing happened on the way to the Forum
The Forum at PACK EXPO, which earned its stripes and drew rave reviews at the regional level at PACK EXPO East, is being called up to the big leagues in Chicago.
Take advantage of these free, unique, interactive learning sessions during PACK EXPO International. The Forum at PACK EXPO will feature 45-minute open sessions on the latest industry trends by the OpX Leadership Network, World Packaging Organisation, Institute of Packaging Professionals, Contract Packagers Association, and PMMI Business Intelligence. Sessions will be interactive, including hands-on activities, small group discussions, and Q&A sessions.
These sessions, located in North Hall, Booth N-4580, are free to all registered attendees, and will be held on all four days of the show.
Celebrating excellence
The Technology Excellence Awards will debut this year at the show. The awards recognize exhibitors' innovative technology they have developed that has not been shown at a previous PACK EXPO event.
There was a great response from exhibitors nominating some truly innovative solutions for the awards, and PMMI has enlisted industry professionals to review the submissions and narrow them down to just three finalists in each category.
The Technology Excellence Awards Panelists are:
• Stephanie Neil, Editor-In-Chief, OEM Magazine
• Ronald Puvak, Managing Director, Contract Packaging Association
• Dr. Bruce Welt, Professor (Packaging Engineering) - Department of Agricultural and Biological Engineering, University of Florida
• Carlos Diaz, Associate Professor (Packaging Science) - College of Applied Science & Technology, Rochester Institute of Technology
• Jane Chase, Executive Director, Institute of Packaging Professionals (IoPP)
• Pat Reynolds, VP Editor Emeritus, Packaging World
• Matt Reynolds, Editor, Packaging World
Finalists by category:
General Packaging
• B&R
• Evolabel AB
• PPi Technologies Group
Baking & Snack
• Sun Centre USA
• Bemis Company Inc.
• Triangle Package Machinery Co.
Beverage & Dairy
• R.A. Jones
• LEWA-Nikkiso America Inc.
• Volpak
Meat/Poultry/Seafood
• UltraSource LLC
• Bemis Company Inc.
• INFICON
Personal Care/Cosmetics
• Hoffmann Neopac AG
• Cheer Pack North America
• VPack Technologies Corp.
Pharmaceuticals/Medical Device
•Bausch+Stroebel Machine Company, Inc.
• Antares Vision
• SP Thermoforming
Prepared Foods
• FTNON
• Pearson Packaging Systems
• Specright
Voting will take place live starting when the show opens on Sunday, Oct. 14 at 9 a.m. and goes through noon on Tuesday, Oct. 16. Vote onsite at the My Show Planner kiosks throughout the show, vote in the official show app (available for download at pwgo.to/3708), or vote online at: packexpointernational.com/vote.
Be sure to take the time to check out the finalists and the winners in their booths.
Attract the best talent
Yet another first-time program this year, CareerLink, PMMI's online job board, is going live at PACK EXPO International and the co-located Healthcare Packaging EXPO in 2018. CareerLink @ PACK EXPO is an opportunity for PMMI members and consumer packaged goods (CPG) companies to meet with students and veterans pursuing careers in packaging and processing during one-on-one informational interviews.
Interviews will take place at the show on Monday, Oct. 15 (9:00 a.m.–3:00 p.m.) and Tuesday, Oct. 16 (9:00 a.m.–5:00 p.m.).
Register your company for hour-long time slots (max. time four hours) to conduct interviews at PACK EXPO International. Registration is free for PMMI Member Companies. CPG companies are asked to make a $250 tax-deductible donation to the PMMI Foundation to participate.
To reserve your slot, visit pwgo.to/3709.
PPWLN Returns to PACK EXPO
Now entering its second year, The Packaging & Processing Women's Leadership Network (PPWLN) is practically a time-honored staple of the PACK EXPO portfolio of trade shows compared to all the new programs this year. The PPWLN is once again hosting a networking breakfast and conversation with industry leaders at Tuesday, Oct. 16; 7:30-9:00 a.m. (Room E-450). Sponsored by Duravant (Booth S-2147), Morrison Container Handling Solutions (Booth N-4906), PlexPack (Booth N-5328), and Septimatech Group, Inc. (Booth N-5742), the speakers for the event were still signing on the dotted line as of press time.
Agenda
7:30 a.m.—Breakfast
7:45-8:30 a.m.—A Conversation with Industry Executives, including Hugh Roddy, Vice President Global Engineering & Project Management, Chobani; Carol O'Neill, Group President, Packaging, Barry-Wehmiller; and AJ Jorgenson, AVP, Strategic Engagement, The Manufacturing Institute, the non-profit affiliate of the National Association of Manufacturers (NAM). Moderated by Jane Chase, Executive Director, IoPP
8:30-9:00 a.m.—Q&A and Networking
Visit pmmi.org/ppwln and the PPWLN LinkedIn group to stay up-to-date on the latest PPWLN news and events.
Workforce development and training
PMMI is offering popular training workshops at McCormick Place in Chicago to coincide with PACK EXPO International. Stop by booth N-4550 to learn about workforce development training offered by PMMI, or visit pwgo.to/3707.
• Risk Assessment Workshop—Oct. 12–13, 2018
Looking for ways to reduce downtime, improve productivity, and ensure worker safety? Join PMMI's Risk Assessment experts at PACK EXPO International and learn the tips and techniques to perform and document the important risk assessment process.
• Certified Trainer Workshop—Oct. 14–15, 2018
PMMI's Certified Trainer Workshops will equip your company with strategies and tactics to train well across all employee skill levels including service technicians, service and training managers, maintenance technicians, internal trainers, line supervisors, and any employee tasked with training fellow employees or customers.
• Introduction to Field Service—Oct. 15–16, 2018
Field service technicians are the face of your organization. While technical proficiency gets the most attention, there is far more to being a technician. This 2-day workshop explores non-technical knowledge and skills needed to be a great technician. Topics include: Customer Service, Troubleshooting, Environmental Issues, Safety, Training and Service Call Follow Up.
PACK gives BACK™ brings Sebastian home
A highlight of every PACK EXPO is the PACK gives BACK™ event, and this year is no exception as the hometown comic success story, Sebastian Maniscalco, will be featured. PACK gives BACK is an annual fundraising event with portions of the ticket sales going to a charitable cause
Rockwell Automation will once again help to support scholarships for future packaging professionals through a title-level sponsorship of this year's event, reports PMMI. Sebastian Maniscalco is a Chicago-area born, Italian-immigrant-raised comedian behind wildly successful network specials such as "Sebastian Maniscalco: Why Would You Do That?," "What's Wrong With People?," and "Aren't You Embarrassed?"
PACK gives BACK, PACK EXPO's biggest networking event, benefits the PACK EXPO Scholarship, which supports students studying at two- or four-year PMMI partner schools. Winners of the six $5,000 scholarships will be announced at the event.
"As a PMMI member and PACK EXPO exhibitor, we are proud to be affiliated with an association that cares about the future of the packaging industry and feels strongly about supporting the next generation of professionals," says Christopher Zei, vice president Global OEM and Global Industries, Rockwell Automation. "We are pleased to contribute to such a worthy cause and continue sponsorship of PACK gives BACK."
The fundraiser on Monday, Oct. 15, kicks off with a networking reception at 4:30 p.m. followed by the comedy performance at 5:30 p.m. in the Grand Ballroom located in the South Building. Tickets are $75 (buy nine, and get the tenth ticket free).
"At PMMI we recognize and value the future of our industry and want to continue to invest in the next generation with generous scholarship opportunities," says Jim Pittas, president and CEO, PMMI. "We are grateful to Rockwell Automation for their continued support of this event and this community."
As a bonus, this year's PACK gives BACK features the triumphant return of the Packaging & Processing Hall of Fame.
Hall of Fame
At this year's PACK gives BACK event, PMMI will be honoring five new inductees into the rekindled Packaging & Processing Hall of Fame. After a four-year hiatus, the time-honored tradition is back, honoring a robust five-member class selected from a deep pool of qualified nominees.
Inductees in the 2018 Hall of Fame class are:
• Tim Bohrer, Pac Advantage Consulting LLC
• Michael Okoroafor, McCormick & Co.
• Keith Pearson, World Packaging Organisation
• Susan Selke, Michigan State University
• Chuck Yuska, PMMI
Innovation stages still going strong
Making a return appearance will be the Innovation Stage, which has become a fixture on-floor education feature since its inception in 2012. On the PACK EXPO International side, three stages, located in the North Building, booths N-4560 and N-4570, will bring together industry leaders and subject matter experts for free educational programming addressing the most top-of-mind issues and trends. Sessions will address topics including:
• Internet of things
• Machinery safety
• Standards & common languages
• Sustainability
• Flexible manufacturing systems
• Smart packaging
• Contract packaging
• Global packaging trends
• Digital print technology
• Multipack solutions
• Ultrasonic technology
Healthcare Packaging EXPO will host an additional Innovation Stage in the West Building, Booth W-320, addressing innovations including electronic labeling for clinical studies, asset utilization, and small scale, high flexibility, potent/toxic applications. To date, nearly 50 sessions are confirmed, all 30 minutes in length. All sessions are free to attend. The full session schedule will also be accessible through the PACK EXPO International/Healthcare Packaging EXPO mobile app.
Healthcare Packaging EXPO 2018 Show Floor
The world market for pharmaceutical packaging is forecast to grow 4.1 percent through 2021, faster than any other packaging segment, according to PMMI's Global Trends Impacting the Market for Packaging Machinery 2018 report.
Healthcare Packaging EXPO offers the widest range of packaging technology solutions–including equipment, product and service providers, logistics suppliers, and contract manufacturers–for pharmaceutical and medical device manufacturers in North America.
Solutions spanning the supply chain addressed at the show include:
• Automation
• Continuous processing
• Cleaning and sterilization
• Cold chain logistics
• Commissioning
• Qualification and validation
• Dose processing
• Quality control
• Track and trace
Healthcare Packaging Reception
Healthcare Packaging magazine will host a networking reception in their booth (W-300) on Tuesday, Oct. 16, from 3:30-5:00 p.m.
Show registration, which includes access to both PACK EXPO International and Healthcare Packaging EXPO, is $30 until Sept. 28, after which the price increases to $100. For more information and to register online, visit packexpointernational.com or hcpechicago.com.
More pavilions to optimize your time
Attendees and exhibitors alike will be able to narrow their focus on certain areas of interest while limiting their walking throughout the show. This helps optimize your time—and limit the already-steep number of steps you'll be taking at the show. Tried-and-true pavilions that are welcoming the all-new PACKage Printing Pavilion include:
The Containers and Materials Pavilion: This year's Containers and Materials Pavilion will address the latest innovations in paperboard, glass, metal, and plastic. Flexible and resealable packaging options will also be on display as well as innovative containers and sustainable choices. The Pavilion will also feature the Showcase of Packaging Innovations®, sponsored by The Dow Chemical Company, where visitors can view the award-nominated packages.
The Confectionery Pavilion: Candy and snack connoisseurs can find the newest trends and technologies relating to aeration, batch refining, shaping, cluster production and cooling conveyers at the Confectionery Pavilion. Sponsored by the National Confectioners Association (NCA), this Pavilion will also highlight innovations in easy-open packaging, portion control, and much more.
The Reusable Packaging Pavilion: As demand rises for sustainable packaging solutions, the Reusable Packaging Pavilion, sponsored by the Reusable Packaging Association (RPA), is a hotspot for reusable products, services, and solutions for increasing sustainability across the supply chain. The RPA's Reusable Packaging Learning Center within the pavilion will offer free presentations on case studies and best practices for incorporating reusables.
Industry-specific Lounges
Serving the same function as the pavilions, but more geared toward networking and socializing, PACK EXPO International attendees can network with peers, gain specialized insights, and rest their feet at the show's three industry-specific lounges. Networking receptions for Snack, Confectionery, and Beverage Industry Lounges will take place in their respective locations on Tuesday, Oct. 16, from 3:30-5:00 p.m.
• The Candy Bar Lounge (S-2583) will serve as a networking destination for confectionery industry experts and their customers. Hosted by The National Confectioners Association (NCA) and sponsored by Robert Bosch Confectionery Technology (S-3514).
• The Beverage Cooler Lounge (N-4575) will serve as a networking hub for beverage industry professionals and ISBT subject matter experts. Hosted by The International Society of Beverage Technologists (ISBT) and sponsored by Bevcorp, LLC (S-3874).
• The Snack Break Lounge (N-4565) will serve as the central meeting place and information center for snack industry professionals at the show. Hosted by SNAC International and co-sponsored by Dorner Manufacturing Corporation (N-4936), JLS Automation (N-5342), and Soft Robotics, Inc. (E-7207).
Amazing Packaging Race
In the Amazing Packaging Race at PACK EXPO International, teams of students race around the show floor in a competition to perform tasks at the booths of participating exhibitors. This fun and educational event for university students exposes students to the possibilities the industry has to offer.
There's an app for that
Be sure to download the free PACK EXPO International Mobile App, ready for OsX or Android, to navigate both shows like a pro. It will allow you to look up exhibitors, products, and educational sessions or create and save a personal agenda of what you want to see and do. You can navigate from booth to booth with the interactive map, or get news and notifications about demos, giveaways, and more. This will allow you to access your agenda anywhere, at dinner, at your hotel, or on the floor. If you have your phone on you, you'll have access. Download your app for free at pwgo.to/3708.
Companies in this article