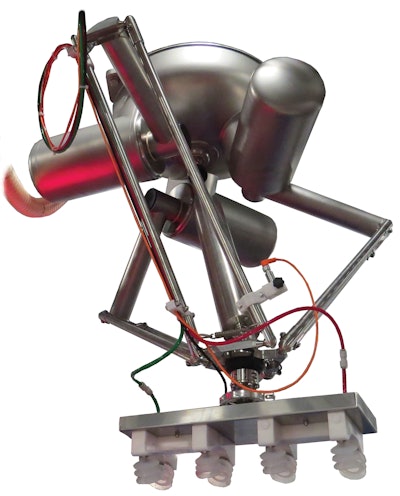 Within its Talon series of robotic packaging machinery, JLS, a maker of primary and secondary packaging systems, needed a pattern-building robot to pick 12-kg blocks of cheese and form them into layers that could then be palletized by the customer's downstream palletizing robot. But the robot also needed to be all stainless since it's handling food.
As company President Craig Souser researched the available machines that would meet his requirements, he was able to find robots that would handle 12-kg payloads, but they weren't made of stainless steel. He also found robots that were made of stainless but they couldn't handle a 12-kg payload.
So he approached Codian Robotics with his requirements and discovered, much to his surprise and delight, that even though it was just two robots that he needed at the time, Codian said, "Okay, we'll do it."
"Remember," Souser points out, "some suppliers of robots are accustomed to receiving an order for a thousand units at a time. So when I needed just two robots with this unusual combination of hygienics and high payload, I knew not every supplier was going to jump at the chance to provide what I needed. Fortunately, Codian agreed."
The other performance characteristic the robot needed to have is a reach of 1300 mm. As Codian's Greg Brasic puts it, "It was indeed a unique combination of characteristics."
The robot Codian provided for JLS is called the Model D4-1300-HD-HP. "There's nothing like it in the marketplace," says Brasic.
Controls architecture on the JLS equipment benefits from B&R's MAPP technology: modular software blocks that simplify the development of new programs and reduce the development time for new machines and systems by an average of 67%, according to B&R. "It's B&R hardware and JLS software, in the sense that we used their programming language and their kinematic transformation to make the motors work together, but we've created essentiallhy our own path planner. It's really a smooth-running machine. We had it at PACK EXPO East in Philadelphia and had a number of people comment on how quiet it is," Souser says.
According to Souser, this isn't the first time Codian has agreed to meet a custom request. "We've worked a lot with them," he adds. "And if we come to them and say, 'Look, we like this particular design, but we wondered if we can get a higher torque rating in the gear box,' their typical response is 'No problem.'"
Companies in this article