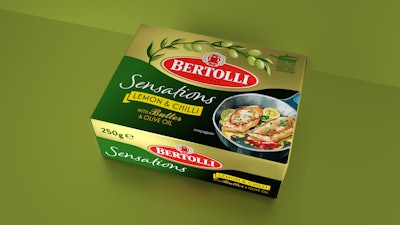 Seeing an opportunity to introduce a premium food product for the busy consumer, Bertolli launched a new Italian-inspired flavor-infused seasoning blend with butter and olive oil.
Bertolli's Sensations Lemon & Chilli adds flavor to home cooking in an easy and quick way. Consumers can simply add Sensations Lemon & Chilli to the pan with chicken, fish, and vegetables to create a delicious tasting meal.
In order to communicate the key benefits of their new product and bring the package design to life, Bertolli sought the help of London-based studio, Slice Design. Slice was tasked with naming the product and creating the package design for the new addition to the Bertolli range. The goal was to clearly communicate on-pack the versatility and convenience of the blend with butter and olive oil.
"The key for us was the product's ability to add inspiration to the cooking experience. We wanted to highlight every dish being a work of art so opted for a more creative illustration style," says Alan Gilbody, founder and Director of Slice.
The package design, which is made of foil and similar to the packaging found on a stick of butter, includes a recipe suggestion on the back to help inspire the consumer and an illustration on the front to demonstrate how to use the product. Attention was also given to the unique selling proposition on the front of the package to highlight the added benefit that the product doesn't burn as quickly as butter at high temperatures, due to its blend of butter and olive oil.
"Slice took an agile approach to the design work throughout the whole process to ensure that tight deadlines were met to bring our new pack to the market, all the while delivering quality designs," says Bianca Harris, Bertolli Brand Manager.
Companies in this article