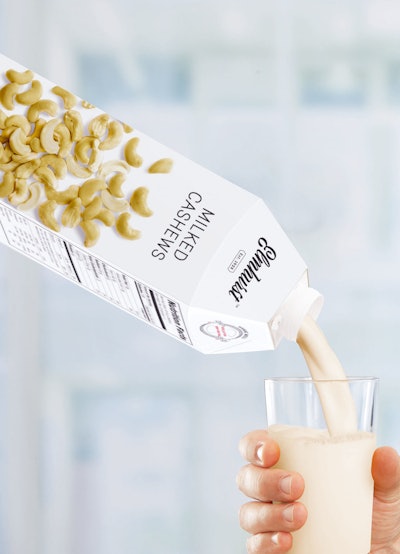 Steuben Foods specializes in long shelf-life products, which now includes a new line of Elmhurst-brand premium nut-based beverages—milked almonds, milked cashews, milked walnuts, and milked hazelnuts. The 32-oz varieties are said to represent the first U.S. use of the combidome "low acid carton bottle" from SIG Combibloc.
This carton-bottle is distinctive and differentiating. Although the carton's primarily rectangular shape is not unusual, the cartons taper inward from all four sides at the shoulder level, forming a flat top upon which is a centrally positioned dome Twist screw cap with 28-mm inner closure diameter. This tamper-evident closure at the very top of the package makes it easy to pour and drink from, much like a bottle.
The combidome carton is composed of about 75% raw paperboard, along with polymers, to provide product stability. Inner polymer layers form a liquid barrier for the beverage, while the outer layer keeps moisture out. A thin aluminum layer protects the product from light, oxygen, and external odors. This means nutrients and vitamins in the aseptically filled beverages are retained for a long time, with no preservatives. These barrier benefits, SIG says, provide the advantages of an aseptic carton.
The cartons are printed in a combination of six colors, depending on product variety. Further distinction is provided by a creamy white color that extends vertically from the carton base upward to the white closure. The slim, rectangular-shaped containers taper inward at the shoulder level. The white background allows the printed graphics of the different nut varieties on the main carton panel to stand out at retail.
Shelf life for the alt-milk varieties is six months, with refrigeration unnecessary as long as the carton pack is left unopened. After the pack is opened, the company says product should be enjoyed within seven to 10 days.
The products were first presented to the public at the Natural Products Expo West in California in March. The carton bottle is available at 1,100 Publix stores. Suggested retail prices are $4.99 for the almond and walnut versions; $5.99 for the hazelnut and cashew varieties.
Steuben Foods touts the lactose-free, vegan alternative to dairy beverages for consumption straight from the glass, in coffee, in smoothies and over cereal.
Jeff Sokal, Steuben Foods' Senior Vice-President Business Development, says: "With our new milked nut beverages we're presenting products that are unique in this segment. The creaminess of the beverages comes exclusively from a proprietary cold-milling process that ensures you get all the valuable nutrients and the full flavor of the whole nuts. Compared to other nut beverages, our products are like homemade—with absolutely no emulsifiers and no thickeners. The aseptic process ensures that all harmful germs were eliminated, while simultaneously allowing us to capture and stabilize the freshness and quality of our nut milks longer than anyone else. When you drink a glass of our beverage, you can be sure you're getting the nutrition of [the] ingredient; it's as if you were eating a handful of nuts."
For Steuben Foods, there was no question that revolutionary products deserved innovative packaging as well. That's why the company opted for the combidome package.
With the market launch of the nut beverages in combidome, Steuben Foods is making a notable market entrance. Says Sokal, "Our products are a statement—and so is combidome. We're confident that by choosing combidome, we're setting ourselves up for clear differentiation in the milk alternatives segment."
Milking process
Steuben Foods packages the milk alternatives at its Elma, NY, facility on equipment from SIG Combibloc. Says Steuben Foods, "Our patented process is a cold milling technique we've coined 'milking' that allows us to produce a non-dairy milk containing all the nutrition of the nuts in a creamy emulsion. This technique successfully extracts all protein, fat, and micronutrients from the whole ingredients so there is no need to fortify our products. Our process does not require controversial industrial stabilizers or gums like carrageenan, locust bean, or xanthan.
"The key advantage of our milking process is that it can produce a 'whole foods' drink, extracting all the nutritional benefit of the nuts in a 'clean' form without stabilizers or gums, that has a creamy texture with appealing subtle flavors.
"Our innovative [aseptic bottling] process allows for safe consumption over longer periods producing a superior, longer shelf life without the need for refrigeration before opening."
Specializing in aseptic packaging
Founded in 1980, Steuben Foods focuses on aseptic filling and packaging of low-acid foods and beverages. The company works with multinational food companies, and specializes in the processing and packing of products such as milk and milk alternatives. Steuben Foods also supplies products for the foodservice sector and for many major retail chains and wholesalers in North America.
The partnership between Steuben Foods and SIG Combibloc began in 2013 with the installation of a CFA 812 filling machine to fill combiblocMidi and combifitMidi aseptic cartons. Steuben Foods now also has a CFA 312 for combiblocSlimline cartons and a CFA 1224 for combiblocXSlim cartons in operation. With the newly added combidome filling line, Steuben can now offer innovative packaging that is essential for differentiation, with the carton delivering convenience and environmental performance.
Low acid—higher standards
Christian Szameit, Key Account Manager at SIG Combibloc, says, "Steuben Foods is one of our most ambitious clients in terms of business plans and innovative projects. We firmly believe combidome is an excellent fit for the company's ideas. With the launch of the Elmhurst nut beverages, the package is being used for low-acid products for the first time.
"Packaging for this type of product has to meet different standards than, for instance, fruit juice packaging. Unlike juices, the taste of dairy products or plant-based dairy alternatives can be affected by light. So, for example, we've designed the spouts for combidome liquid dairy cartons in such a way that they let in almost no light. So the products are optimally protected."
For combidome low acid, the filling process is tailored to the requirements of low-acid products. Hanno Geissler, Head of Aseptic Technology at SIG Combibloc, says, "For the UHT filling of low-acid products, the packs must meet the highest requirements for sterile use, because germs can reproduce much more readily in a low-acid environment such as milk than they can in a product like juice. The sensitivity to light of milk and milk alternatives is another issue. The filling machines for combidome low acid and the corresponding carton packs take this into account, so manufacturers can flexibly fill all kinds of beverages."
Editor's note: This is a revised version of a story first posted to Packworld.com on March 24, 2017.
Companies in this article