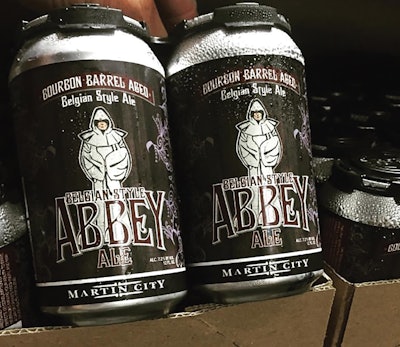 Launched in February of 2014 in Martin City, MO, Martin City Brewing began with 22-oz glass bottles filled semiautomatically on a filler/crowner from Wild Goose Canning. Then in June of 2016 the firm installed a can line, once again sourcing it from Wild Goose. Currently just 12-oz cans are in production, though under consideration are 16-oz cans, too.
The application of pressure-sensitive labels is a key element in the brewery's operations, both on cans and on bottles. The labels are typically a biaxially oriented polypropylene (BOPP) printed on a Mark Andy hybrid flexo/digital press by label converter Label Solution Inc. The equipment selected for applying the labels to both cans and bottles is a Model PL-501 from Pack Leader USA. Integrated into the labeler is a Videojet 6320 Thermal Transfer Overprinter.
For the 22-oz bottles, labels come in two basic varieties. For what might be called "standard" beers—the ones produced in the highest volumes—fully printed labels are being applied. In this case, the Videojet 6320 Thermal Transfer Overprinter applies nothing more than a date code to each label and, in some cases, a QR code that consumers can scan with a smart phone to learn more about the brewery, or food pairings for certain beers, or announcements about new beers in the pipeline, etc.
But it's a different story entirely for what might be called "special" beers, which are the seasonal or special-occasion beers produced in much smaller volumes. For these beers, the only information pre-printed on the label is the Martin City logo. Beneath this logo is a large blank space, and it's here that all kinds of things can be printed—beer variety, alcohol content, date of bottling, "Just Married!," a description of the ingredients or where they're sourced, and so on. No matter how small a run might be, there is no need to change out the label when the message to be printed needs to change. Just select the message at the control panel of the Videojet 6320 TTO and resume labeling.
On the canning side of things, the equipment from Wild Goose includes a bulk depalletizer in addition to the rinser/filler/seamer, which has a four-head in-line filler and cranks out 12-oz cans at about 42/min. Approximately 75% of the cans filled are of the preprinted variety. But once again, as with the bottles, for short runs of specialty beers, labels have only the Martin City logo at the top and the blank space is printed by the Videojet TTO unit in any way the brewery sees fit. Also on the can line is a Videojet Continuous Ink Jet printer that puts a two-line lot and date code near the bottom of each can.
A custom 'stubby'
Peace Tree Brewing Co., founded in 2009 in Knoxville, IA, has four flagship brews as well as several seasonal and specialty beers produced throughout the year. The firm has gone to market in a stock "stubby" glass bottle for most of its existence. But last year it was decided that a modification was in order, so Peace Tree called on Berlin Packaging for a refresh.
Four things about the bottle in use needed to be addressed:
• Designed originally for products other than beer, it held only 11.82 oz when all the bottles it competed with held a true 12 oz.
• Its neck finish did not allow for easy opening.
• The supply chain behind it was not as efficient as it might be.
• It didn't stand out on shelf.
Berlin responded with a custom 12-oz amber glass bottle designed by its Studio One Eleven innovation team and produced by a manufacturer in China. In addition to fitting smoothly into Peace Tree's existing filling line, it addresses all of the above shortcomings, especially in the way it uses distinctive embossing on the shoulder and near the bottom to set it apart and reinforce brand recognition.
Another important modification was in the positioning of the bottle's "transfer bead." This bead is a slight protuberance just under a bottle's neck finish that plays an important role in the glass blowing process because it facilitates the transfer of the bottle from its mold. On the bottle used by Peace Tree in the past, the transfer bead was so close to the neck finish that it made bottle opening difficult. Because it's positioned further down the neck on the new bottle, a bottle opener fits better and opening is easier.
Completing the eye-pleasing look are high-gloss pressure-sensitive paper labels from Grace Label (www.gracelabel.com).
A new twist on the growler
Craft beer lovers have long relied on refillable "growlers," typically a 64-oz container used for home consumption. Now there's an aluminum can version first introduced by Oskar Blues Brewery of Longmont, CO. Holding 32 oz and made by Ball Corp., the Crowler™ is filled and seamed on a one-up machine developed by Oskar Blues and Wisconsin Aluminum Foundry. According to Jason Dan, Crowler Spokesperson at Oskar Blues, these machines, which go for just under $4,000, can be found in breweries, brew pubs, restaurants, liquor stores, and gas stations. Even supermarkets are getting in on the act, as Cincinnati-based Kroger is testing the concept at a 12-tap growler station in its new store in Midtown, Manhattan.
Oskar Blues claims that key advantages the aluminum has over glass is that it's lighter and more portable, it's shatterproof, it seals tighter, and it won't allow in light. At one liquor store in New York City, which has offered the Crowler for the past two years and sells between 135 and 200 each month, shelf life on the Crowler is as long as six months. On the Crowler website is this additional information on how the filling and seaming takes place.
"Oskar Blues added a CO2 purge station to purge the cans before filling them, which helps assure there is no beer-degrading oxygen added to the beer. The Crowler is purged and immediately filled. Then the lid is applied and the Crowler is placed onto the seamer pedestal. The pedestal is turned so that the can is raised up and locked under pressure into the seamer. Turn it on and push GO. Turn it off, twist the pedestal to lower the can, and take it with you to enjoy. Once you open the Crowler, drink it up—ensuring the craft beer is consumed in a single serving while the beer is in its prime, just like in the taproom."
As for graphics, most shops and tap rooms selling Crowlers apply a pressure-sensitive label to the can manually. To see video of Crowlers in production, go here: pwgo.to/2694.
Pumping spent grain
Victory Brewing Co. got its start in 1996 in Downingtown, PA. More recently the firm opened a 212,000 sq ft brewery in Parkesburg, PA, where about 10 brews a day are produced for an annual output of approximately 225,000 barrels.
To keep production moving, a NEMO® progressing cavity pump from Netzsch is used for spent grain removal. A byproduct of the brewing process, spent grain is typically hot (150 deg F) and abrasive. Significant pressure is needed to pump the spent grain some 250 feet to silos outside the brewery. A great deal of back pressure is put on the pump, so a natural air line is run into the conveying line after the pump to create air gaps. To facilitate in the reduction of the discharge head, air is introduced into the conveying line after the pump to create air gaps that eliminate the phenomenon known as a plugged flow.
Studio album released on a beer can
Beer and music is a perfect pairing—especially when that beer is from a craft brewer known for its experimental varieties, and the music is from a band known for its blend of genres and technology. In 2016, Aeronaut Brewing Co. of Somerville, MA, collaborated with The Lights Out, a music and light project, to develop a line of beer that supports the spirit of the band's new album, titled T.R.I.P. (The Reckonings In Pandimensionality). Also called T.R.I.P., Aeronaut's new Imperial Session IPA, brewed with galaxy hops, is packaged in a can that acts as the vehicle for the release of the new album.
"We're fascinated by the role packaging plays in discovery, both live and on the shelf," says Adam Ritchie, guitarist for The Lights Out. "For an unsigned band making new music, we could release it digitally, but where's the fun in that? We could put CDs and vinyl on a record store shelf, but people aren't discovering new bands that way anymore. If they're going to a record store, most of them are picking up something they already want, by someone they already know. But a lot of the people who used to walk the aisles of a record store looking for new music every weekend are now going to the liquor store at least that often, where they want to discover something new. Most beer purchase decisions happen right there in front of the cold case. The opportunity for someone to discover a band there caught our curiosity."
Raul Gonzalez, an artist who has created all of Aeronaut's beer labels, designed the graphics for T.R.I.P. as well. The artwork was inspired by photos and videos of The Lights Out's live music and light show, which features band members wearing goggles that light up in sync with the music.
Consumers can obtain the new album when they follow instructions printed on the side of the T.R.I.P. beer can and send a tweet to The Lights Out, using a special hashtag, also printed on the can. From there, they receive a response from the band with a link to a site where they can stream or download the album, learn more about the project, see photos and video, sign up for the band's fan club, and see a list of upcoming shows.
"We'd like everyone to experience the beer and the music together, because we're trying to create a complete sensory experience," explains Ritchie. "Nothing is preventing someone from accessing the information without purchasing the beer. It's an honor system, and one that we are comfortable with, given the nature of this audience. Craft beer fans appreciate small things that are creative and of quality."
The 16-oz cans are sold in a four-pack that costs $14.50. It is currently available in stores in the Boston area as well as at Aeronaut's brewery. —Anne Marie Mohan
Companies in this article