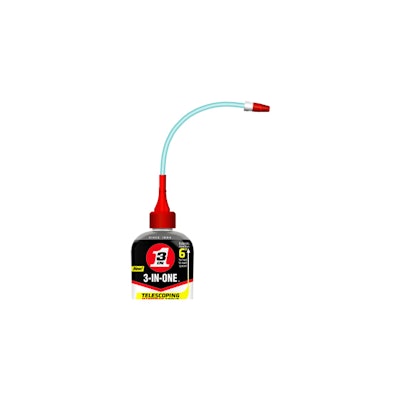 According to Brand Manager Linda Cernik-Price, the new shape fits more readily in tool boxes and tool belts plus it's easier to handle than the oil-can shape (inset) used previously. That container, which was extrusion blown of high-density polyethylene, also featured a telescoping spout, but it wasn't as long. This new Marksman Spout delivers oil precisely where it's needed.
WD-40 chooses not to identify the supplier of the bottle or the spout, nor does the firm talk about relative cost of before and after bottles. But the PET label is printed flexo in five colors by WS Packaging Group. The label provides a clear fill-level indicator on the side of the bottle. As for filling, it's done for WD-40 by a "domestic partner."
To see a spin + zoom 360° photo, click here.
Companies in this article