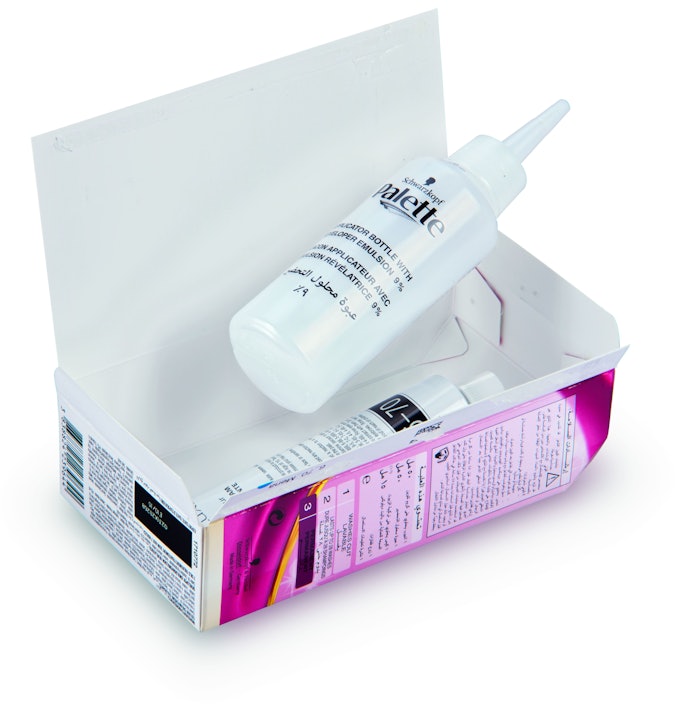 To Rolf Müller-Grünow, factory director, and Hans-Jurgen Kopp, head of technology in the Beauty Care business area, the two TLM packaging machines from Schubert symbolize the way to the future, where Henkel fills the role of technology leader in hair dye products in Europe, if not the rest of the world. "These lines," says Kopp, "don't just produce up to 50% faster than all conventional packaging lines. Format changes are easier and more efficient. Thanks to Schubert, we can now switch between the different national versions of hair coloring products much faster."

Above all, though, is the actual innovation: Schubert lines offer a variety of options for filling folding cartons for hair coloring products. "We now have enormous freedom when it comes to design," notes Kopp. "We can make folding cartons with angled corners or process any other conceivable shape. We have now set a milestone in technology and can give our marketing department lots more elbow room in packaging design," says Müller-Grünow.

The individual components of the hair colouring products are supplied from magazines partly online and partly offline. IPS, Schubert's own line engineering company, provides the corresponding feed systems for this purpose. With the exception of the packaging materials in magazines, the components are detected by Schubert scanners and then inserted into the package with great precision by the TLM-F44 robots, but only after a positive quality assessment.
Two distinctly different packaging formats are shown here. One is a carton that gets erected from a flat blank and is glued in the first two sub-machines and then transferred to the Transmodule in two rows. Another sub-machine closes the cartons and transfers them from the Transmodule to the discharge belt.
The other package format is a round paper-based cup and lid that Henkel refers to as a "shaker."  Consumers use this cup and lid to shake up the various product contents contained in the pouches seen in the photos here. The Schubert system is flexible enough to also, after a brief changeover, automatically denest these round containers and fill and lid them, too. See video here.
Companies in this article