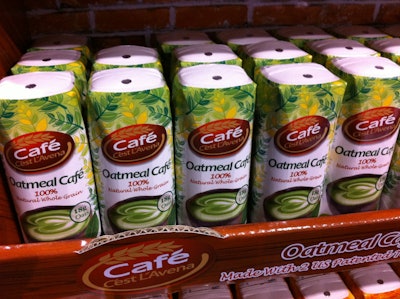 Scoping the aisles of the 2013 Private Label Trade Show—the biggest ever in the event's history, according to its organizer, the Private Label Manufacturers Association (PLMA)—it's easy to see why store brand product sales continue to expand, setting new records for total dollar volume and market share. At the November event, held at the Rosemont Convention Center near Chicago, row upon row of exhibitors, numbering 1,229 in all, displayed thousands of food, beverage, personal care, pet care, OTC pharma, and other products in packaging that meets or rivals that of any brand-name competitor's. From gorgeous package graphics to the latest packaging materials and structures, private-label brands have most definitely left the stigma of generic store brand packaging behind.
In an opening speech on Nov. 17, Todd Hale, Senior Vice President of Nielsen, revealed to attendees that the growth of private-label has even surpassed that of national brands. "Store brand sales reached $111.6 billion for the 52-week period ending August 31, 2013, a level that is 18.5-percent greater than for calendar 2009," he said. "National brand sales during that period were $529.4 billion, up 8 percent since 2009."
A look at the types of packages being exhibited at the event shows that private-label brands are embracing many new packaging formats, and are finding new applications for existing packages.
Aseptics making inroads
One format making inroads in private-label brands is aseptic packaging. According to Michael Zacka, President and CEO of Tetra Pak U.S. and Canada, who spoke with Packaging World at the show, aseptic packaging offers both food and beverage companies—in particular, producers of milk, juice, and soup—a way to revive flagging sales.
Zacka pointed to several factors leading to declining milk sales. "A large percentage of milk is consumed in the morning," he said. "But people are not taking as much time to have breakfast in their homes these days. A lot of them are going to convenience stores, or are grabbing substitutes such as breakfast bars instead.
"Milk producers have to think about new formats for in-home and out-of-home consumption. They also have to consider more nutritionally based breakfast drinks, for example beverages that offer additional fiber or protein, in a single-serve format. There is a substantial opportunity in this area."
For both milk and juice, shrinking household sizes mean that the traditionally gallon and half-gallon beverage containers are too large. "Producers need to get a better grip on smaller households," he said, adding that a new breakfast beverage in Japan, in a 4-oz Tetra Top Micro container, has been met with great success.
One product exhibited at the show that touched on these trends was a line of drinkable oatmeal beverages from Taiwan First Biotechnology, Inc. in a dainty, 8-oz Tetra Prisma Aseptic carton. The Taiwanese company offers three lines of oatmeal-based drinks: McGrain New Fashioned Drinkable Oatmeal in eight flavors, including fruit varieties, chocolate, and café latte, with 8 to 28 g of oatmeal per serving, depending on variety; Frescafina Finest Oats Smoothies in four fruit flavors, with 18 g of oatmeal; and Café C'est L'Avena, an oatmeal café series in four flavors, with 18 g oatmeal. Company chairman Jimmy Kwan-Han Chen Ph.D. says the products, with their eye-catching and appetizing package graphics, can be labeled for store brand sales.
Also giving consumers a new way to conveniently store and dispense beverages, Leahy IFP of Glenview, IL, debuted its Space Saver™ line of juices, lemonade, and ice tea flavors in a 5-L bag-in-box package designed to fit on a refrigerator shelf. The box, measuring 11.75 x 6.375 x 15.875 in., has a dispensing spout on the front panel of the package, making it easy for kids to "pour" their own drinks. According to Leahy Vice President of Innovation John Ferrano, the company has installed a new Scholle SureFill aseptic bag-in-box filler to accommodate the new line.
In the area of soups, Tetra Pak's Zacka says that canned products appeal to an aging demographic, while millennials are more interested in innovative packaging formats and new flavors. In addition to some name-brand examples of soups in cartons shown at the Tetra Pak booth—among them the new Artisan line of Progresso soups—the company also displayed Costco's Kirkland Roasted Corn Chowder and Target's Archer Farms brand soups in cartons.
A custom-windowed carton
Displayed at beverage carton supplier Evergreen Packaging's booth was a PET-windowed carton being used by Johanna Foods, a producer of fruit juices, drinks, and yogurts under its own brand and for private label, in Flemington, NJ.
The conventional, gabletop carton with cap allows the brand owner to create custom die-cuts—for example, a level indicator for Orange Juice or a snowflake-like graphic on a carton of Egg Nog, as used by Johanna Foods—that are covered from within by PET. Branded the Fresh-Look™ window carton by Evergreen, the package has been trademarked the Juice-O-Meter by Johanna Foods.
The next step in meal kits
While name-brand food producers have recently been knocking out meal kits that include fixings or ingredients that, when added to meat or salad, result in a meal, some private-label companies are taking the next step and giving consumers the full deal. At the show, Italian company Topan S.r.l. exhibited an exquisitely crafted line of Italian gourmet sampler kits for one that feature all the components of a full Italian meal, ready to reheat in the microwave.
The kits are available in three-, four-, or six-piece sampler boxes that allow retailers to create their own combinations according to specific demographic requirements. A six-piece box offers an antipasto, first course, entrée, side vegetable, and two desserts. Glossy boxes are beautifully printed and provide a carry handle. Preparation instructions for each meal component are printed on the inside of the box above each food item. Meal kit varieties include Southern, Central, and Northern Italian cuisine.
In the same vein, U.K. supermarket Sainsbury's has introduced Sainsbury's Takeaway boxes, for two or four people, in Oriental and Indian versions. Like the Topan kit, the Sainsbury's box is a rectangular construction with a carry handle. A label on the front panel provides photography of the food, along with a list of the meal ingredients. For example, the Sainsbury's Oriental Takeaway for Two includes chicken with spring onion and ginger, and duck in plum sauce.
Also spotted on the show floor:
• At least two companies were thinking out of the box when they put together packaging for their herb and spice packages. Daregal Gourmet, of Princeton, NJ, was showcasing a line of fresh, frozen herbs in square and gabletop cartons, both with a unique, flip-top closure with shaker spout. Further online investigation shows that the company is using a Diamond Curve Carton from Elopak with a specially sourced closure for 14 varieties of herbs. Another exhibitor, GLF Sales & Marketing from Toronto, ON, Canada, a global food sourcing, marketing, import, warehousing, and distribution company, displayed an eye-catching array of spray spices in tiny, hourglass-shaped spray bottles with shrink-sleeve labels. According to GLF, bottles offer 300 sprays each, with spice varieties that include rosemary, garlic, lemon, chili, and saffron, among others.
• From South African company Rio Largo, a column-shaped cardboard container with inner foil liner and plastic top with carry handle keeps extra virgin cold-pressed olive oil fresh for up to two years. A tap on the front of the package makes dispensing easy and eliminates dripping.
• You've seen it for fruit, now Seneca Foods, Marion, NY, has introduced single-serve cups of vegetables in four-cup multipacks. The heat-and-eat 4-oz plastic cups are available in green beans, carrots, peas, and corn, with a splash of sea salt.
• Boston's Best Coffee Roaster of Easton, MA, exhibited a line of gourmet coffees with simple yet elegant photography in a 12-oz, bottom-gusseted stand-up pouch. According to Erin Woodard, National Account Manager for Boston's Best, the stand-up pouches allow discount retailers to stock a coffee product in a package that looks more ample than the traditional 12-oz bag.
• Some twists on syrup packs include a 675-g gabletop carton with twist-off cap for molasses from Crosby's Molasses and More, and a stand-up foil pouch with spout for maple syrup from Citadelle Maple Syrup Producers' Cooperative of Plessisville, Quebec, Canada.
• Following the trend for wines in alternative packaging, LiDestri Food & Beverage displayed a range of wine varieties in spouted stand-up pouches, including the mü line, which includes vanilla latte, chocolate chai, and coco cappuccino varieties.