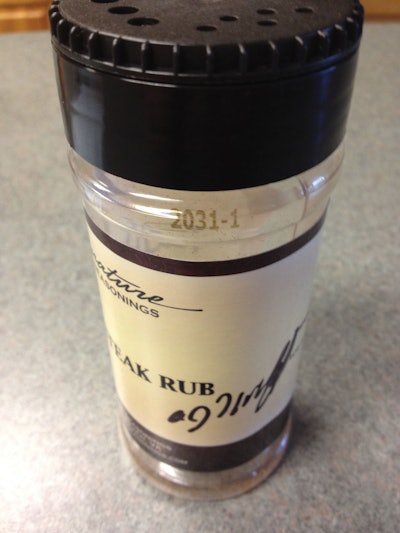 For Signature Seasonings, using the right mix of technology to meet its changing needs is just as important as creating the perfect spice blend for its customers. But for the small business, finding cost-effective, versatile technology to support its made-to-order manufacturing process proved difficult.

Until recently, the New Bern, NC, company struggled to meet its intermittent printing needs for marking small-character lot numbers on its spice bottles, primarily because the continuous ink-jet printer it used required too much cleaning.

The company's search for a solution ended when it installed the new Hydra printing platform from RSI. RSI is already known for innovative product-coding systems that integrate with the cartridge-based digital thermal ink-jet technology from HP. But this installation is especially significant for two reasons. First, it's a departure for RSI because its core business has been primarily in the area of case coding. With the introduction of the considerably smaller Hydra, the innovative machine builder now has a platform for a whole new customer segment where the substrate being coded is generally smaller than a corrugated case.

Equally notable with this installation (www.bit.ly/pwe00422) is that it marks the commercial debut of HP Black 2570 Solvent Ink, the first ink from HP to be specifically tailored for non-porous substrates. It dries quickly with no need for add-on drying devices. Perhaps even more important is that it boasts an extended "decap" time (the time it takes for the ejectable liquid at the nozzle to clog) of 24 hours. This unique property allows for intermittent industrial printing with immediate start-up and limited printhead servicing between jobs. Signature Seasonings vice president Jay Neuhoff says it makes a world of difference in his operation compared to the days when continuous ink-jet was used.

"With our old machine, if we didn't plan to use it for several days, we had to flush the system to avoid the ink drying inside the tubes and solenoids," says Neuhoff. "That took about 45 minutes."

The RSI Hydra printing platform with HP's new ink has changed all that. The low-maintenance solution starts up in less than 2 minutes—even after lapses between print runs. With its extended decap time of up to 24 hours, the HP ink allows for minimal operator intervention before and after long periods of inactivity.

"There are other solvent inks available, but in my opinion they are not as reliable, because the decap time is very short, requiring operators to constantly wipe the printheads," notes Tom Meutsch, national sales manager at RSI.

With HP Black 2570 Solvent Ink, Neuhoff says, when his team at Signature Seasonings is ready to start printing, "we just give the printhead a quick wipe and it's ready to go. Downtime really isn't an issue."

Intuitive operation and maintenance

At a small company like Signature Seasonings, employees touch multiple areas of the business—including print production. Thanks to the easy-to-use RSI Hydra printing platform and its production-friendly inks, virtually anyone at the company can operate and maintain the printer. Moreover, the RSI Hydra printing platform is built with a rugged steel enclosure to protect it from industrial environments, and it features an intuitive touchscreen to manage print jobs. "It only takes a couple minutes to show someone how to use the printer, which is a great benefit," says Neuhoff.

The self-contained print cartridges are also simple to maintain, thanks to a snap-in, snap-out design that enables users to replace them quickly and easily. Neuhoff explains, "You just flip the lever, pull the cartridge out, put the new cartridge back in, and snap down the cap—it takes about 15 seconds."

Signature Seasonings prints small-character lot numbers on its plastic spice bottles, a job where accuracy and legibility are important. With its previous technology, consistency was an issue—bottles were sometimes missing tracking numbers. Now such problems are a thing of the past. "The codes look crisp and every bottle looks the same. It looks like it was done on a laser printer," says Neuhoff.

HP's new inks help deliver precise text and images across a wide range of nonporous substrates, from flexible packaging and folding cartons to challenging direct-mail substrates. The HP Black 2570 Solvent Ink Cartridge produces small-character readable output with a maximum resolution of up to 600 dpi, which makes it especially suitable for product ID and marking in the food and pharmaceutical industries. The RSI Hydra printing platform features adjustable resolution settings that allow users to print smaller, finer characters and produce almost any type of bar code necessary.

Looking forward, Signature Seasonings is excited to use this versatile technology to meet its growing printing needs. "The ability to print on a variety of package types makes this printer even more economical and accelerates our return on investment," says Neuhoff. He adds that Signature Seasonings plans to start printing directly onto corrugated cases and flexible plastic bags.

Neuhoff concludes: "Every penny we save in production costs enables us to compete more successfully in markets where sales are often determined by a few cents per pound."