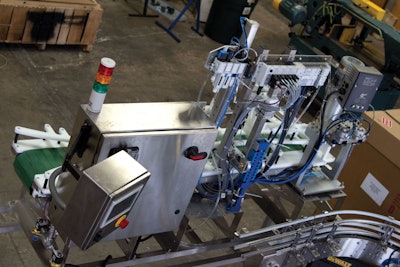 Small by most standards and very new to designing and building packaging machinery of any kind, Wild Goose Canning recently launched a line of can filling/seaming systems aimed squarely at the smaller craft brewer. And how did this new machinery offering come about? "Our shop shared a wall with a craft brewer," says WGC managing partner Jeff Aldred. "When they started talking about their needs, we realized we had the engineering resources to meet them. We built a prototype, tweaked it, and now have four basic models available."

Even the fastest of these WGC systems, the MC-250, tops out at about 42 cans/min. But such speeds are all a craft brewer typically needs (see video at www.bit.ly/pwe00420).

While its speeds are modest and its footprint small, the linear style MC-250 has plenty of actuation going on. An intermittent-motion conveyor carries cans through a quad-head CO2 purge station, then to volumetric filling in a quad-head filling station, then to application of a can end, and then to one-up can seaming. All of this is done pneumatically by Festo components. In addition to multiple pneumatic cylinders and actuators, the system also has from Festo an MP series pneumatic valve manifold, a CPX CEC1 PLC controller, and a FED 770 HMI.

"It was very appealing to us that Festo was able to deliver a completely integrated controls package," says Alexis Foreman, WGC vice president. "Valve manifold, I/O, PLC, pneumatic cylinders, and HMI—we were able to specify our entire control system and order it from a single vendor. And with the valves and a majority of inputs outside of the electrical controls cabinet, we are able to keep compressed air away from the system's electrical service and reduce enclosure penetrations."

Examples of the kinds of actuation for which the pneumatic cylinders are responsible include the up and down motion of the filling nozzles, the pushing of an individual can into the seaming station, and the can lift up into the seaming chucks.

Foreman emphasizes how important it is that the cylinders be able to withstand the acidic and corrosive atmosphere inherent in a beer-filling operation. Helping considerably in this regard is a front rod seal that is made of Ultra High Molecular Weight Polyethylene. "That front seal is fantastic, because beer can eat ordinary seals like crazy," says Foreman. "With a reliable seal you know that the air isn't leaking out of the pneumatic cylinder, and that the air is actually actuating whatever motion it's supposed to be. It's good, reliable, consistent pneumatically powered motion."
Companies in this article