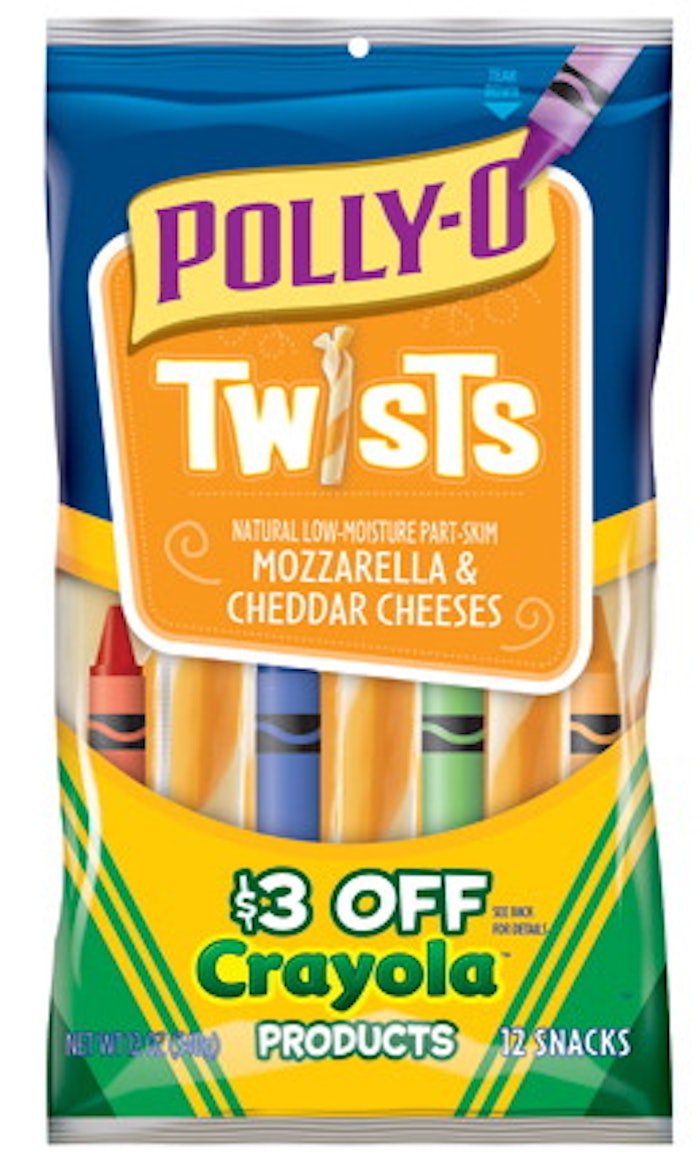 For the back-to-school season, Kraft has partnered with Crayola for a joint promotion that disrupts the string-cheese shelf with limited-edition packaging that turns Kraft and Polly-O brand string-cheese pouches into colorful crayon boxes. The promotion targets the prime purchaser of both string cheese and Crayola crayon products: "a mom of six- to 12-year-old children who raises them to become well-rounded adults," says Marlene Sawhney, associate brand manager, Cheese Marketing, Kraft.
"Crayola focuses on unleashing a kid's creativity for them to grow up and inspire the world," Sawhney continues. "Since Kraft and Polly-O String Cheese are wholesome snacks that kids love, mom feels that it helps them teach their children how to make smart decisions."
The new packaging, designed for Kraft String Cheese, which is distributed west of Pittsburgh, and Polly-O String Cheese, available east of Pittsburgh, will be stocked on store shelves from July through October 2012 and includes a $3 coupon for Crayola products, as well as a link to printable activity pages. Package graphics for the pouch and for the individual cheese-stick film wrappers were created by SoulSight® to replicate the appearance of a crayon box full of crayons.
Primary packaging, constructed of a nylon coextruded forming web and a polyester/sealant nonforming film web, is reverse flexo-printed with the image of a crayon in one of six Crayola colors on each individual cheese stick. The outer pouch packaging, a polyester/polyethylene lamination, is decorated to imitate a Crayola crayon box, with the iconic yellow background and pattern of green diagonal lines at the bottom. A clear film window in the center of the package lets the colorful "crayons" show through.
According to Kraft packaging engineer, Cheese R&D, Nikki Cerrato, one challenge of the design was ensuring the opacity of the film bag from front to back, as the coupon is located on the inside back panel of the bag. A large, printed panel on the bag's front displays the product name and Kraft logo, "masking the coupon and ensuring it does not show through the front of the package."
Cerrato adds that Kraft's Campbell, NY, string-cheese plant was easily able to accommodate the change in packaging, due to advance planning—the project was under development since early 2012—as well as collaboration with Kraft's marketing team.
Sawhney says that retailers are excited about the partnership, which offers consumers "a true value" and spans across categories. "Consumers love the packaging, especially the individual crayons, as well as the activity pages that are offered online," she adds. 
Companies in this article