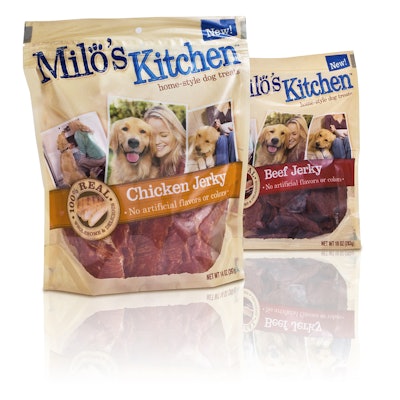 The cherished relationship between "pet parents" and their canine "kids" is the focus of packaging graphics for Del Monte Pet Products' new home-style treats for dogs. Made from 100% real jerky, sausage slices, and meatballs, the Milo's Kitchen line of four treat varieties is packed in a stand-up, resealable pouch, decorated with graphics of pet owners interacting with their dogs, in heart-warming, full-color photography.
Del Monte worked with brand agency CBX to fine-tune the positioning and packaging design for Milo's Kitchen. Through an extensive research process, CBX helped pinpoint the insight that pet parents regard their pets as equal members of the family unit. As such, they want to share the same kind of 100-percent real, nutritious, and flavorful snacks that they themselves would eat. 

"This revelation became the driver—the distinct 'a-ha' moment—behind the development and positioning of a pet snack brand that would allow Del Monte to carve out its share of this burgeoning [pet food and products] market," says CBX chief creative officer Rick Barrack. 

In addition to photography of people embracing their pets, the package design for Milo's Kitchen includes a round bulls-eye on the package, displaying the 100-percent real quality seal, to reassure consumers of the high-quality ingredients. The light color of the packaging adds to the fresh and natural appeal of the product, as well as boosts its shelf presence on crowded grocery and retailer shelves. A clear window on the front of the bag has been maximized so consumers can see the pet snacks inside. The back panel complements the positioning on the front by telling the story of the brand. 


Milo's Kitchen home-style treats are available in small (2.7 to 3.3-oz), medium (10 to 14-oz), and large (15 to 30-oz) bag sizes, depending upon variety, and are sold at large national grocery chains, Walmart, Target, PetSmart, Petco, and other channels selling pet food.
Companies in this article