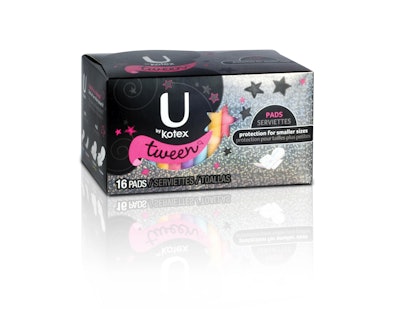 Tweens: They're feisty, opinionated, razor-sharp, brutally honest, slightly awkward, and very, very important for your brand. My oldest daughter is just about to enter into this demographic (9 to 14 years old, "too old for toys, too young for boys," as they say), and as a parent, I'm bracing myself for all the craziness that comes along with it. But as a creative, I couldn't be more excited for the opportunities that tweens present. Creating and designing products that reflect this group's multifunctional, fast-paced lives is one of the most thrilling challenges out there for those working in the marketing and branding worlds.
Sales of products for tweens currently exceed $200 billion annually. That's quite a few Justin Bieber posters, eh? But reaching this audience is not as easy as one might think, because tweens are full of dichotomies:
1. They aspire to be older, but are still children.
2. They want to be unique, but also still fit in.
3. They have strong ideas about what they want to buy, but need parental involvement and approval to purchase those things.
My company, CBX, is familiar with the challenges facing tweens. Our work for U by Kotex—a brand for 14 to 22 year olds said to have revolutionized the feminine care aisle—was so successful that Kimberly-Clark turned to us to help design another product line, U by Kotex Tween, that specifically targets these young consumers.
By conducting a deep dive to get into the minds of tween females, we discovered that our target audience wanted:
• Copy that speaks to her honestly and openly
• Windows that let her see the product
• Packaging functionality that speaks to how she expresses herself
• Portability that lets her take products with her wherever she goes
• Bold colors, a pleasing fabric, and fun textures
The resulting design spoke to a tween's desire for freedom and self-expression and to her mom's need for reassurance and safety. And those facets—freedom, self-expression, and safety—are also evident in several other new products currently being marketed specifically to tweens.
Personal care products packed with tween appeal
For starters, there is Geo Girl, Walmart's new line of eco-friendly cosmetics for 8 to 12 year olds. Geo Girl includes blusher, mascara, face shimmer, and lipstick that are "mother approved." Formulas are designed for young skin and contain natural ingredients like white willow bark, chamomile, lavender, and calendula, as well as antioxidants, which are said to prevent aging (yes, you read correctly…anti-aging for 8 to 12 year olds!).
All 69 products in the range are paraben-, phthalate-, and sulfate-free, a strategy that is designed to attract parents worried about the excess chemicals in makeup. The packaging system—featuring playful fonts and pop colors—communicates each product's unique feature, reflecting every tween's desire to be noticed and recognized as an individual. The verbal strategy supports this message by engaging each tween in a dialogue on how to bring out their beauty, and the use of recyclable packaging encourages this younger generation to make their contribution to society.
In 2010, Crest introduced the unisex Crest and Oral-B Pro-Health For Me, the first-ever complete collection of oral care products for kids aged 8 to 12. This line, consisting of a rinse, brush, floss, and toothpaste, is promoted as "made just for tweens," and projects an image that dental care is cool (to be fair, it isn't necessarily un-cool). For the most part, the design looks similar to other Crest and Oral-B products, with the exception of hand-drawn illustrations that are very tween-esque. This hip graphic treatment attempts to separate from the stigma attached to "if it's my parents' product, I will hate it" syndrome. The sub-brand "for me" helps soften the blow of engaging in the dreaded dental routine. As opposed to whining, "Do I really have to?," these products will have them saying, "Look ma, I brushed my teeth!"
Degree Girl is, unquestionably, a product that popular television character iCarly would use (sure, she's a little older, but what tween doesn't aspire to be more mature?). It promotes itself as "Protection for Every OMG! Moment," and features "OMG!" on its packaging, Web site, and promotional materials. In doing so, Degree Girl reaches out to its target audience by speaking in its tween lingo, and moves away from the pastel tones associated with the category by packaging product in edgy tones like purple, fuchsia, and black.
Degree Girl utilizes glitter caps, fun names, and unique graphic expressions that support moments in every tween's life: "I think I'm in love," "Today I'm a rock star," and "I am woman, hear me roar."

While these brands were created to speak specifically to the tween audience, some existing products created for older consumers are tweaking their advertising messages—if not their packaging—to reach a younger male audience, and are turning up in such specifically tween places as Twitter, YouTube, and Facebook.
Marketers of these brands rely less on 30-second TV spots than on interactive Web sites, creating communities of young fans. Axe has an avatar in Pain, a PlayStation game. Old Spice's Swagger sponsors Xbox team competitions. Brands create downloadable apps, have lengthy "advergames" on their Web sites, and urge fans to text friends with coy messages about the products. They make commercials specifically to air on YouTube (as opposed to TV), a site proven to attract young boys, many of whom make and post their own videos.

Five tips for tapping the tween market
So at the end of the day, what advice would I give brands trying to reach this audience through packaging? I confess that I am slightly reluctant to dish out said advice, knowing that these brands will soon be targeting my still-innocent little daughters. But here it goes:
1. Know your audience: Conduct a serious "deep dive" into the media, fashion, and products that are speaking to your target audience. For U by Kotex, we analyzed trends, visited stores, watched movies and TV shows, and conducted focus groups to literally "become the girl."
2. Tell it like it is: Tweens want to be talked to like people—not like they're being talked to by their parents. Immerse yourself in the lingo of your target audience, and keep it short, sweet, and in a relatable, conversational tone.
3. Surprise! Always include an element of surprise, something unexpected and fun, that will stand apart from the competition as well as from (gasp!) their parents' products.
4. Personalize it: Tweens like to put their stamp on the world, so products (and promotions) should have some option for personalization. And providing a place for feedback—whether through Facebook, Twitter, or Tumblr—is highly recommended.
5. Make it snappy: Make sure there are elements on the packaging—glitter, peek-a-boo windows, illustrations—that make the package feel like a special treat for tweens.
Rick Barrack is the lead creative force at brand agency CBX and is one of its founding partners. Contact Rick at rick@cbx.com.