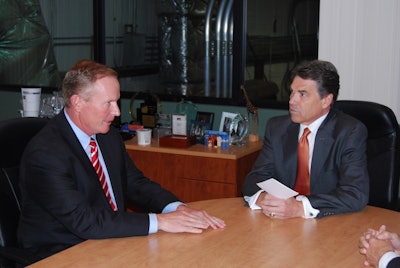 ISO Poly founder and president Jon McClure established the company in 1997 with $5,000 cash and a $12,000 loan on his credit card, and has built a multi-million dollar business--making it a natural choice for Gov. Perry's address in the Palmetto State.
"I am pleased that our world class manufacturing facility was selected as the location for Gov. Perry's economic policy speech," says McClure. "As an entrepreneur, I have strong views in support of U.S. manufacturing and job creation, two related topics of keen interest to all U.S. citizens and South Carolinians, in particular. Although I have not yet decided whom I support personally for the presidency, our doors are always open to candidates of any party to share their views on how to turn our economy around," McClure adds.
The company has invested nearly $50 million including its original plant and multiple expansions, generating additional jobs and increased economic impact on the local community. ISO Poly currently has 110 employees and has more than tripled the amount of production and revenues since its expansion efforts in 2006.
"ISO Poly Films has been a great asset to our county," said Laurens County Council Chairman Jim Coleman. "They have had multiple expansions since their start up and continue to create good paying jobs for our citizens."
"ISO Poly Films Inc. has been part of the South Carolina business community for more than a decade and this expansion reaffirms the company's commitment to our state and to Laurens County. As well, this expansion is another example of a high-tech start-up that has found success in the Palmetto State as a result of our favorable business climate and skilled workforce," said Joe Taylor, Secretary of Commerce, in a December 2010 announcement of ISO Poly's most recent expansion.
The company manufactures specialty film that is used in various applications, such as films to package fresh produce, frozen meats and vegetables, and beverage pouches; protective films for consumer electronics and polished metals; backing films used in the manufacturing of adhesive tapes; and other consumer, medical and industrial applications.
ISO Poly Films is a Sigma Plastics Group company. The two companies formed a strategic partnership in 2009. ISO Poly has experienced significant growth during the past two years and is the flagship company of Sigma's multi-layer specialty films division. From its state- of-the-art facility in Gray Court, ISO Poly produces a wide range of custom-engineered films, including critical application mono-layer, three-layer, and seven-layer high barrier co-extrusions, for the high-end converter market.
Companies in this article