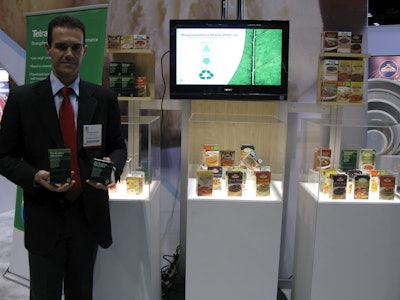 Process Expo Chicago 2011, Nov. 1-4, includes more than 400 exhibiting companies, and provided the food and beverage industries with special events, conferences, products and services for use throughout the supply chain. The Process Expo trade show is one of the programs from the Food Processing Suppliers Assn.
Among the exhibitors were suppliers of aseptic processing machinery, biodegradable packaging, box and carton forming equipment, capping machines, caps and closures, checkweighers, cleaning equipment, conveyors, drives and motors, feeders, fillers, and sealers, films, flexible packaging, food packaging machines, form/fill/sealing units, heat sealers, labelers, lidding machinery, marking and coding equipment, material handling systems, metal detectors, molding machines, packages and containers, packaging systems, palletizing/depalletizing/unitizing equipment, pharmaceutical processing equipment, shrink packaging systems, vacuum packaging, and virtually any type of food and beverage processing.
In the photo here, Marcelo Ferrer, director of contract manufacturing with Tetra Pak Inc., poses with Tetra Recart™ packs, which are designed to provide efficiencies in distribution, for retailers, and billboard impact for brand owners.
Some of the technology spotted at Process Expo included the following equipment:
• Designed for seamless integration into processing and packaging lines, Mettler-Toledo Safeline's PowerPhasePRO digital metal detectors use tuned multi-frequency technology to protect products from stainless, ferrous, and non-ferrous metal contamination. A user-friendly touchscreen with 5.7-in.-high-visibility display provides "walk-by" operation with wide-angle system condition monitoring that can be viewed from up to 12 ft away. Its one-pass auto product setup requires only five seconds when a new product is introduced. The system can inspect multiple products with a single setting since the detector runs all product settings simultaneously. It instantly recognizes a different product on the line and automatically changes over, resulting in no false rejects.
• Tetra Pak's Tetra Alex 400 homogenization with hydraulic pressure setting for high-pressure homogenization of emulsions and suspensions used for dairy products, beverages, and prepared foods. The unit is designed as a five-piston positive displacement pump with built-in homogenizaing device. Includes stainless-steel covers, easy-to-open hood, and side door for easy service access.
• The EasyPrint mlp multi-lane thermal-transfer printer from Bell-Mark is available with up to an 8.3-in. print head. For in-line printing of batch codes, graphics, logos, sell-by dates, bar codes, and other variable information. Prints directly onto substrates including plastic films, foil, Tyvek®, medical paper, cartons, and labels. Suitable for printing on a variety of machines, with applications ranging from pouches to blister packs to syringes, and other food and pharmaceutical products.
• Greydon's S-107/53 SP is a third-generation traversing thermal-transfer printing system that integrates with packaging machines and prints during the dwell cycle. Its 32 bits RISC processor helps it achieve the speed in data preparation and print speed required on packaging lines. Provides print widths of 53 and 107 mm, resolution of 300 dpi, and print lengths of up to 630 mm.
• The Vivo! Touch color label printer from Quick Label Systems prints color labels on the fly at speeds up to 25 ft/min. Can accommodate short runs with variable information that changes on each label, such as for lot-code serialization or for different product images. Can print photo-quality labels from its touchscreen interface, and print labels without a computer via its TouchPrint™ standalone mode.