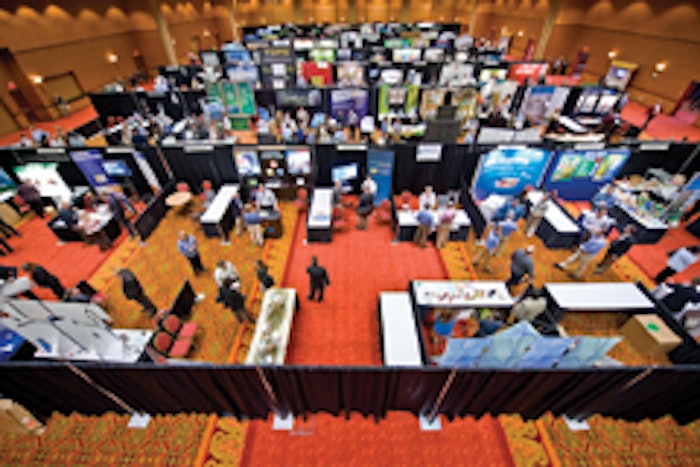 That's according to Robert Parvis, Sam's Club manager of House Brands Packaging, who spoke with GreenerPackage.com, along with Ronald Sasine, senior director of Packaging, Private Brands for Walmart Stores, about the retailer's upcoming event, scheduled for April 6-7 at the John Q. Hammons Convention Center, in Bentonville, AR.
"Their message is becoming more and more focused," Parvis says. "One of the things we are really pushing is clear communication, especially around anything related to sustainability claims."
Sasine agrees, "The packaging suppliers are learning the language of Walmart, and they are learning to engage and discuss packaging with Walmart buyers and merchants in a way that, in those early years, was much more difficult for them."
The show, sponsored by the Walmart and Sam's Club Packaging Sustainable Value Network (SVN), was established to bring packaging suppliers, Walmart buyers, and consumer packaged goods suppliers together "to help drive more sustainable packaging changes," notes Parvis.
CPGs must be invited to the event by their Walmart buyers. Packaging suppliers interested in participating in the expo are required to add their product specifications to the GreenerPackage.com Product Database, after which they must fill out an application. If the request is approved, Walmart will send an invitation to the company, which must then submit their exhibit materials for audit by a third party for verification of their sustainability claims.
"Then we can be sure that as our associates walk the show floor, they are seeing claims and information that has been vetted and verified for accuracy," Sasine explains.
In addition to the exhibitors—Walmart expects from 150 to 175 companies this year—the expo will also host from nine to 15 education sessions, "based on those topics that were the must useful and successful in prior years," Sasine relates. "We try to provide a balance of the commercial with the educational, so that our Walmart associates really come out of this two-day meeting with a good sense of what the state-of-the-art in packaging and packaging sustainability is."
To learn more about the event, visit Walmartstores.com/sustainability. For a transcript of the original interview, go to greenerpackage.com/node/2197.