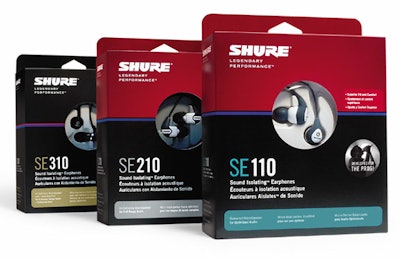 The professional-grade Shure product family costs considerably more than consumer-level audio products. So without packaging that clearly communicates the product-quality differences, shopper confusion is likely.
Shure responded by reintroducing its brand in new packaging to roll out its SE line and leverage its heritage as a professional-grade audio equipment brand. Packaging, says Jon Stookey, associate manager, integrated marketing at Shure, is essential in segmenting the brand from less-established competitors and signaling differences among its own products. Beyond marketing benefits, Shure also reduced costs.
One challenge the company faced was expressing the value of its super-premium products, which retail for $200 and higher, compared with $30 and lower for budget-quality competing brands. Creating a branding and design strategy with MiresBall Design, the company began by eliminating its curved polyvinyl chloride clamshell packages in favor of decorated cartons to effectively communicate the price point, Stookey says.
Shure opted for a fifth-panel, windowed SBS carton. Inside the carton, the products rest in a molded RPET tray. The tray sits inside a high-impact polystyrene tray that provides tamper-evidence over a circular die-cut window on the carton's front panel.
The new cartons require half of the components that were needed for the clamshells, reducing materials costs by 20%, Stookey says. The 5-oz cartons weigh 50% less than the nearly 10-oz clamshells, notes Chris Stelter, project manager at Shure.
The carton design is equally important in brand positioning.Designers opted for a richer red on the package top and black on the bottom to signal quality and heritage.
The foldout fifth panel contains in-depth technical information about the product. On the front panel, the tagline "Legendary Performance" and photography of a performing musician also states "Developed for the pros!" to signal product quality.
Companies in this article