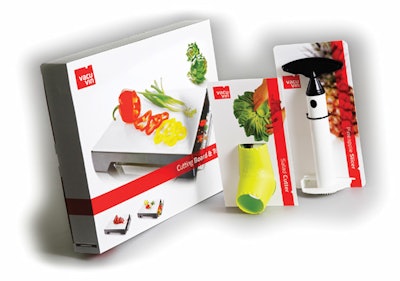 According to Jaap H. Formsma, company vp of operations, despite patents on Vacu Vin's popular and functional products, which include its best-selling Wine Saver, its Pineapple Slicer, and its Cooling Carafe, imitation products are abundant.
"Most of these lower-level copy-cats are packed in unattractive, cheap packaging," Formsma notes. "In order to distinguish ourselves, we decided that our packaging should be of a higher standard, emphasizing that we are a European manufacturer of original, high-quality houseware products."
The new packaging for Vacu Vin's line of 50 products was designed by Bataafsche Teeken Maatschappij (www.btn.nl) and uses Performa White paperboard in different weights from Stora Enso (www.storaenso.com) across the entire brand to provide consistency.
According to Formsma, the major elements of the new design include a new, one-color logo that is strong, simple, and easy to remember; new photography from different angles that underscores the products' unique designs; the use of silver ink to convey a luxury appearance; and new typography. A red-ribbon graphic denotes that "a product from Vacu Vin is always a gift," Formsma adds.
Performa White, a fully coated, CTMP (chemi-thermomechanical pulp) board, is used across the line in weights from 200 to 400 g/m2 for cartons and backing cards and to line the outside of corrugated boxes. The board is offset-printed by several converters in Western Europe using four colors, plus silver and one PMS color for the logo.
Formsma explains that the new packaging costs a little more than the materials used previously. But the increase in costs for the higher-quality Performa White board and the use of six-color printing was offset by economies realized by using one type of substrate across the line, allowing for combined print runs. The use of a lower gram-weight paperboard and the change of some plastic packages to cartons, as well as a change in printers also saved money, Formsma adds.
As for retailers and consumers, Formsma says that since the new packaging was launched last February, "both experience the new style of packaging as fresh, modern, and state-of-the art."
Companies in this article