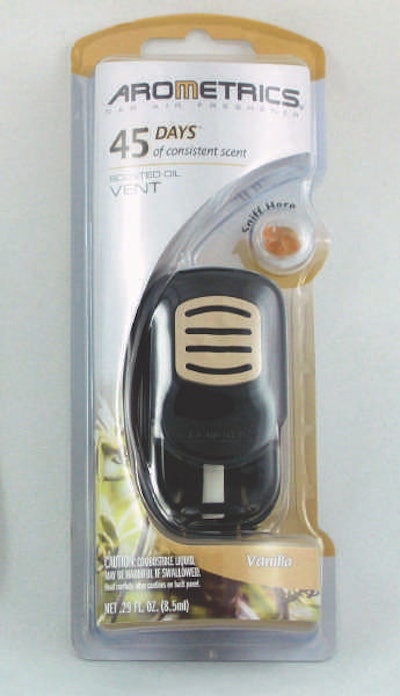 What do you do with a ready-to-go redesigned package when a major customer makes further suggestions?
If you're Lexington, KY-based Valvoline, you change it, of course.
Working with its design firm, Group 4 (www.groupfour.com), on a major makeover to its AroMetrics line of car fresheners, the company had first conducted a national awareness and usage study involving 1,000 consumers. The study involved four new package versions, including the existing package used as a control.
AroMetrics marketing manager Julie Gondak says that feedback made the variables easy to prioritize. "What we heard was to dial up our point of difference for the 'refresh'. We're limited in the space available to discuss the scent, the 'try me' differentiation feature, the brand, the form and how to use it, and the scent's longevity, so we had to be brutally picky about what to have on the package. Those were very tough decisions."
The card-backed blisters were redesigned with a new, more dynamic shape, and used a printed insert card that added dramatic dimensionality. A distinctive try-me scent feature, called a "sniffer hole" that permits consumers to sample the scent before purchase, was also fine-tuned, and its position was relocated on the packs.
That should be plenty of redesign, right? Fortunately, the company didn't stop there.
Armed with the consumer results, Group 4 and Valvoline also enlisted input from a major retailer. "Their input validated our direction," summarizes Gondak.
That was the good news, but there was more: The feedback also compelled the company to make subtle—yet crucial—adjustments to how the products would appear at retail to consumers through two actionable changes:
Adjacent packs hung on peg displays were hitting against each other. By trimming the backing card's footprint by just 1/4 inch, the packs were able to hang freely and not bump against each other.
That tiny change had ramifications that reached to AroMetrics' packaging materials' suppliers. However, the effort also enhanced the products' appearance and therefore the impressions consumers would have when simply walking by the premium products. Instead of a jumbled display of packs, they would now see an enticingly neat display.
Product lighting tailed off sharply for packs hung deeper in the display. To compensate, the printing gradation was lightened by 30%.
"What we found is that we could scale the gray print back, and we would actually end up with the desired look due to the store lighting," notes Gondak. By pushing the packs toward a lighter printing, package graphics that were obscured in the shadows were made more visible and, therefore, more appealing.
For many packagers, enlisting retailer feedback on packaging changes and redesigns is a given. For others, you may want to reconsider—that extra step might just yield insights that can make the difference between disappointment and success.
Companies in this article