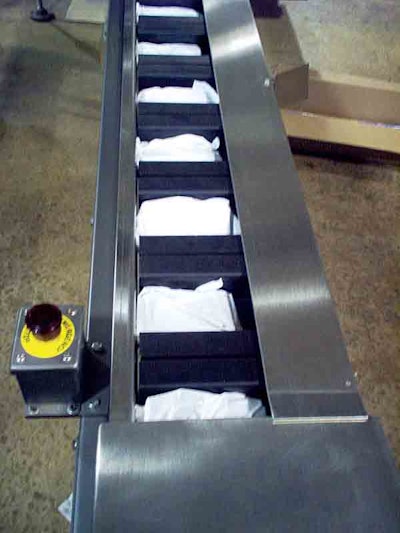 Custom Co-Pak LLC (www.customcopak.com), Philadelphia, PA, had been manually cartoning its tagless tea bags for several contract customers, and was interested in automating the operation to achieve greater efficiencies. At a trade show, the company had seen a servo cartoner from Packaging Systems Automation, Inc. (PSA) (www.psautomation.com), and believed the machine would be a good fit for Custom Co-Pak's needs.
After discussions with PSA, the co-packer opted for a customized PSA Model CM (continuous motion) 625 (6.25" pitch) servo cartoner for installation at the Philadelphia facility. The machine loads tea bags in 20- and 30-counts into the cartons and was modified to meet Custom Co-Pak's carton size and glue closure requirements.
Customization, installation, & benefits
According to Mike Medvidik, CFO and partner, "PSA engineers were able to modify the equipment at their facility based on our instructions and sample materials. We visited their plant after requested modifications were made, and they were able to make the final necessary adjustments. The equipment then was shipped to our plant for installation and start-up in the Summer of 2007.
"The PSA cartoner is very simple to operate and required no extensive operator training. No auxiliary equipment was necessary, and there were no problems with packaging line integration and start-up.
"With this new machine, we changed from a 16-point CCNB carton to a 14-point SBS carton, while maintaining 4-color process-printing. The printing on SBS is a much better presentation, and the cartons no longer require overwrapping," Medvidik notes.
For its tagless tea bags, Custom Co-Pak currently is running only one size carton (43⁄8" x 25⁄8" x 31⁄16") with two different tea bag counts (20 and 30). Carton supplier name was not disclosed, due to proprietary agreements. The tea bags are automatically counted and placed into poly bags prior to loading into the cartons by the PSA cartoner.
To meet the requirements of this project, the cartoning machine currently is handling about 100 cartons per minute to keep pace with the packer's tea-bagging machines. But the machine is capable of delivering up to 300 cpm or higher.
Medvidik points out, "Our company packages tagged tea bags in individual envelopes (a choice of clear cellophane, paper/poly, and paper/poly/foil envelope structures) for some customers. But currently we don't use the PSA cartoning equipment for those applications.
"At present," says Medvidik, "the cartoner provides Custom Co-Pak a small labor reduction (one employee), and eliminates the need for an overwrap machine and carton overwrapping materials. The PSA cartoner allows us to present a better-looking package to our customers. And because of the increased speed, the cartoner may eventually be able to accommodate two production lines simultaneously." 
Companies in this article